Destiny 2 Clans - how to join a Clan, how to earn Clan XP and Clan banner rewards explained
Everything you need to know about setting up and joining Clans, and their rewards.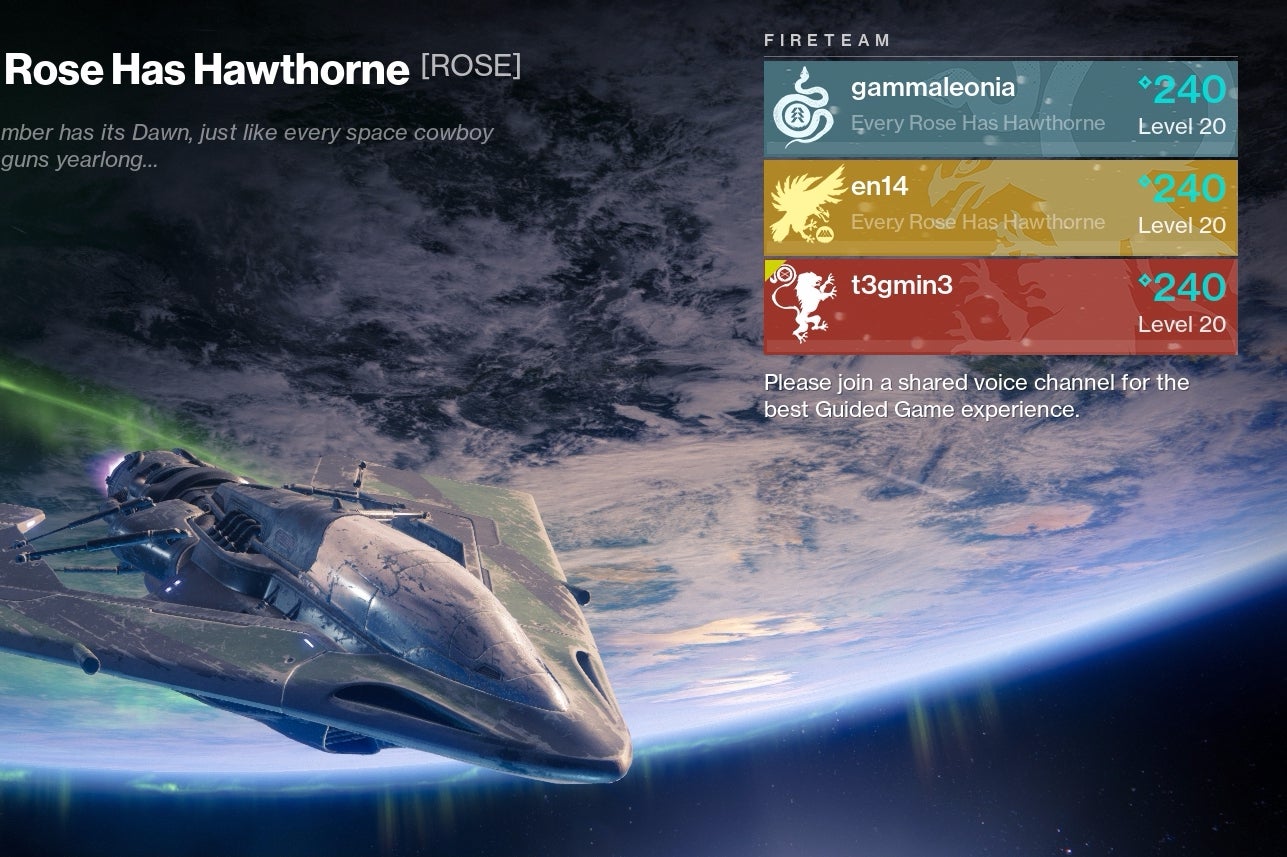 Destiny 2 Clans work slightly differently to the original Destiny, with larger communities now splitting off into Bungie.net groups - and help you make use of the new Guided Games system.
Alongside that, Clans will now have something that's been highly sought-after from the Destiny community for some time: Clan Banner rewards, which award various bonuses, both temporary and permanent, to your clanmates once they've been unlocked.
Here, we'll explain not only how Clans work, but also the awkward stuff like how to join a Destiny 2 Clan, and importantly how to earn Clan XP for those valuable rewards.
---
Note this page is in need of an update with the arrival of Destiny 2's second year, so be aware some content might be out of date. In the meantime, read our Destiny 2 Forsaken guide and how to reach the new Destiny 2 level cap for an overview of what's new and changed. Plus, there's the return of theThorn quest and Thorn Ornament, Wishes of Sorrow, and our trusty friend Xur, too - here's the answer to where is Xur, Xur's location and what Xur's selling this week!
---
How to join a Destiny 2 Clan, and Clans explained
Clans run back to the original Destiny, where they were a means of gathering together groups of players who often play the game together. Back then, Clans had a limit of 150 members, but every clan also had a correspending Group, which would allow far more to join.
Now, groups have been separated off into something tied to your Bungie.net account, with Clans more specifically designed around playing the game together. Joining a Clan is a great way to keep tied into a community that regularly plays the game, allowing you to join arrange Fireteams for things like Strikes, Raids, and PvP matches with ease.
How to join a Destiny 2 Clan:
As thing stand though, the Clan joining system is a bit of a mess, especially if you have a specific Clan you want to join - whilst Bungie's help page suggests searching for a Clan from a certain page, their links actually just lead to a page for creating a Clan of your own, and searches from that page - and the companion app that's also listed as an option - will only bring up players, rather than Clans, as results.
Fortunately, there are two ways around the awkward system: a direct link to the Clan's page, sent from someone already in the Clan who can access it, or you can request to join a Clan from a specific place in-game.
To join from in-game, open up the 'Roster' menu and look for someone in that list who's already in the Clan you want to join. From there, you can view their clan and send a join request.
If you can't get to your game though and want to join a Clan as soon as possible - maybe your pals are already griding out those shared rewards without you and don't want to wait - the best solution is to simply ask one of your future Clanmates to send you a URL for that Clan's browser page, and you can head directly to that Clan's own page and request to join from there.
They can find that URL by logging in to the Bungie site from their browser, and heading to the 'My Clan' tab in the top left. Make sure you're signed into the relevant account if you're doing it in a web browser, too!
How to earn Clan XP in Destiny 2 for Clan rewards and Clan Banner Perks
Getting your Clan Banner
Once you are part of a Clan, you must receive and equip a Clan Banner in order to start earning XP. You can get this from Hawthorne in The Farm. Simply acquire it and equip it on your Guardian on the bottom right of your gear screen.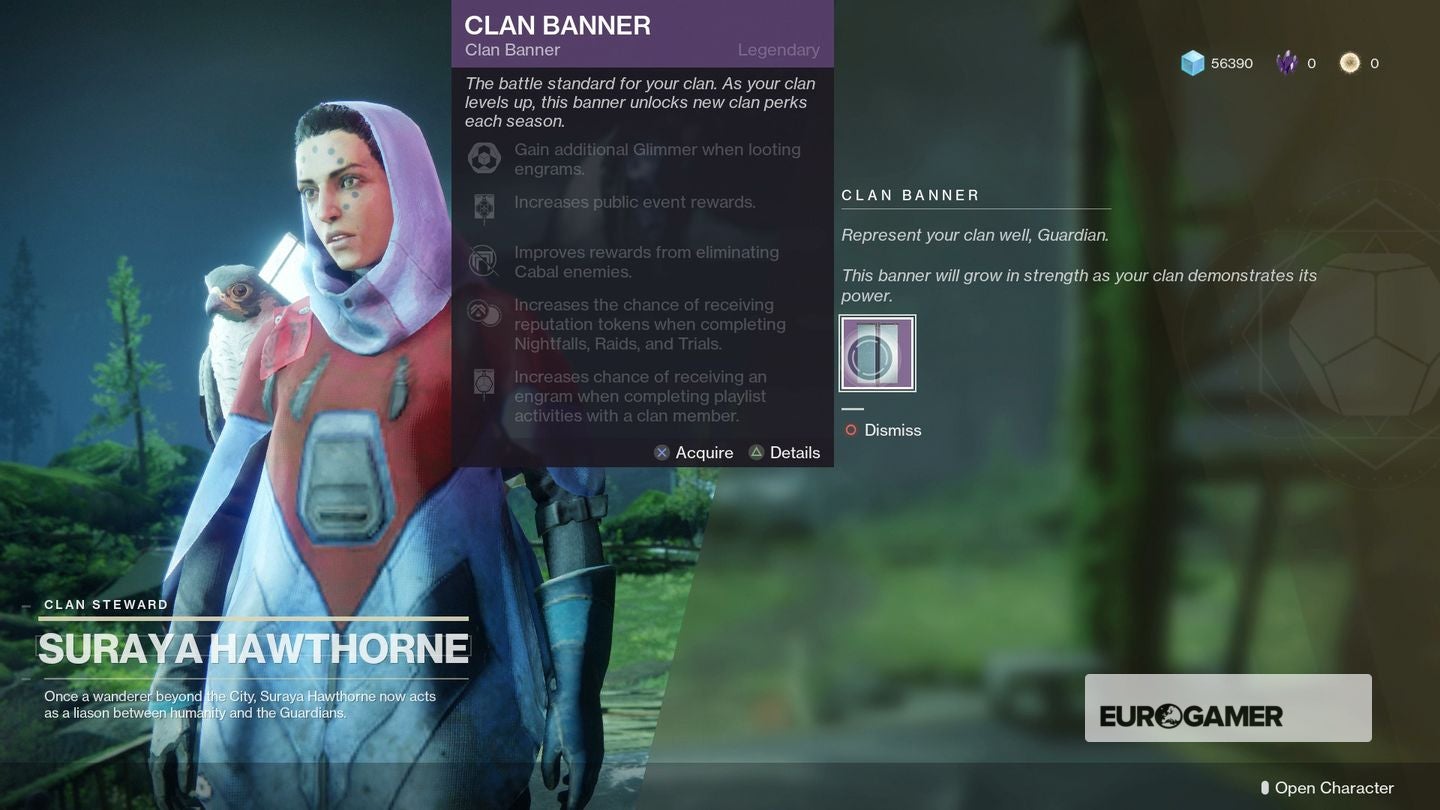 From there, visit your Clan screen in Destinations to lean more about your clan's overall progression.
Clan Banner Perks and Clan XP
New to Destiny 2 are Clan Banner Perks, a series of unlockable perks which grant you various in-game benefits, depending on your Clan's performance. Your Clan Banner "will grow in strength as your clan demonstrates its power." Here are the current (Season 2) perks:
Level 2 - Completing the weekly clan milestone rewards an additional 5 Legendary shards.
Level 3 - Improves rewards from eliminated Vex enemies.
Level 4 - Chance to receive two Mercury tokens instead of one when collecting Simulation Seeds.
Level 5 - Chance to gain a second Crucible token whenever you receive one.
Level 6 - Chance to receive a Legendary engram when completing Heroic adventures on Mercury with your clan members.
And if you were interested, here were the Season 1 (launch) perks, which are no longer available or active:
Level 2 - Gain additional Glimmer when looting engrams.
Level 3 - Increases public events rewards.
Level 4 - Improves rewards from eliminating Cabal enemies.
Level 5 - Increases the chance of receiving reputation tokens when completing the Nightfall, Raid, and Trials.
Level 6 - Increases chance of receiving an engram when completing playlist activities with a clan member.
---
The Season of Plunder is here! New additions include the Sails of the Shipstealer quest, Treasure Coordinates and Map Fragments, Cryptic Quatrains and Quicksilver Storm. Meanwhile, there's the arrival of King's Fall and King's Fall challenges such as Devious Theory, plus weapons including Doom of Chelchis and Touch of Malice. Elsewhere, we've seen the return of Allied Demand in Iron Banner this season. Get up to speed with our levelling guide ahead of tackling the Duality dungeon, and learn how to collect Calus Bobblehead locations, Calus Automaton locations and find all Opulent Key chests. For The Witch Queen, learn how to get Exotics including Dead Messenger and Parasite.
---
How to get Clan XP:
In Destiny 2, Clan XP is earned from completing various activities. Clan members can earn up to a weekly maximum of 5,000 Clan XP, which resets each week on the weekly reset. You need at least two clan members in the Clan to start earning XP. Here's a quick list of what earns you Clan XP, and how much:
Completing a story mission - 500XP
Completing Crucible games - 500XP (any mode, win or loss)
Completing a Patrol mission - 250XP
Completing an Adventure - 500XP
Completing a Public Event - 500XP (only if in a Fireteam)
Other things to know about how Destiny 2 Clans work:
Clan Perks are unlocked at specific levels - those levels and Perks are reset each Season. Apparently we can expect more info on Seasonal Resets soon.
You can now earn Weekly Clan Engrams - These change (and are reset on the weekly reset) each week, and at least half of the Fireteam working on the relevant activity must be a member of the clan for it to count. You can only claim one per character per week. These activities are Crucible (single win required), Nightfall, Raid and Trials of the Nine (7-win ticket required).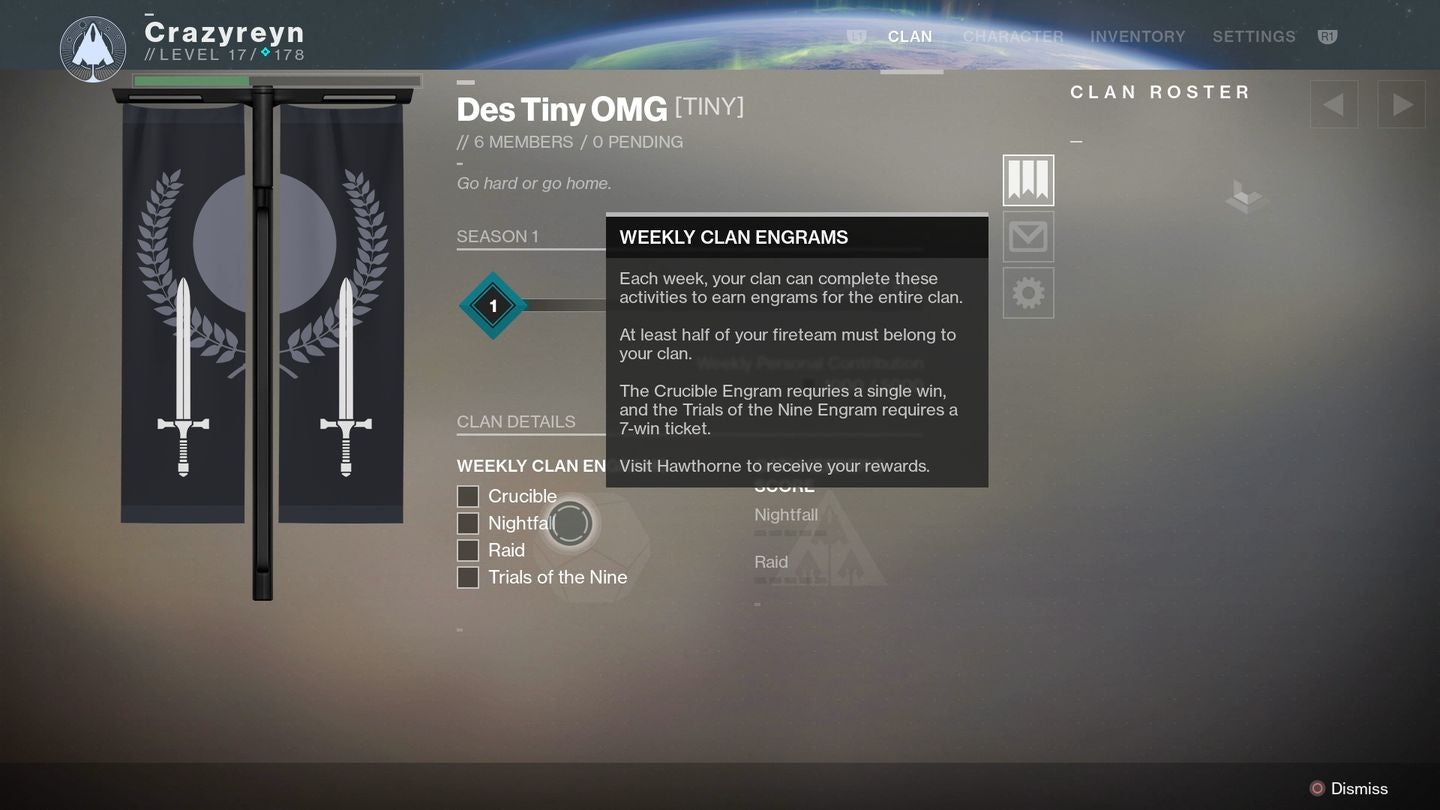 The more the merrier - Each player can only personally contribute 5000 XP per week, so the more active players you have available, the faster you will level up.
Be kind to strangers - There is also something called an Oathkeeper's Score; this ensures good behaviour when you are matchmade with individual players. Finishing activities and "disbanding amicably" will make your score better.
Additional reporting by Matthew Reynolds.