Annualised Call of Duty "a nice equilibrium with people's appetite"
"We've reached the status of pop-cultural inevitability."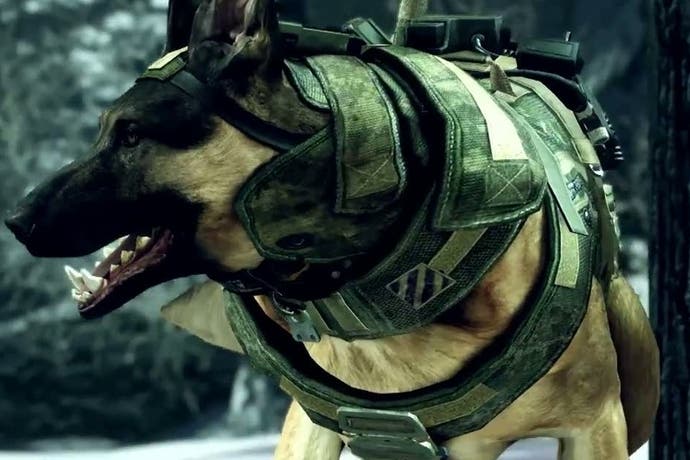 Think the release of a new Call of Duty game every year is too much? Activision boss Eric Hirshberg told Eurogamer that all the company is doing it meeting fan demand.
Activision has released a new Call of Duty game each November since 2006, and, according to Hirshberg, that's not overdoing it.
"The cadence of the releases seems to have found a nice equilibrium with people's appetite," he told Eurogamer in an interview at Gamescom.
"There's demand and excitement each and every time out. Then people are playing throughout the year. We have our biggest community of players today. Right now there are more people playing Call of Duty today than ever, which is remarkable for a franchise that's been around as long as Call of Duty has. But, we don't take anything for granted."
To pump out a Call of Duty game each year Activision uses an alternating development studio strategy so each game gets at least 18 months worth of dev time. Infinity Ward, which makes the Modern Warfare series and this year's Ghosts, and Treyarch, which makes the Black Ops series, are in charge, although fellow Activision-owned studio Sledgehammer is known to be making a Call of Duty game of some sort.
Hirshberg said this long-standing setup helped prevent the series from stagnating because both Infinity Ward and Treyarch strive to outdo each other.
"Having alternating studios is one of the secrets to the franchise's success," he said. "You have different creative people who are strong willed and have minds of their own. Everyone gets what makes a great Call of Duty game. Treyarch and IW are the masters, and have built this thing. So, there's a lot of common DNA from year to year.
"But then people come in and want to top each other. There's some healthy competition. There's a desire within the creative team to not do the same thing and not be stagnant, the same way there is in the player community.
"Overall it seems to be a good system."
"Having alternating studios is one of the secrets to the franchise's success."

Activision CEO Eric Hirshberg
Activision's approach is in stark contrast to rival publisher EA's, which has so far has refused to annualise the Battlefield series. Battlefield 3 launched in 2011, and Battlefield 4 is due out later this year.
EA attempted to fill the gap by rekindling the Medal of Honor series with new games in 2010 and 2012, but that backfired. Poor sales led to the closure of developer Danger Close, now re-purposed as DICE LA. EA's current plan is to have Respawn's Titanfall, due out in spring 2014, and the recently announced Star Wars Battlefront fire the guns when Battlefield is brewing.
Despite Call of Duty's continued success, there is some concern that its popularity may have plateaued. Hirshberg said more people are playing the game now than ever before, but cautioned against significant growth in the coming years.
"We're already operating at a scale that's fairly unprecedented in the industry," he said. "Obviously we would love to grow further, but that depends on a lot of variables that are beyond our control. That depends on a successful console transition.
"What I will say is we have managed to continue to grow not only the player base but the amount of time and amount of energy people are willing to devote to the franchise. That provides a longer tail. Someone who's still playing six months after launch is more likely to be someone who might buy some DLC or a micro DLC or a digital item.
"Our strategy has been fairly straight forward, which is, we try to make awesome stuff that people want to buy. If we keep doing that that's a pretty good policy.
"Different markets are more mature than others. There are still growth markets for Call of Duty. There are still markets where it's still gaining momentum and gaining traction, and that's where a lot of the growth comes from."
"We've reached the status with Call of Duty of this sort of pop-cultural inevitability."
Watch on YouTube
Hirshberg said Activision had managed to grow Call of Duty to a point where it transcends its genre, attracting those who would not normally play shooters. Following the release of each version the company often trumpets its sales revenue success, pointing out how much more money it's made than the likes of Star Wars and Harry Potter.
"One of the things we've done well is take what is a pretty core video game, a first-person shooter, and turn it into this big pop culture event," Hirshberg said. "Even if you're a casual participant in pop culture you feel like you've got to be a part of this.
"A lot of non-hardcore sci-fi fans saw Avatar because it was an event. You felt you had to be a part of it. We've reached the status with Call of Duty of this sort of pop-cultural inevitability, where the game itself, the critical mass of the player base, the marketing tonality and the bigness of the presentation all combine to turn it into an event that I think is unique within the industry."
Of course, EA is threatening to dent Call of Duty's gargantuan sales success with the Battlefield series, and Battlefield 3 posed Activision the biggest challenge to COD's dominance in years. Battlefield 4, due out in October, is expected to grow the series' player base further.
Hirshberg dismissed the potential threat of Battlefield, saying: "There will be appetite for as many good games as this industry can pump out, and there's room for more than one successful game even within the same genre.
"We don't spend a lot of time focusing on our competitors because our biggest competitor is ourselves."
Battlefield 4 launches in Europe on 1st November. Call of Duty: Ghosts launches on 5th November worldwide.