UK Top 40: Ridge Racer Unbounded crashes into 21st place
FIFA Street still top while Tiger Woods 13 swings third.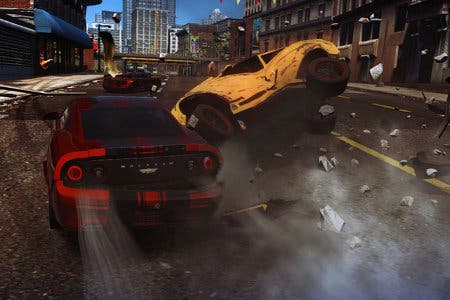 Namco racing reboot Ridge Racer Unbounded has swerved into the UK all-format charts in 21st place, one of several new game releases to miss the chart's top 10 this week.
Silent Hill HD Collection (containing Silent Hill 2 and 3) entered the chart in 12th, ahead of all-new entry Silent Hill Downpour in 15th. And last week's Wii Pokémon spin-off PokéPark: Wonders Beyond finally made the chart, albeit in 38th.
But EA's Tiger Woods PGA Tour 13 fared better, putting in a third place finish.
New PS3 and Xbox 360 fighter Naturo Shippuden Ninja Storm Generations also made the top ten, arriving sixth.
Six of the chart's top 10 titles come from the house of EA, including the top three games on the list: FIFA Street was again first, ahead of Mass Effect 3 and Tiger Woods 13.
Resident Evil: Operation Raccoon City was fourth, ahead of FIFA 12 in fifth. Modern Warfare 3, Battlefield 3, Mario & Sonic London Olympics and SSX also made the top 10.
The full chart lies below.
| This Week | Last Week | Title | Platform(s) |
| --- | --- | --- | --- |
| 1 | 1 | FIFA Street | PS3, Xbox 360 |
| 2 | 3 | Mass Effect 3 | PC, PS3, Xbox 360 |
| 3 | New entry | Tiger Woods PGA Tour 13 | PS3, Xbox 360 |
| 4 | 2 | Resident Evil: Operation Raccoon City | PS3, Xbox 360 |
| 5 | 4 | FIFA 12 | PS3, Xbox 360 |
| 6 | New entry | Naruto Shippuden Ninja Storm Generations | PS3, Xbox 360 |
| 7 | 6 | Call of Duty: Modern Warfare 3 | DS, PC, PS3, Wii, Xbox 360 |
| 8 | 8 | Battlefield 3 | PC, PS3, Xbox 360 |
| 9 | 10 | Mario & Sonic: London 2012 Olympic Games | Wii |
| 10 | 5 | SSX | PS3, Xbox 360 |
| 11 | 14 | The Elder Scrolls 5: Skyrim | PC, PS3, Xbox 360 |
| 12 | New entry | Silent Hill HD Collection | PS3, Xbox 360 |
| 13 | 22 | Saints Row: The Third | PC, PS3, Xbox 360 |
| 14 | 7 | Kid Icarus: Uprising | 3DS |
| 15 | New entry | Silent Hill: Downpour | PS3, Xbox 360 |
| 16 | 23 | Forza Motorsport 4 | Xbox 360 |
| 17 | 11 | Assassin's Creed: Revelations | PC, PS3, Xbox 360 |
| 18 | Re-entry | Gears of War 3 | Xbox 360 |
| 19 | 37 | Batman: Arkham City | PS3, Xbox 360 |
| 20 | 12 | Final Fantasy 13-2 | PS3, Xbox 360 |
| 21 | New entry | Ridge Racer Unbounded | PC, PS3, Xbox 360 |
| 22 | 13 | Mario Party 9 | Wii |
| 23 | 9 | F1 2011 | PC, PS3, Vita, Xbox 360 |
| 24 | Re-entry | Dead Island | PC, PS3, Xbox 360 |
| 25 | 25 | Just Dance 3 | Wii, Xbox 360 |
| 26 | 22 | Moshi Monsters: Moshling Zoo | DS |
| 27 | 29 | UFC Undisputed 3 | PS3, Xbox 360 |
| 28 | 26 | Skylanders: Spyro's Adventure | 3DS, PS3, Wii, Xbox 360 |
| 29 | 21 | Rayman Origins | PS3, Wii, Xbox 360 |
| 30 | 20 | Zumba Fitness | Wii, PS3, Xbox 360 |
| 31 | 19 | Ninja Gaiden 3 | PS3, PS3, Xbox 360 |
| 32 | 18 | Uncharted 3: Drake's Deception | PS3 |
| 33 | 27 | Lego Harry Potter: Years 5-7 | PC, PS3, Wii, Xbox 360 |
| 34 | 28 | Super Mario 3D Land | 3DS |
| 35 | 39 | Metal Gear Solid: HD Collection | PS3, Xbox 360 |
| 36 | 15 | Rage | PC, PS3, Xbox 360 |
| 37 | 32 | Mario Kart 7 | 3DS |
| 38 | New entry | PokéPark 2: Wonders Beyond | Wii |
| 39 | Re-entry | Kingdoms of Amalur: Reckoning | PC, PS3, Xbox 360 |
| 40 | Re-entry | Cars 2 | DS, PS3, Wii, Xbox 360 |