Konami shows current-gen PES 2014 with new in-engine screenshots
UPDATE: No next-gen, Wii U, Vita or 3DS versions.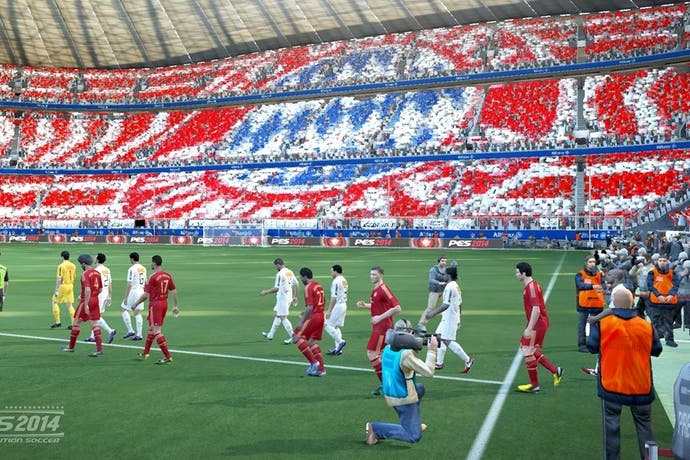 UPDATE 2: PES 2014 will not release on Wii U.
PES community manager Adam Bhatti confirmed the news on Twitter, saying, "no demand for it."
With both PES 2014 and FIFA 14 skipping Wii U, Nintendo's console will go without a football game this year. EA Sports told Eurogamer it took the decision not to support Wii U after poor sales of the Wii U version of FIFA 13.
But, as players have pointed out, the Wii U version of FIFA 13 was far from the best version.
Anyone fancy making one? Sensible Soccer Wii U perhaps?
UPDATE 1: Konami has confirmed that PES 2014 will not release on the PlayStation 4 and Xbox One. It won't release on Vita or 3DS, either.
PES European community manager Adam Bhatti took to Twitter to answer tough questions from football game fans after the release of in-game screenshots from the current-gen version earlier today.
"Not in the business for highres nextgen ports," he wrote. "We can't and shouldn't do that. Bad habit etc."
"So the fact we're not on PS4/Xbone with PES 2014 is simple. We can't and shouldn't be just using higher quality textures etc should be new.
"In the past people accused us of being lazy. We're adamant of not making the same mistakes, and making sure we create amazing football games.
"It's hardly amazing making the nextgen version prettier. We shouldn't have that mentality, and you shouldn't expect that. Aim higher.
"I'm a gamer like u, can't wait for nextgen, so I feel your pain. But once u see #PES2014 in action, that pain will disappear. It's stunning."
Then: "I think it's important to remember our biggest markets, where we are number 1 (Latam/Asia) won't shift to nextgen as quick as Europe.
"We can't just leave our most passion fans behind. Besides, the quality of the current version is high enough."
Bhatti said Konami was making a PSP version "because there's still demand for it". "Does it matter?" he asked. "A very small team work on it. Very small."
But what about Vita? "Not right now. The install base isn't great."
And what of Nintendo 3DS? There was a 3DS version of the last game, after all. "No one bought it," Bhatti said. Oh well.
ORIGINAL STORY: PES 2014, out later this year, is built using Kojima Productions' Fox Engine and will launch in 2013 on PC, PlayStation 3, PlayStation Portable and Xbox 360. No mention was made of next-generation consoles, the Wii U, PlayStation Vita or Nintendo 3DS.
Konami released three in-game screenshots today, taken from current-gen platforms. A bullish Kei Masuda, creative producer at the PES Productions Team based in Tokyo, said: "All the materials we're releasing are taken from current platforms and fully in-game, which is at about 70 per cent completion.
"We want fans to get a true feeling of the actual product they'll be playing on the consoles most own this year, not some marketing dream.
"Our new engine and systems are dedicated to the current generation of platforms, which will continue to be dominant in the market, but are fully scalable for future versions."
According to the publisher, using a brand new engine has enabled the PES Productions Team to rework every element of play and improve the graphics.
Konami mentioned TrueBall Tech, which lets players trap or knock on a pass using the analogue stick with "detailed barycentric physics" determining the weight shift of the player and the height and speed of the pass. In short, you can control how your players angle their body to receive a pass.
There's M.A.S.S., which stands for Motion Animation Stability System. It simulates "the bodily contact" between multiple players within bespoke animations.
And there's Heart. Each player has mental attributes that can be adversely affected when having a poor game. But to combat this, if a player isn't playing well, his team mates can rally round and support him. "Similarly, one moment of individual brilliance can produce a galvanising effect on team mates," Konami said. "The cauldron effect of a vibrant stadium will showcase the mood of the fans, with all-new sound effects combining with stunning AI systems to create a palpable match day atmosphere."
In terms of licenses, PES 2014 has the UEFA Champions League and Asia Champions League signed up. Other tournaments will be announced shortly.
Masuda said: "Thinking outside the box on an annual series such as PES is not easy, but the Fox Engine has allowed us to develop such a level of freedom that we are constantly realising ways of making PES 2014 a true representation of football.
"From the moment football fans pick up the controller and experiment with the close control, player movement and get to know how teams work and move, we are confident that they will see a game no longer limited by technology, but capable of growing with them and constantly surprising with the breath-taking quality they have to come to expect from the real thing."