PES 2014 loses Spanish stadiums and stadium editor after "extremely aggressive" EA licensing
Plus, lack of rain explained.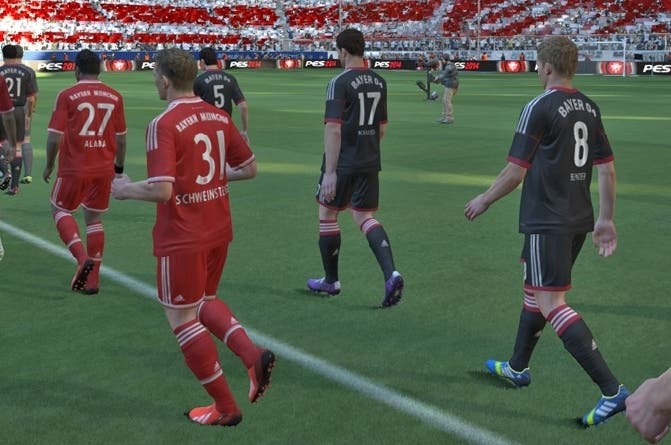 PES 2014 does not feature Spanish stadiums or a stadium editor, Konami has confirmed.
Writing on the Winning Eleven blog, PES community manager Adam Bhatti blamed the move on FIFA maker EA.
"EA have been extremely aggressive with signing deals with clubs and leagues this year, and it has meant we can't implement major European stadiums, including NO Spanish stadiums," he said.
"People were getting worried when they announced exclusive deals with Spanish teams. Well it turned out it meant we couldn't implement their stadium, amongst others.
"This news came pretty late to us. Which is where a time issue came in, meaning we didn't have time to rebuild other stadiums to replace them. PES 2014 will ship with roughly 20 stadiums."
Bhatti described the loss of the stadium editor - much loved by fans - as "the biggest hit".
"I can't go into it, but this in particular has made the team realise more than ever about acquiring licensing, and we're determined to fight back in this regard next year. If things are removed from edit mode because of licensing each year, it would rip out the soul of PES, and we must not let that happen."
Bhatti expects there will be fewer licensed teams in the Other European League, again as a result of a "license lockout". The development team is awaiting the results of real life European qualifying before finalising the list.
Konami has for some time now struggled to compete with EA for football licenses. Last year PES European team leader Jon Murphy told Eurogamer there was a misunderstanding about why this was the case.
"At the end of the day, without going into too much detail, there are obviously a lot of existing contacts between EA and who they deal with and a lot of trust between them, and there's a lot of money changing hands, and trying to break into those situations is very hard," Murphy said. "At the same time it should be pretty obvious that we can't compete with the massive budgets they have to throw at these things."
He added: "I get a bit fed up with this lack of understanding about why we don't get licenses. It's not because we're lazy. It's not because we don't try and get the right licenses. It's not that we don't raise budgets to do so. Unfortunately, the reality is, EA is a massive company with large chests of money that can be brought from all kinds of IP, beyond even their FIFA brand, and we can't fight against that. So we've got to just try and be clever with what we can get out of licenses."
Meanwhile, Bhatti issued a statement on the exclusion of the rain weather effect from PES 2014, blaming it on the development team having to start from scratch with the FOX Engine.
"Rain has not been implemented for 2014 as we had to overhaul the whole game and build it from scratch," read the statement. "While implementing rainy weather itself is fairly feasible, we need to think through of how its effect shows through in gameplay. This includes the pitch becoming slippery, ball bouncing, some elements to make the team used to that climate somewhat more power in terms of balance.
"We are going to try further this year to get the elements sorted and have them implemented for 2015.
"As for the kits getting dirty, this triggers on multiple requirements, often to do with the player contacting the ground."