PES 2014 release date confirmed
Console demo due out just over a week beforehand.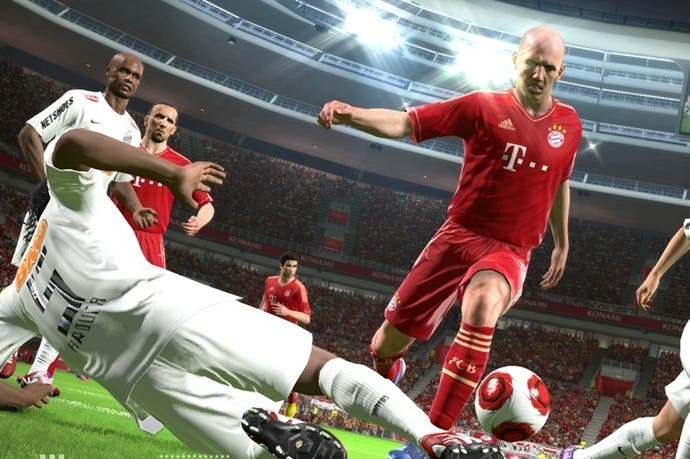 PES 2014 will go on sale in the UK on 20th September for PS3, Xbox 360 and PC, Konami has announced. The PS3 version will be available digitally in addition to the boxed release.
The release of the game will be preceded by a playable demo, due out for PS3 on 11th September and Xbox 360 on 12th September.
Konami has said the demo will be representative of the final game, with several teams available in full match scenarios and a tutorial to help with the overhauled controls.
The publisher also revealed pre-order incentives and offered a little on DLC plans.
Those who pre-order at certain retailers will receive codes to unlock classic kits from European and Latin American leagues, including Benfica, Man United, Roma and Milan.
People who pre-order or buy the game digitally, meanwhile, will get third kits for teams like Man United and Juventus, plus multiple Latin American third kits.
Konami has promised that team updates, new kit elements and other DLC will be regularly available post-launch.
Konami surprised everyone earlier this year when it said it planned to launch PES 2014 on current-gen only, forgoing PS4 and Xbox One until there's a good gameplay reason to make the jump onto the new systems.
That's not to say PES 2014 is a gentle update, though, with Konami shifting the game onto the Fox Engine and focusing on the fundamentals.
As Jack Arnott put it in our PES 2014 preview, where he made the case for switching back from FIFA, "It's the pleasure you get from the simple elements of the game - the passing, the shooting, the dribbling - that's all that really matters."
On first impressions, he said, PES 2014 appeared "a purer, more refined expression of the sport, at its simplest, than its moneyed rival".
With the arrival of the demo and the game in the next month, we'll finally be able to put his early conclusions to the test.