Horizon Zero Dawn is reportedly coming to PC later this year
A first for a PlayStation exclusive from a Sony-owned studio.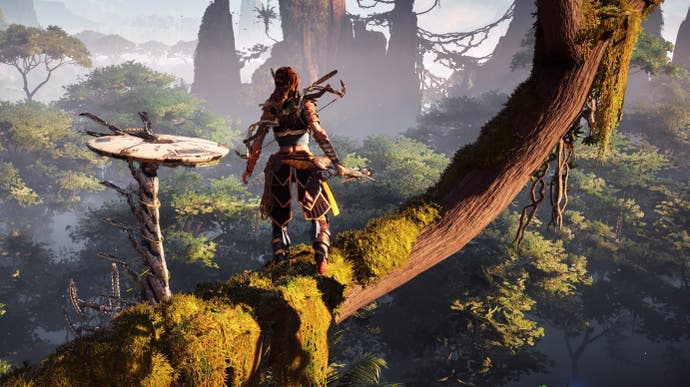 Developer Guerrilla Games' acclaimed post-apocalyptic open-world action-RPG Horizon Zero Dawn - in which a self-assured young hunter named Aloy murders a bunch of dinosaur robots using a bow and arrow - is reportedly set to leave the loving embrace of PlayStation 4 exclusivity later this year in order to make its way to PC.
That's according to Kotaku's Jason Schreier, who, citing "three people familiar with Sony's plans", says that Horizon Zero Dawn will launch on Steam and the Epic Store at some point in 2020, complete with PC enhancements.
Horizon Zero Dawn wouldn't be the first PlayStation exclusive to release on PC, of course; the likes of ThatGameCompany's Journey, as well as Quantic Dreams' Heavy Rain and Detroit: Become Human, made the jump last year, while Death Stranding comes to PC this summer.
Horizon Zero Dawn is notable, however, due to the fact that it would be the first PlayStation exclusive from a Sony-owned studio to make the transition to another platform. Traditionally, the company has adhered to the time-honoured strategy of nurturing its own platform exclusive gaming IP in order to drive console hardware sales.
Times, though, are a-changing, and Microsoft (a company with more invested in PC than most, admittedly) has been committed to putting all its Xbox exclusives on the platform for several years now. If reports of Horizon Zero Dawn's move to PC prove to be true, hopefully we might see other PlayStation exclusive titles make the leap too.
By which I obviously mean Bloodborne, thank you very please Sony.