Destiny Icebreaker - How to get the Year 3 sniper rifle from Zavala's Nightfall Bounty
How to get your hands on the weapon with the regenerating ammo.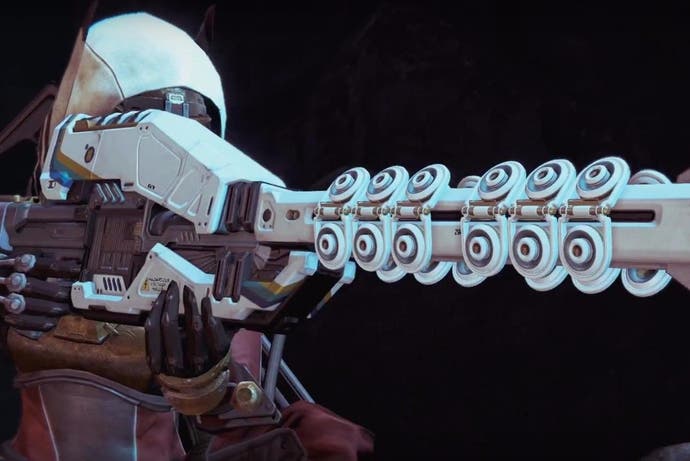 Destiny's Icebreaker is making a comeback. The sniper rifle was infamous in the game's opening year for its high damage and ability to regenerate ammo, and it's returning to Year 3 with the ability to be infused to maximum Light, making it viable in Light-dependant Crucible events such as Iron Banner and Trials of Osiris, as well as high level events such as the Raid.
However, while it was a random drop in Year 1, there is a specific step - and a degree of randomness - before you get your hands on it in Rise of Iron.
If you're interested in other activities from The Dawning, you can tips on SRL 2016, learn how to unlock new Nova Mortis and Abbadon machine guns, find the Lysander's Cry hidden sparrow well as complete milestones in the Competitive Spirit book.
How to get Year 3 Icebreaker in Destiny
Unlike most other Exotics which require a quest, an Exotic Engram or Xur visit to obtain, the Icebreaker drops at random for completing a specific Bounty, not unlike Thorn introduced with Rise of Iron.
Following the The Dawning update in late 2016, Destiny added Strike Scoring mode 'Vanguard Elite', where players can rack up points for killing enemies in certain ways.
Alongside that, Commander Zavala in the Tower - he sits at far end of the main Vanguard table, which you can visit by going straight ahead when you first enter the Tower, down the steps and through the passage - introduced new Weekly Elite Bounties that you can tick off for participating in Strikes.
One of these Bounties is specific to the Nightfall, and by completing this, there is a "chance" you'll get the Icebreaker Exotic as a reward for completing it. As an example, in The Dawning's first week, this Bounty had you get a Gold score of 50,000 within the par time (completion time) of 30 minutes: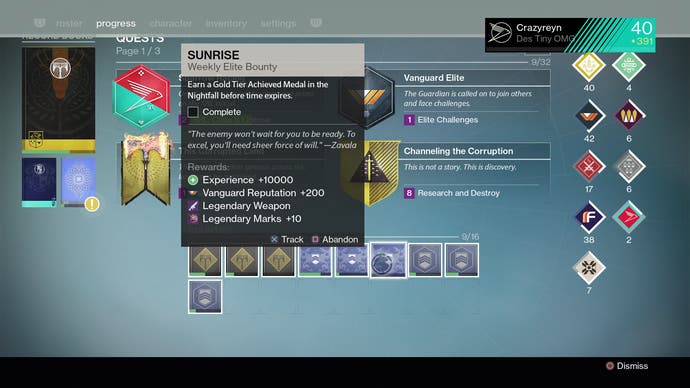 This particular Nightfall was the revamped Nexus Strike, and with the number of enemies throughout the score should easily be achievable, and if you take your time, you can clear it all in 30 minutes even with a few wipes.
(If you want to attempt this Bounty and have yet to play this specific Strike, the two 'puzzle' elements involve you opening a barrier halfway through (clear the enemies then take the orb, and have the party stand in the circle by the door to open it) and for the boss, you can lower its shield by picking up the relic and using the two shoulder buttons (like a Super) to destroy it temporarily for a damage phase. If you keep a cool head and be careful, you should complete it in good time.)
Here's a stream of the Nightfall from The Dawning's first week, and at 22 minutes, of the Icebreaker being rewarded for handing in the Bounty:
Of course remember, there is only a chance it will drop. So, similar to unlocking the Thorn quest, it could be a number of weeks until the weapon eventually drops for you
What else should I know about Icebreaker in Destiny?
What made Icebreaker so useful in Destiny's first year was the combination of high damage impact with regenerating ammo, the latter of which coming in useful in a game where bullets can often be scarce. Whether it'll replace the Black Spindle as the solar sniper rifle of choice is unknown; while Icebreaker sees ammo regenerate simply over time, Black Spindle's primary perk allows you to instantly reload if you string together a combo of critical hits, perfect for bosses. The former, then, could come more in handy for Crucible or lengthier missions where ammo is harder to come by.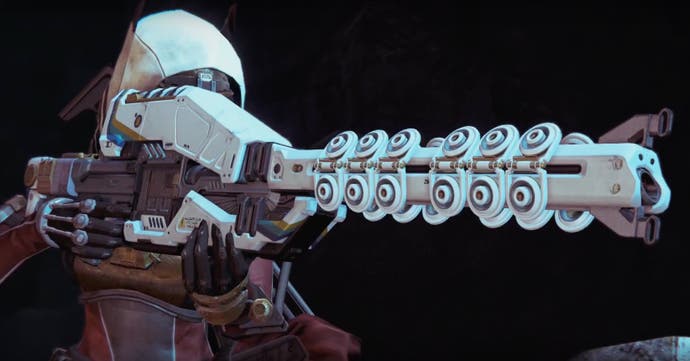 ---
Want more Destiny: Rise of Iron guides, tips and tricks? Then read our Wrath of the Machine walkthrough and guides, complete list of all Dormant SIVA Cluster locations, tips on how to reach Destiny's max Light level, how to complete the Exotic Gjallarhorn Quest, Khvostov 7G-OX Quest and Thorn Quest and new modes Vanguard Elite Strike Scoring and SRL.
---
The Icebreaker will start at a Light level of 370.
Previously, Icebreaker was simply a random Exotic drop, so having to unlock it through a specific Bounty arguably makes it more reliable to unlock, even if the Nightfall is a greater challenge.
To increase your chances of unlocking Icebreaker faster, you can complete the Nightfall Bounty with multiple characters, giving you three attempts per week.
Though introduced as part of The Dawning update, both Strike Scoring and the Icebreaker will stick around long after the event is over, so don't panic if you haven't received it come mid-January.
Icebreaker debuts with new Ornaments - Nanohance and Dunebreaker - as part of its debut, which you can receive from Treasures of the Dawning boxes.