Assassin's Creed Valhalla narrative director responds to claim Eivor was originally intended to be "exclusively" a woman
"This is not wholly accurate."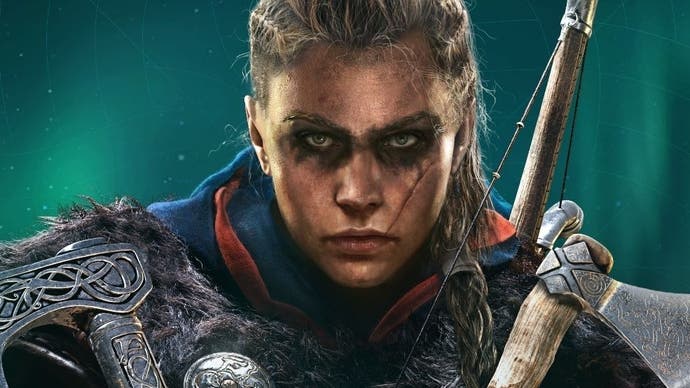 Assassin's Creed scribe Derby McDevitt has responded to a claim the upcoming Assassin's Creed Valhalla was originally intended to feature a woman as its sole choice of main character for the first time.
The claim, posted on Twitter by Assassin's Creed fan Seiiki Dell'Aria, originates from discussions between the now-disgraced former Valhalla creative director Ashraf Ismail and an alleged victim of his (Ismail stepped down from the project in June after allegations concerning his private life and alleged contact with women who were fans).
"I was approached by one of Ash's victims who showed me bits of conversations and confirmed something that isn't quite out, but that won't surprise anyone," Dell'Aria wrote. "Just like for Syndicate, Origins and Odyssey, it was the devs wish that Valhalla featured a female protagonist. Exclusively.
"Execs blocked them from doing that and forced the team to include a male version of Eivor, because a woman alone wouldn't have sold, insisting that the marketing campaign should have focused on male Eivor. Which it did, we've seen Female Eivor only long after ACV's reveal."
I will not out my source unless they decide to come out and show their receipts, but I trust them and believe what they told me and showed me. The team really wanted she-Eivor to be the star of this game but they were straight up told no.
No. To. Women.

— Sebastian Dell'Aria 🌌 (@Memento_Gallery) August 4, 2020
According to Dell'Aria's source, Ismail had pointed out that Valhalla main character Eivor had an "inherently female name... that is proof she is/was canon. But the higher ups simply wanted a dude."
Writing on the Assassin's Creed reddit, Ismail's former colleague and Valhalla narrative director McDevitt responded:
"I will say this once: this is not wholly accurate.
"And I will repeat what I have always said. ACVs story was conceived from the beginning with both female and male in mind. When you play the game you will understand that there is no way the male could have been added at the last minute, or whatever version of this story you have heard.
"Obviously there is more nuance to all this, but to go deeper would spoil lots of the mysteries at the heart of the game. But understand this, that we started ACV knowing full well that Ubi wanted to give players the ability to select characters, and we worked hard to make sure that it honoured our lore."
Valhalla is the first Assassin's Creed game to let you switch between male and female versions of a single main character at any time via an option in the game's menu. The in-game narrative reason for how this is possible, referred to above by McDevitt, has yet to be revealed.
The claim comes amid a turbulent time for Assassin's Creed and Ubisoft in general. One report into the publisher claimed Ubisoft had systematically diminished or sidelined the role of its leading women in several recent Assassin's Creed games, making Syndicate's Evie Fry and Origins' Aya playable only in certain sections, and making Odyssey's Kassandra an optional lead rather than its sole hero. Following the report's publication, several of these characters' voice actors took the rare step of speaking out to corroborate the claims.
Back in May, Valhalla was first revealed with the male Eivor front and centre, while its female Eivor was relegated to a reveal via a plastic statue. I previously asked Ubisoft why the game's reveal only focused on the male version of Eivor - and the answer, as was the case when I asked about Odyssey's Kassandra and Alexios, is that the marketing will "showcase both at different points".