You can get a fancy Gears of War ship set by playing Sea of Thieves over the next week
Plus the Obsidian Wheel by watching X019 tomorrow.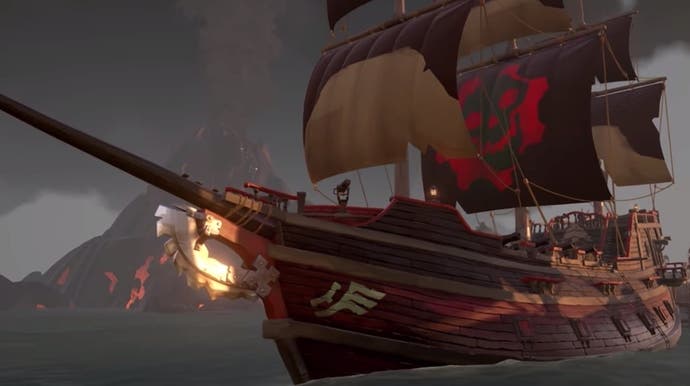 Sea of Thieves is no stranger to cross-promotional camaraderie; we've already seen the likes of Banjo-Kazooie, Perfect Dark, and Halo sneaking into Rare's multiplayer pirate adventure by way of fancy limited-time cosmetics. And now Gears of War is getting in on the nautical action too.
By logging onto Sea of Thieves any time until 22nd November, players can gain access to the Gears-of-War-inspired Omen Ship Set, consisting of a themed hull, sails, flag, and a totally on-point Chainsaw Bayonet figurehead. All of that can be seen in the announcement trailer below.
Furthermore, those pirates still waiting to complete their Obsidian Ship Set - part of a long line of Obsidian cosmetics that Rare has been very slowly rolling out during various promotional opportunities over the last year - will soon have a chance to snag the Obsidian Wheel.
To add the wheel to their collection, players simply need to watch a bit of Microsoft's special Inside Xbox X019 livestream via Mixer. Things get underway tomorrow, 14th November, at 8pm GMT, and you'll need to be logged in using the Microsoft account tied to Sea of Thieves.
Rare has already confirmed it will be revealing Sea of Thieves' November content update in a trailer during the livestream (there's no news yet on what that will entail, but I'm still holding out for the accidentally previously announced fire), and word from respected industry analyst Daniel Ahmad suggests that we might get a first look at a new Rare IP too.
Ahmad also reports that tomorrow will bring news of a new Obsidian IP, alongside solid release dates for the likes of Bleeding Edge, Minecraft Dungeons, and Wasteland 3, so it's probably worth a punt even if you're not actively looking to snazz up your ship anytime soon.