Sea of Thieves is gifting players a sexy Halo-inspired ship set to celebrate E3
But only for a limited time.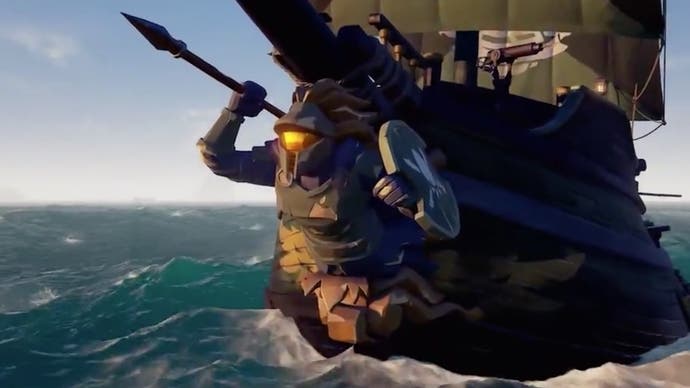 Rare is celebrating E3 week with a free gift to all Sea of Thieves players, and it comes in the form of the extremely sexy, Halo-inspired Spartan Ship Set.
The ship set consists of four main pieces: a new flag, sails, tasteful hull paint job, and a glorious figurehead that's unquestionably Master Chief, but with a distinct Sea of Thieves spin. It's not immediately clear if there are matching wheel, capstan, and cannon elements from the reveal video, but do have a squint yourself below.
We're proud to unveil the @Halo-inspired Spartan Ship Set, made in partnership with our friends at 343 Industries. Earn it by battling in The Arena on the E3 show floor OR by playing #SeaOfThieves at any time between now and 23:59 BST on Saturday! pic.twitter.com/GOrjvzmBzc

— Sea of Thieves (@SeaOfThieves) June 10, 2019
All you need do to acquire the set is log onto Sea of Thieves on Xbox One or PC any time this week, from now until 23:59pm BST on Saturday, 15th June.
Don't panic if it doesn't immediately appear in your cosmetics chest, however; Rare says it may take up to 72 hours after your first play session.