UK Top 40: UFC Undisputed 3 claims number one
But where's Tekken 3D?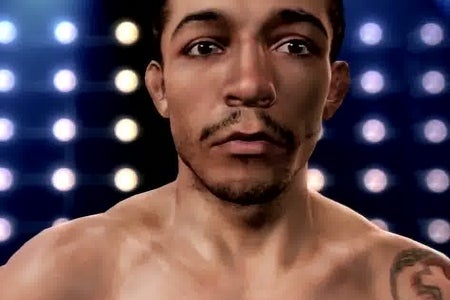 THQ brawler UFC Undisputed 3 entered the UK all-format charts in first place, holding off FIFA 12 in second.
UFC3 is the first game from troubled publisher THQ to hit the top-spot since last year's Homefront, although UFC3 sold less at launch than previous entry, UFC 2010.
Tekken 3D: Prime Edition, last week's other newcomer, failed to enter the top 40 altogether. It's nowhere to be found on the 3DS specific top 10, either. The fact that retailers Game and Gamestation did not stock Tekken 3D probably didn't help.
Kingdoms of Amalur: Reckoning, last week's number one, tumbled all the way into 12th place.
Call of Duty: Modern Warfare 3 was third, while Mario & Sonic: London 2012 Olympics rocketed up to fourth.
Battlefield 3 was fifth, followed respectively by Final Fantasy 13-2, Skylanders, The Darkness 2, Skyrim and Just Dance 3.
The full top 40 lies below.
| This Week | Last Week | Title | Platform(s) |
| --- | --- | --- | --- |
| 1 | New entry | UFC Undisputed 3 | PS3, Xbox 360 |
| 2 | 5 | FIFA 12 | PS3, Xbox 360 |
| 3 | 7 | Call of Duty: Modern Warfare 3 | DS, PC, PS3, Wii, Xbox 360 |
| 4 | 10 | Mario & Sonic: London 2012 Olympic Games | Wii |
| 5 | 6 | Battlefield 3 | PC, PS3, Xbox 360 |
| 6 | 2 | Final Fantasy 13-2 | PS3, Xbox 360 |
| 7 | 14 | Skylanders: Spyro's Adventure | 3DS, PS3, Wii, Xbox 360 |
| 8 | 3 | The Darkness 2 | PC, PS3, Xbox 360 |
| 9 | 9 | The Elder Scrolls 5: Skyrim | PC, PS3, Xbox 360 |
| 10 | 12 | Just Dance 3 | Wii, Xbox 360 |
| 11 | 8 | Assassin's Creed: Revelations | PC, PS3, Xbox 360 |
| 12 | 1 | Kingdoms of Amalur: Reckoning | PC, PS3, Xbox 360 |
| 13 | 4 | Metal Gear Solid: HD Collection | PS3, Xbox 360 |
| 14 | 13 | Zumba Fitness | Wii, PS3, Xbox 360 |
| 15 | 23/ | Lego Harry Potter: Years 5-7 | PC, PS3, Wii, Xbox 360 |
| 16 | 16 | Rage | PC, PS3, Xbox 360 |
| 17 | 15 | Saints Row: The Third | PC, PS3, Xbox 360 |
| 18 | 21 | Lego Pirates of the Caribbean | 3DS, DS, PC, PS3, Wii, Xbox 360 |
| 19 | 24 | Super Mario 3D Land | 3DS |
| 20 | 17 | Need for Speed: The Run | PC, PS3, Wii, Xbox 360 |
| 21 | 28 | Dead Island | PC, PS3, Xbox 360 |
| 22 | 25 | Batman: Arkham City | PS3, Xbox 360 |
| 23 | 27 | Moshi Monsters: Moshling Zoo | DS |
| 24 | 19 | Mario Kart 7 | 3DS |
| 25 | 11 | SoulCalibur 5 | PS3, Xbox 360 |
| 26 | 18 | Zumba Fitness 2 | Wii |
| 27 | 31 | Forza Motorsport 4 | Xbox 360 |
| 28 | 38 | Skate 3 | PS3, Xbox 360 |
| 29 | Re-entry | Uncharted 3: Drake's Deception | PS3 |
| 30 | Re-entry | Sonic Generations | PS3, Xbox 360 |
| 31 | 39 | Disney Universe | PC, PS3, Xbox 360 |
| 32 | 36 | The Sims 3 | 3DS, PC, PS3, Wii, Xbox 360 |
| 33 | 29 | Cars 2 | DS, PC, PS3, Wii, Xbox 360 |
| 34 | Re-entry | The Sims 3: Pets | 3DS, PC, PS3, Wii, Xbox 360 |
| 35 | 22 | Football Manager 2012 | PC |
| 36 | 32 | Rayman Origins | PS3, Wii, Xbox 360 |
| 37 | Re-entry | Lego Harry Potter: Years 1-4 | PS3, Xbox 360 |
| 38 | 26 | Grand Slam Tennis 2 | PS3, Xbox 360 |
| 39 | 26 | Kinect Sports: Season 2 | Xbox 360 |
| 40 | 33 | Mario Kart Wii | Wii |