EA responds to fan backlash to in-game ads in UFC 4
"It is abundantly clear from your feedback that integrating ads is not welcome."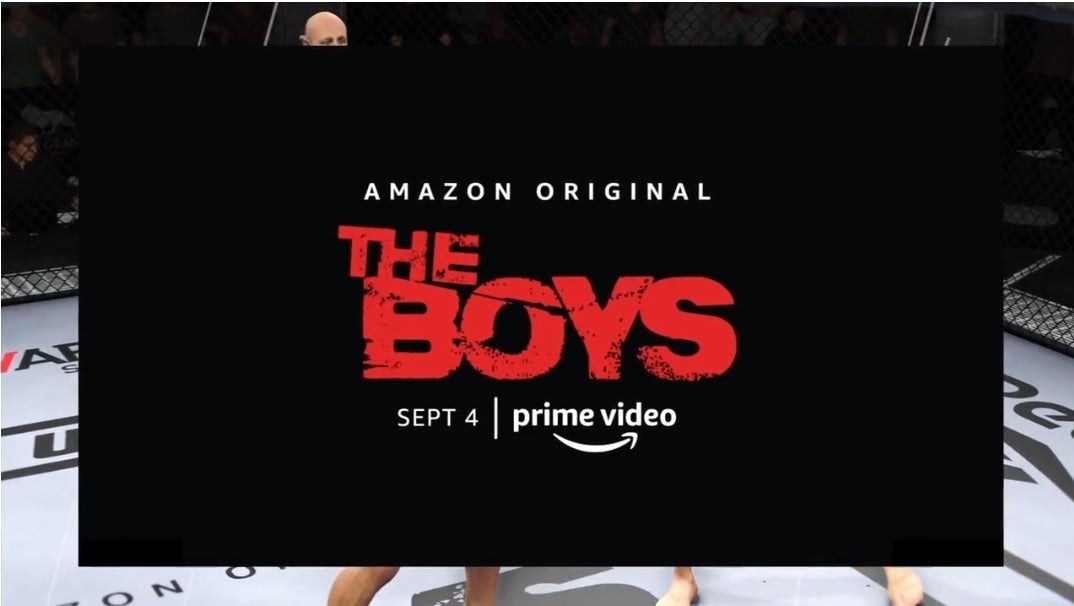 UPDATE 06/09/20: EA has now removed in-game ads from UFC 4 after fans flooded the company's social channels with complaints.
In a statement to Eurogamer that was also posted on Reddit, EA said: "Earlier this week, the team turned on ad placements in EA SPORTS UFC 4 that appeared during the "Replay" moments in gameplay. This type of advertising inventory is not new to the UFC franchise, though we have typically reserved displaying ads to specific main menu tiles or Octagon logo placement.
"It is abundantly clear from your feedback that integrating ads into the Replay and overlay experience is not welcome. The advertisements have been disabled by the team and we apologize for any disruption to gameplay that players may have experienced.
"We realize that this should have been communicated with players ahead of time and that's on us. We want to make sure our players have the best possible experience playing EA SPORTS UFC 4, so ad integration in the Replay and overlay experience will not be reappearing in the future. Thank you for your continued feedback on EA SPORTS UFC 4."
Original story follows.
---
ORIGINAL STORY 05/09/20: EA has sparked a fresh fan backlash after adding in-game ads to UFC 4.
Players noticed advertisements briefly pop up at the beginning and end of replays in the premium video game, and a clip of this has gone viral on reddit with over 86,000 upvotes.
The clip in question shows a full-screen advert for Amazon TV show The Boys, alongside a 4th September 2020 date for the launch of its second season. This advert also displays at the end of the replay.
The clip also reveals an advert for The Boys on the canvas, and a third pop-up during actual gameplay at the bottom of the screen.
These adverts went live just over two weeks after UFC 4 came out on 14th August 2020, which critics have pointed out means they won't have been picked up by reviewers. In fact, gamers have reported the same in-game adverts in UFC 3, too.
While in-game advertisements are hardly a new thing, and players of free-to-download games and mobile titles are used to watching adverts in order to progress, the UFC community appears united in its disgust at the addition of in-game pop-up advertisements in UFC 4 - a full-price game that's already under the cosh from fans for not turning out as well as many had hoped.
"I wouldn't mind the commercials if it was a free-to-play game," commented redditor ryangoddard1984. "But the full retail price plus being bombarded with advertisements is a real slap in the face. If it was just on the octagon canvas then it would actually be pretty cool. Or if it was a little trailer in the corner of the screen for five seconds."
EA has yet to comment (we've asked), but it looks like the adverts are part of a new initiative that caught the attention of the business press earlier this year.
In July 2020, the Wall Street Journal reported that AT&T's WarnerMedia ran three ad tests within February 2018's UFC 3 (probably why hardly anyone noticed) back in May promoting Turner properties Rick & Morty, Snowpiercer, and The Match.
Then, in July, credit-reporting company Experian started a test within UFC 3 for its Experian Boost product, which aims to help people increase their credit score. The test ad featured celebrity spokesman John Cena, according to WSJ. It's all part of reaching a wider, younger audience that isn't necessarily watching telly, according to the marketers.
The WSJ noted that the video game executives were mindful of a backlash from gamers, and that's exactly what they've got now with the Amazon adverts in UFC 4. Perhaps they viewed a potential negative reaction as the cost of doing business.
What's next? An advert you have to watch at half-time in FIFA 21?