THQ delays South Park: The Game, ditches Devil's Third
Reveals Saints Row, UFC sales, Company of Heroes 2 post-launch DLC.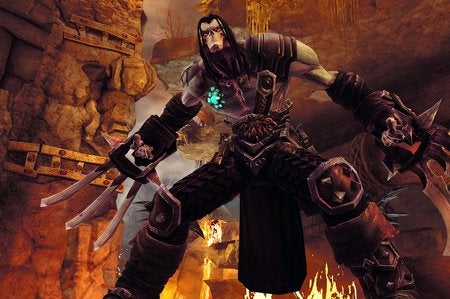 THQ has delayed South Park: The Game to the fourth quarter of its 2013 financial year.
That is, it will now launch at some point from the beginning of January to the end of March 2013. It had been due out this year.
South Park: The Game is an action RPG developed by Fallout: New Vegas maker Obsidian Entertainment. Its visual style is lifted straight out of the TV series, and there are character classes and turn-based combat.
Meanwhile, THQ confirmed last night that it has dropped Devil's Third, the action game made by Ninja Gaiden creator Tomonobu Itagaki.
During an investor call THQ boss Brian Farrell said Devil's Third no longer "fits THQ's profile", and was unlikely to make a profit. Apparently the game ran into trouble when the company supplying Itagaki's studio Valhalla with a game engine went out of business, forcing the team to switch engines mid-way through development.
This proved to be a costly dent in THQ's publishing effort. "When we ranked all of our product releases when we underwent our restructuring, the profitability of Devil's Third wasn't comparable with our other franchises," Farrell said.
However, there is light at the end of the tunnel for Devil's Third. THQ is seeking to offload the game to another publisher. It remains to be seen if it will be picked up.
Meanwhile, THQ announced it has shipped over 11 million units in the Saints Row franchise globally, making the sandbox action game the publisher's most successful owned IP. So far more than 4.25 million units of Saints Row: The Third have been shipped. The game has generated the highest digital revenue of any console title in the company's history. In September 2012 THQ will release Saints Row: The Third - Enter The Dominatrix, a "standalone franchise extension".
Company of Heroes 2, developed by Relic Entertainment, launches in "early calendar 2013". There's a "strong post-launch digital content plan", too.
THQ shipped over 2.2 million units of WWE 12, which launched in November 2011. This amounted to a "successful rebranding" and a "higher sell-through to date", up 20 per cent on like-for-like platforms in the US versus 2010's WWE game. There will of course be another WWE game later this year. And UFC Undisputed shipped 1.4 million units since its mid-February 2012 launch.
So, THQ's upcoming release schedule is as follows:
Darksiders 2; console, PC; August 2012.
Saints Row: The Third - Enter The Dominatrix; console, PC; September 2012.
Annual WWE Game; console, PC; Q3 FY13.
Company of Heroes 2; PC; Q4 FY13.
Metro: Last Light; console, PC; Q4 FY13.
South Park: The Game; console, PC; Q4 FY13.
All this news came as THQ reported heavy losses for the 2012 financial year, one that has proved incredibly tough for the US company. It's ditched its kids license business, the uDraw Game Tablet project, and turned the Warhammer 40k MMO into a single-player game. THQ made a $239.9 million loss for the year off the back of $830.8 million in revenue.
Farrell said: "We exceeded our initial fourth quarter guidance for net sales, earnings and cash position, driven by high quality core games with a significant digital component, which is the blueprint for our future.
"We have made significant changes to our business, and are on track to execute our strategy of delivering quality connected core gaming experiences, beginning with the sequel to the award-winning Darksiders in August.