The Last of Us Part 1 PC features unlocked framerate, speedrun and permadeath modes
Of corpse it does.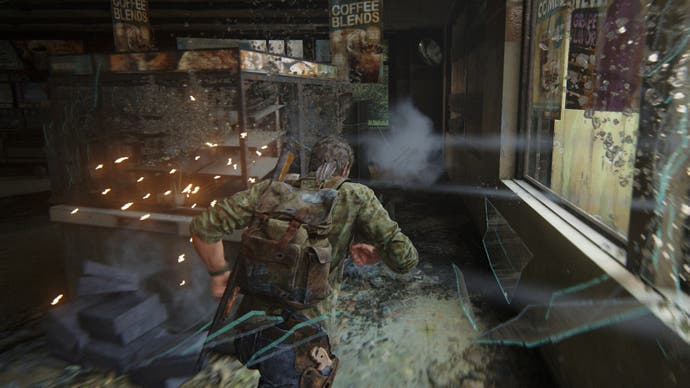 The Last of Us Part 1's PC release is just around the corner. In anticipation of this, Naughty Dog has released a short video showing off some more of its upcoming features.
On its PC launch, The Last of Us Part 1 will include unlocked framerate, FSR Support, a speedrun mode (although, depending on which edition you buy, some story progression may be required before this mode is unlocked) and a permadeath mode.
Here is a little trailer showing how it all looks in play:
Earlier this year, Naughty Dog additionally stated The Last of Us Part 1 will feature a full suite of adjustable graphics options on PC. There will also be 21:9 Ultrawide and 32:9 Super Ultrawide monitor support, and compatibility with various technologies, including AMD FSR 2.2, Nvidia DLSS Super Resolution, and 3D audio.
As for input options, Sony trumpets wired DualSense controller support, but it notes The Last of Us Part 1 also works with a wide range of other gamepads, alongside keyboard and mouse. It promises a selection of control customisation options, including control remapping, primary and secondary bindings for keyboard and mouse control, plus an adaptive mode combining keyboard and controller inputs.
Meanwhile, below are the PC requirements for The Last of Us Part 1, as shared by Naughty Dog and Sony.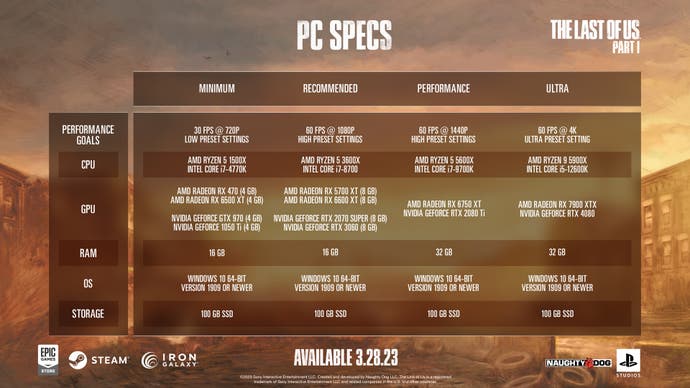 After a short delay, The Last of Us Part 1 is due to get its PC release on 28th March (via Steam and Epic), with pre-orders open now.
For a breakdown on what you get with each edition, you can read our article detailing the various perks and bonuses here.