Star Citizen has now raised over $250m in crowdfunding
With a whopping $9.5m in November alone.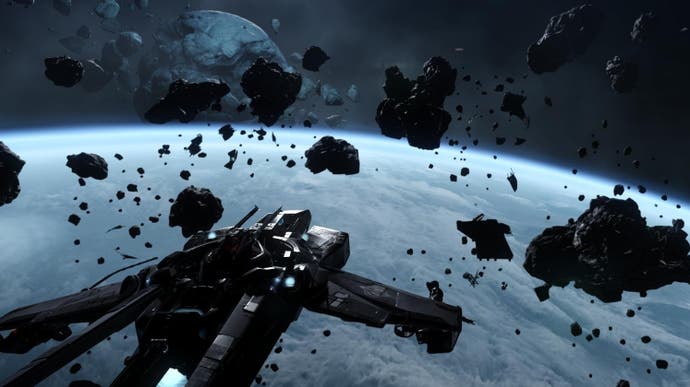 Star Citizen - the first ever space sim in danger of making itself irrelevant by not actually managing to come out before we all live in space - has now raised more than $250m USD in crowdfunding, according to figures from developer Cloud Imperium Games.
Star Citizen's initial crowdfunding campaign set the bar high, securing over $6m back in 2012. Despite the space sim having missed its original anticipated release date of November 2014 by quite some margin (not to mention a succession of other milestone targets for its various announced modes), that figure has continued to climb dramatically in the years since.
Star Citizen's crowdfunding status is, somewhat uniquely, displayed in real-time for anyone to see, and its last major monetary milestone of $200m (a figured that doesn't include the previously announced $46m of private investment) occurred a little over a year ago in November 2018. That means supporters are contributing an average of around $130,000 a day through pledges, the purchase of virtual ships, and more.
Notably, a hefty $9.5m of Star Citizen's current crowdfunding total was raised last month in the lead-up to this year's CitizenCon event in Manchester. Here, as seen in the video above, lead designer Chris Roberts unveiled the space sim's new snow planet microTech, which players will be able to explore later this month as part of its 3.8 alpha release.
CitizenCon also saw the reveal of Theatres of War, a 20v20 multiplayer mode combining first-person shooting and vehicle combat that's due to arrive sometime next year. Dynamic planetary weather, the long-promised $349 USD Anvil Carrack ship, new star system Pyro, and the beta of much-delayed single-player mode Squadron 42 are also set for launch in 2020.
Star Citizen's ongoing alpha has received a steady procession of new features over the last 12 months, including its first explorable planet Hudson (and the futuristic city of Lorville), playable female characters, first-person mining, caves, and more, as outlined in its roadmap. Despite this seeming increase in development progress, however, Star Citizen is still yet to receive a release date, almost eight years after its successful crowdfunding campaign.
Those curious to see how Star Citizen is progressing, but not quite curious enough to reach into their wallets for the privilege, can do so first-hand via the long-in-the-works space sim's current Free Fly event, which comes to an end this Thursday, 5th December.