Playable female characters finally come to Star Citizen
And cities the size of planets.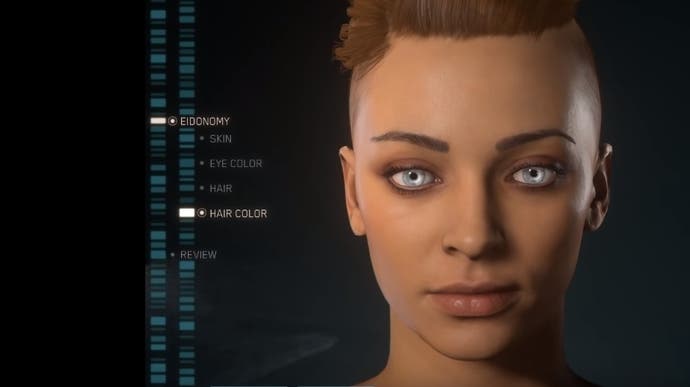 The milestone Star Citizen alpha 3.5 update arrives for backers this weekend, and it's headline feature, among many, is playable female characters.
"This has been a long time coming and it was a huge undertaking," said Star Citizen's head honcho Chris Roberts in a press release.
"It involved creating an entirely new 'rig' for female characters to make them physiologically distinct from the male characters, something most games don't try to attempt for player characters."
Once lady Star Citizen was finished, it meant everything in the game already - ships, animations, clothing, armour, weapons - had to be retrofitted to work with her.
Customising her - and male characters - can be done in an intriguing new way called Gene Splicing, which instead of letting you have direct access over a character's facial features, has you tweaking the amounts of features they inherit from other faces.
"The advantage of this approach is you always get realistic looking players, not immersion breaking 'monsters' that sometimes can be created using more traditional techniques," said Roberts.
Alpha 3.5 also opens a new urban planet called ArcCorp to play in. This is the 'cities the size of planets' place we saw impressively demoed a couple of years ago.
On top of that, the entire Star Citizen flight model is being overhauled in alpha 3.5, and planets now have in-atmosphere gravity to deal with. Oh and there will be AI bounty hunters, too. These are by no means all of the updates but the most notable ones. Hit the Star Citizen website for more.
Meanwhile, Star Citizen continues to take ages to finish (if it ever will be, har har), and has no final release date. However, developer Cloud Imperium openly shares a roadmap for the year ahead, and the plan is to hit alpha 3.8 by the end of 2019.
Beta? Don't know. But maybe we can take a cue from Squadron 42, which is the glossy, standalone, single-player accompaniment to Star Citizen, the one with Hollywood actors like Gillian Anderson and Gary Oldman and Mark Hamill in. A beta for Squadron 42 is officially due mid-2020 - maybe Star Citizen will follow suit? Then again, I've learned with Star Citizen it's important not to get one's hopes up.