How to send and receive Gifts in Pokémon Go
How sending and receiving Gift boxes works in Pokémon Go.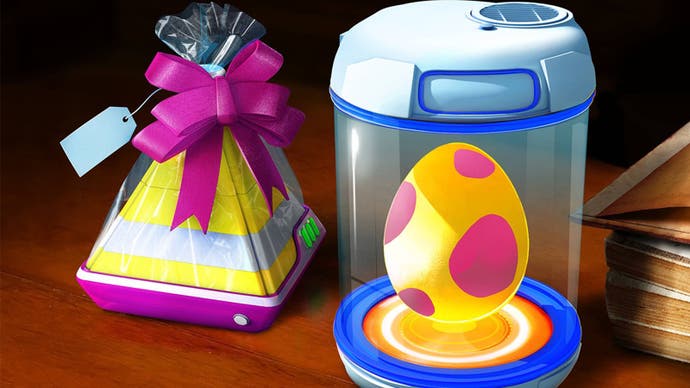 Pokémon Go Gifts are special items you can send your friends in Pokémon Go, as part of the Friendship and Trading mechanics launched in 2018.
Giving and recieiving gifts offers a huge amount of benefits, from the obvious and the material to the subtle and collectable. The most obvious perk, beyond a quick top-up of Pokéballs and Potions, is the daily bump to your Friendship Level.
Beyond that, opening gifts is the only way to get the elusive 7km Eggs with their exclusive egg pools – most recently being the only way to access the new Hisuian Forms added in July 2022.
Learning how gifts work, such as how to send and recieve gifts, is essential to making the most of your Pokémon Go experience.
On this page:
How to get Gifts and send Gifts in Pokémon Go
Below you'll learn how to send, recieve and open gifts in Pokémon Go:
How to get gifts in Pokémon Go
Gifts are unique items in Pokémon Go, as you can only open them when received from a Friend.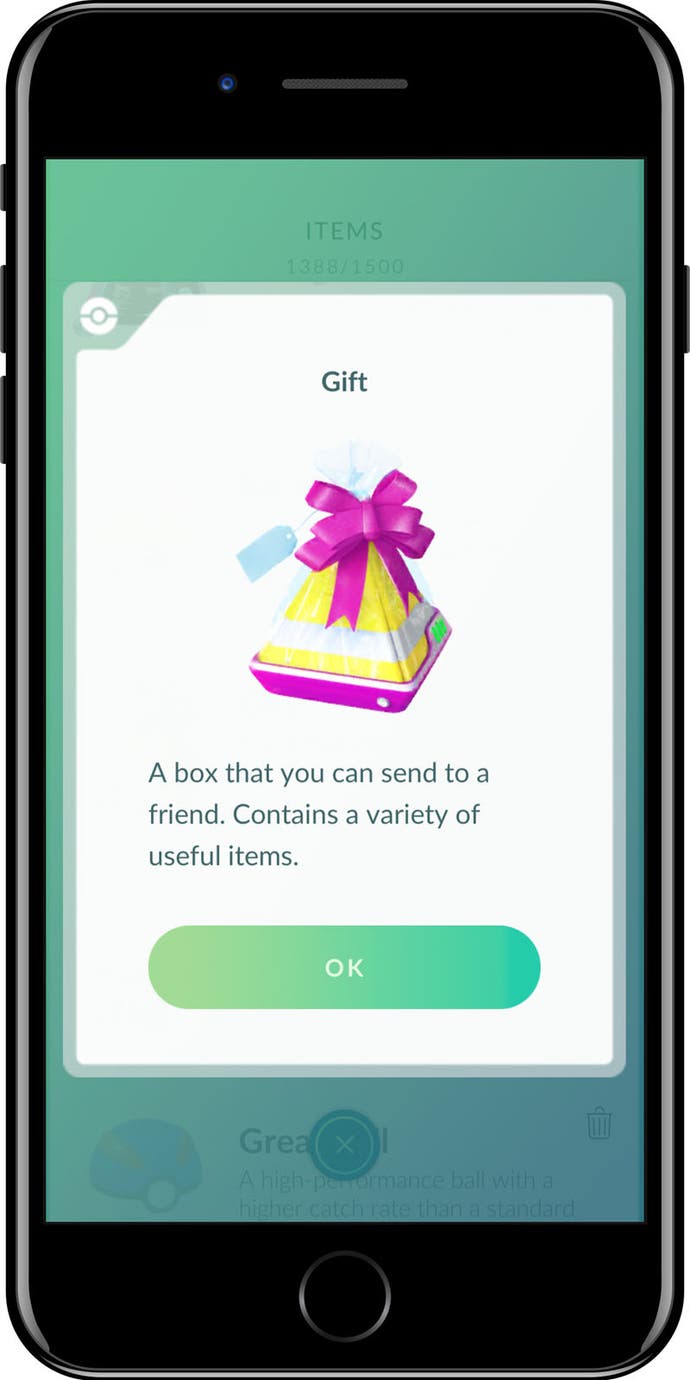 Like most things in Pokémon Go, the Gift system relies heavily on randomness.
This starts in how you get Gifts. As you walk around the world, spinning PokéStops, you will sometimes find that you pick up Gifts along with your usual dose of Poké Balls and Potions. The lower the number of gifts you are holding, the more chance you have of picking them up, up to your maximum of 30 gifts.
That said, the number of gifts you can carry, and how frequently they drop, are often tweaked as part of in-game festivals and events. If you're the kind of Trainer who likes sending freebies to your friends, these are the kind of events to watch out for.
Once in a while, your Buddy Pokémon may also bring you a gift to send your friend, assuming you've reached a high enough friendship level with said Pokémon. But, like any other item, such as Poké Balls and evolution items, there's only a chance to receive a Gift while playing – you aren't guaranteed to receive one with every spin.
So, now you have a bunch of Gifts, what do you do with them? Sadly, you can't open them yourself: in the spirit of giving, you must channel your inner Delibird and send them to someone on your Friends List.
Our how to add a friend in Pokémon Go page can explain how to get started with this feature.
How to send Gifts in Pokémon Go
Once you have added a Friend in Pokémon Go, you will see their trainer profile in your Friends list by tapping your icon in the bottom left of the screen and then tapping 'Friends' at the top right. Find the friend you want to send a gift to and tap on them to bring up their profile.
On the bottom left of the screen (below their XP bar), there is the option to send a Gift. Unlike Trading, you don't need to be in close proximity to send Gifts, meaning you can send a recieve gifts from Trainers anywhere in the world.
Click 'Send Gift' and you'll see a screen asking which gift you want to send, with a list of Gifts and Postcards showing where you found them.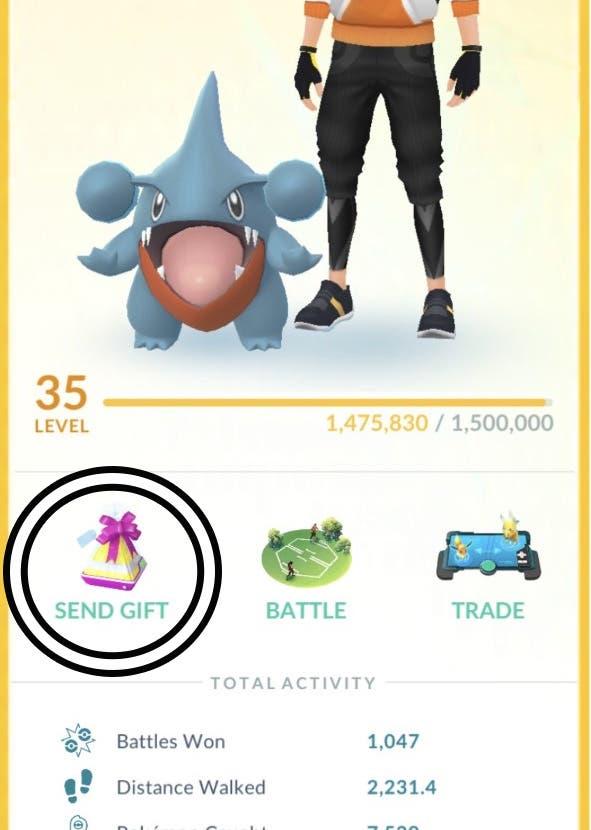 Up until summer 2022, all gifts were the same and your choice didn't matter. However, with the additionof the Postcard Book feature, trainers can save the Postcards to an album. Does it make a difference in the grand scheme of things? No. Does your friend like seeing pictures of your local parks, church or other landmarks? Send them the gift you think they'll like, and they may choose to save the Postcard to look at later.
Similar to how the Postcard doesn't make any material difference, you also get the option to add a Sticker to your Postcard. This does absolutely nothing mechanically, but feel free to add them if you think it'll make your friend smile! Click Send and you'll see your Gift whisked away.
You can only send one gift to each Trainer per day, and each trainer can only recieve one gift from you at a time. If the option to send a gift is greyed out, it means that you've either sent one today or they still have one that you sent previously.
How to open a Gift in Pokemon Go
If you have notifications turned on, the game will let you know when a Friend sends you a Gift. If not, you can always check your Friend list and look for the little Gift icon underneath their name. Click on it and you'll see a wiggling gift overlay their trainer profile. Click on that and watch the goodies fall out like a piñata.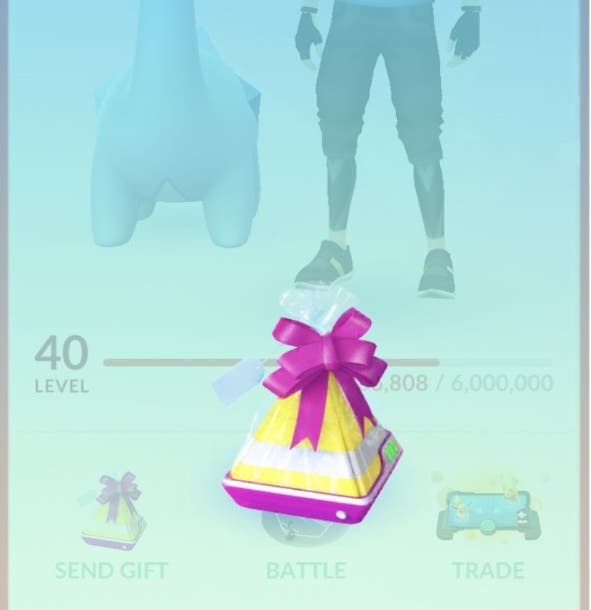 If you haven't interacted with your friend today, this will increase your Friendship by one unit, helping you inch your way closer to becoming in-game Best Friends.
---
The Season of Adventures Abound is here! Currently the Out to Play event is running. You can also work on the Timed Investigation: Master Ball quest and compete in the Go Battle League. Be sure to compete in Shadow Raids, complete Routes, use Daily Adventure Incense for the chance of encountering Galarian Articuno, Galarian Zapdos and Galarian Moltres. This incense may also give you encounters with other rare Pokémon in Pokémon Go.
---
What do you get from Pokémon Go Gifts?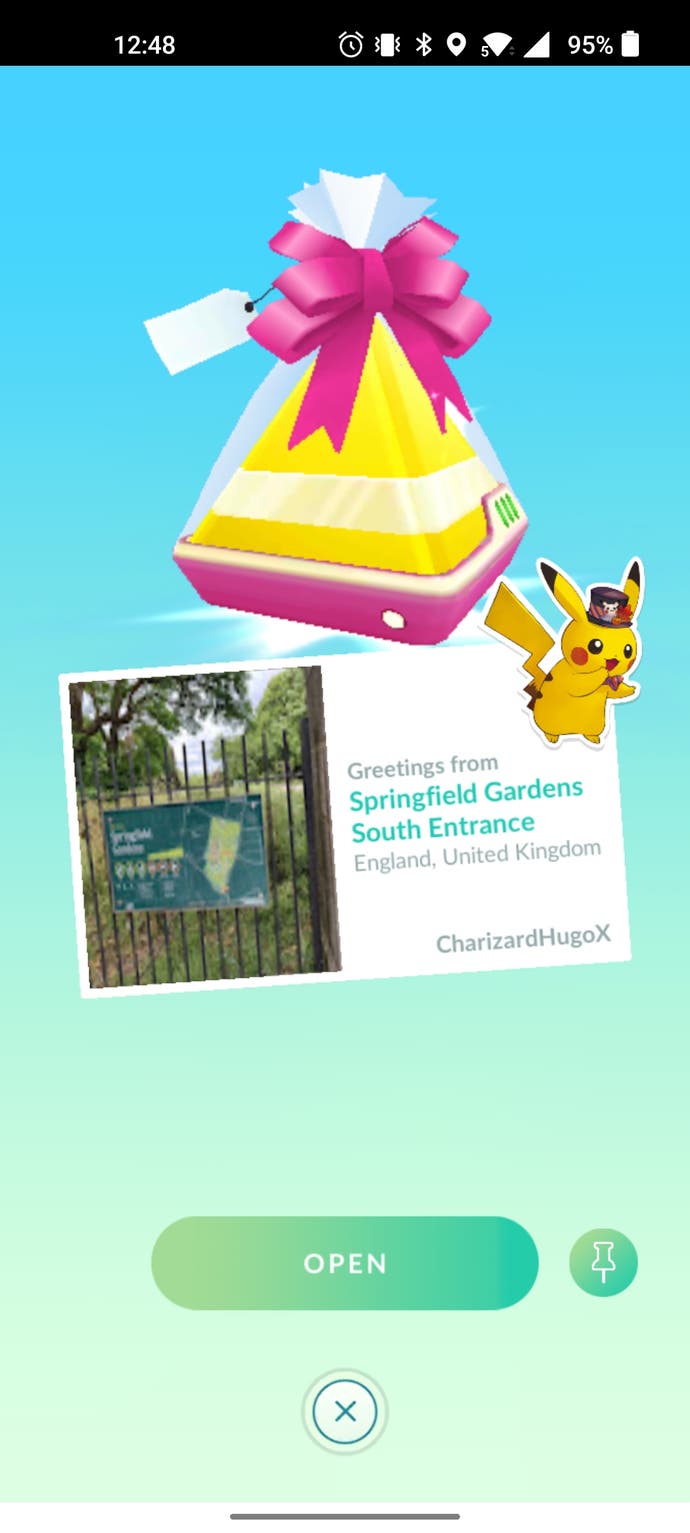 So, what's inside these Gift boxes you can send and receive?
Gifts feature "a variety of useful items" – what comes out of them is random, but the contents are generally "higher value than what Trainers normally obtain from spinning PokéStops", Niantic says – so, everything you can get from a PokéStop, as well as a few rare additions. This includes:
Poké Balls
Great Balls
Ultra Balls
Potion Potion
Super Potion
Hyper Potion
Max Revives
Pinap Berry
Evolution items such as King's Rock and Sun Stone
Rare Candy
Stardust
7km Eggs
The 7km Egg is the only Gift-exclusive item that you can't get anywhere else. Originally, these would hatch into one of the Alolan Pokémon from the Kanto region, but the pool of potential Pokémon in each 7km egg changes with the in-game events. Sometimes these Pokémon are more desireable than others, but they frequently have Go Battle League relevance, so keep an eye on the rotating pool in case there's anything you need for Great League or Ultra League.
Remember, as with all Eggs, you will not receive Eggs from Gifts if you have no Egg slots remaining. If you want a 7km Egg, then open a Gift after an Egg has hatched, but before you spin a PokéStop or beat a Go Rocket Team Leader.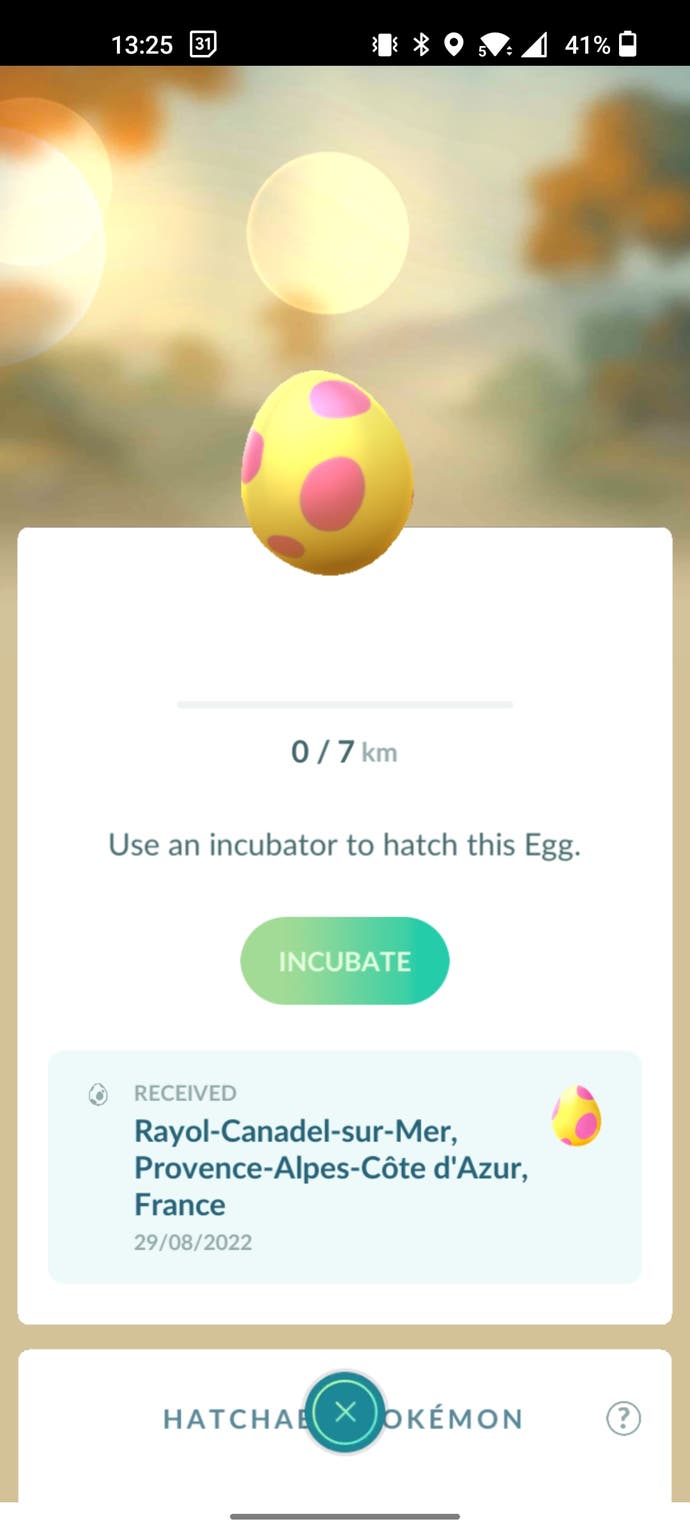 ---
The Season of Adventures Abound is here! Currently the Out to Play event is running. You can also work on the Timed Investigation: Master Ball quest and compete in the Go Battle League. Be sure to compete in Shadow Raids, complete Routes, use Daily Adventure Incense for the chance of encountering Galarian Articuno, Galarian Zapdos and Galarian Moltres. This incense may also give you encounters with other rare Pokémon in Pokémon Go.
---
What are Sponsored Gifts in Pokémon Go
Sponsored Gifts buck the trend of what we laid out above, in that they can't be sent to friends and you open them as you recieve them.
These pink Gift boxes come either in the form of a PokéStop drop, like everything else, or in occasional mini hot-air balloons. You can't force these to spawn, but you will occasionally see them, based on your location and whether Niantic has a sponsorship event running at the time.
Tapping these will show you a Postcard with the logo of the sponsor, and then drop you a couple of random items, just as you'd get from a normal Gift. However, you then get the option to 'Learn more' about the sponsor, should you be interested in their advertising.
There are a couple of other things to note about these sponsored gifts:
You can only open a set number per day.
Trainers with a Child Account will not be able to recieve Sponsored Gifts
All Trainers can opt out of Sponsored Gifts through the normal Settings menu.
What else you need to know about Gift boxes in Pokémon Go
Gifts have a few other quirks you should know about: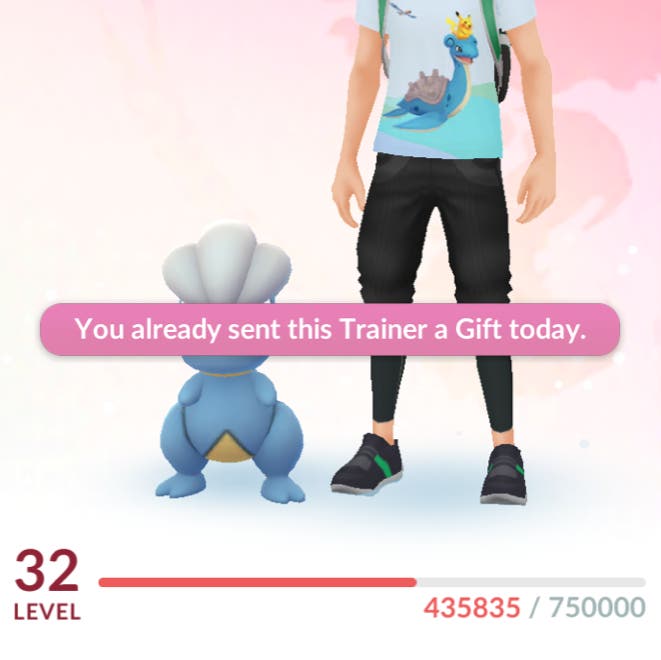 Gifts are the easiest way of increasing your Friendship Level. There are some excellent rewards for doing so, so remember to send Gifts once per day until you are one interaction from levelling up. From there, the etiquette is to coordinate opening gifts at the same time so that both players get the huge XP bonus that comes with levelling up your Friendship Level.
You can only have a total of 30 Gifts in your inventory at once.
Only 30 Gifts can be opened per day.
As of the July 2018 Lucky Pokémon update, each sent gift gives you 200 XP.
You get notified when your Friend has opened a Gift, and how many items it contained. You can view the specific contents if your News feed.
You don't have to open a received Gift to send one in return (if you are waiting for a spare Egg slot, for example). Simply cancel with Gift with the cross at the bottom of the screen (you can open it later - it won't be deleted) to then presented with the option to send one.
Each Gift will come with a postcard, showing the Pokéstop the Gift was collected. You can now keep and collect Postcards by pinning it to your Postcard book. "We want this to mirror the feeling of when a friend gives you a present from a store you enjoy or sends you a postcard from a far-off land," Niantic said when launching the Postcard feature. "It's intentionally sentimental and brings two Trainers together in their travels. Plus, how exciting would it be if one Trainer sent a Gift from a special vacation spot or an exclusive event?"
If your item bag is full, you will not be able to open a Gift.
Have fun sending gifts in Pokémon Go and don't forget to check out our friendship guide!