Pokémon Go Defeat All Challengers event research quest: How to complete each quest task
How to complete the free Kanto research quest.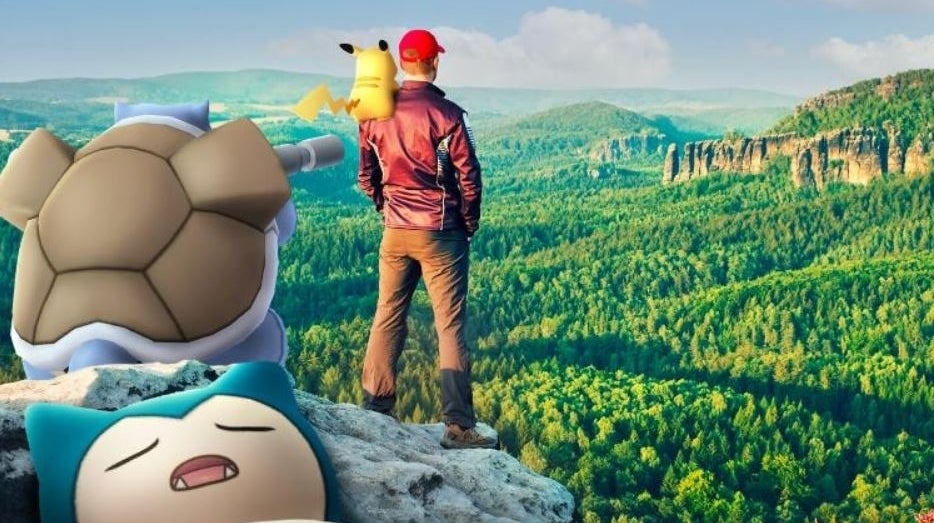 The Defeat All Challengers event in Pokémon Go is a free research quest as part of the Kanto Tour event in February 2021.
Whether you are buying a Red or Green version ticket or neither at all, this gives the event some extra objectives to complete - and, of course rewards which can be useful for completing the event's Collection Challenges.
For ticket holders, you'll also be able to participate in the Kanto Special Research, which differs depending on the version ticket you have purchased.
On this page:
'Defeat All Challengers' quest steps in Pokémon Go
Below you'll find all of the challenges, along with their associated rewards, for the Defeat All Challengers event in Pokémon Go. Before you continue, however, be aware that this section does contain spoilers.
It's also important to remember that this Defeat All Challengers research will only be available during the Kanto Tour event hours and, once it ends, this research quest will disappear forever.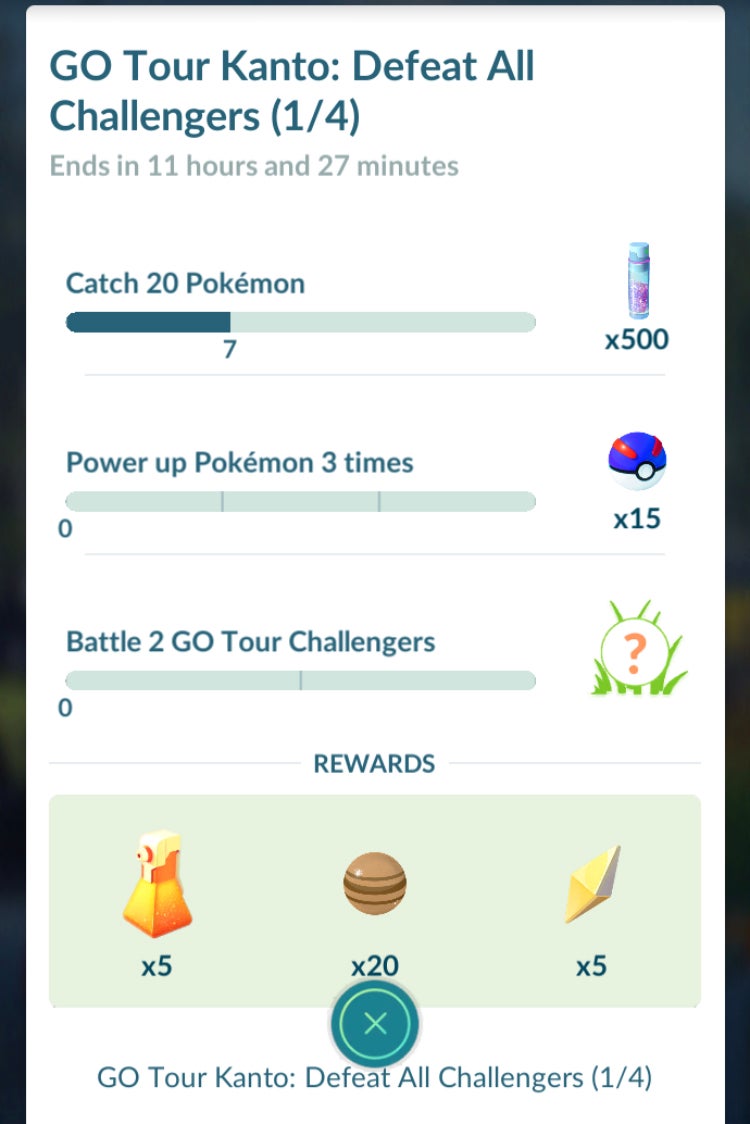 'Defeat All Challengers' Step 1 of 4
Catch 20 Pokémon - 500 Stardust
Power up Pokémon 3 times - 15 Great Balls
Battle 2 Go Tour Challengers - Eevee encounter
Rewards: 5 Super Potions, 20x Eevee candy, 5 Revives
'Defeat All Challengers' Step 2 of 4
Evolve 3 Pokémon - 500 XP
Power up Pokémon 3 times - 500 Stardust
Battle 3 Go Tour Challengers - 500 XP
Rewards: 3 Max Potions, 1 Sinnoh Stone, 3 Max Revives
'Defeat All Challengers' Step 3 of 4
Battle in a raid - 1000 XP
Win a raid - Lapras encounter
Defeat 3 Go Tour Challengers - 1 Star Piece
Rewards: 1000 XP, 20 Lapras candy, 1000 Stardust
'Defeat All Challengers' Step 4 of 4
Power up Pokémon 5 times - Snorlax encounter
Defeat 3 Go Tour Challengers with your buddy - 20 Snorlax candy
Defeat 5 Go Tour Challengers - Premium Raid Pass
Rewards: 1 Lucky Egg, 1 Fast TM, 1 Charged TM
---
New to the game is a long overdue Mega Evolution update, which has arrived alongside the A Mega Moment research. May 2022 in Pokémon Go includes the Water Festival, which celebrates the release of Dewpider and Araquanid. Tapu Fini has also been released alongside A Poni Adventure - the last Alola region-themed special research quest. Currently both the Ultra League and Element Cup are running in the Go Battle League. Elsewhere, we've recently seen the release of more Gen 7 Pokémon as part of the Season of Alola. The first details surrounding Go Fest 2022 have also been announced, including the event date.
---
Tips for the Defeat All Challengers research quest in Pokémon Go
With only a day to complete the Defeat All Challengers quest before the Kanto Tour event ends, you have to act fast. Here's some tips on what to look out for along the way:
Go Tour Challengers replace Go Team Rocket during the event, and can be found by interacting with PokeStops.
For the first two steps, note you only need to battle and not defeat the Go Tour Challengers to complete those specific quest requirements. This is useful if you are against the clock and want to speed through the research.
For the 'Defeat 3 Go Tour Challengers with your buddy' step, you should only need to have it in your party, and not have to use them to win battles with them specifically, to progress this step.
Snorlax and Lapras are rarer spawns during the event, making completing the questline worth it if you're struggling to find those creatures.
If you only have a little time, it's well worth at least completing the first step, which will see you get an Eevee encounter for the two Tour Challengers battles, and 20 Eevee candy - which is useful for the many evolutions required in Collection Challenges elsewhere.
Remember, if you don't complete this quest in time, it's not the end of the world - there are no exclusive rewards or badges for doing so. Best of luck!
Will you support Eurogamer?
We want to make Eurogamer better, and that means better for our readers - not for algorithms. You can help! Become a supporter of Eurogamer and you can view the site completely ad-free, as well as gaining exclusive access to articles, podcasts and conversations that will bring you closer to the team, the stories, and the games we all love. Subscriptions start at £3.99 / $4.99 per month.