Minecraft Dungeons' cross-platform multiplayer support arrives next week
Coming to Xbox One, PS4, PC, and Switch.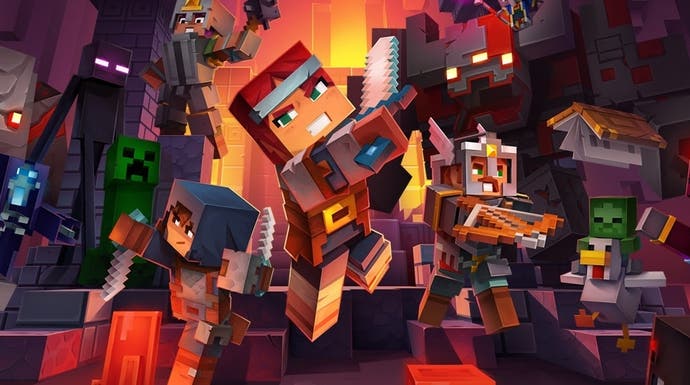 Developer Mojang's perky, procedurally generated dungeon-crawler spin-off, Minecraft Dungeons, will be introducing its previously promised and long-awaited cross-platform multiplayer support next Tuesday, 17th November.
Minecraft Dungeons has continued to grow since its launch earlier this year, having so far received a free new dungeon and two paid expansions - Jungle Awakens and Creeping Winter - alongside a number of smaller, but no less impactful feature updates.
A Daily Trials mode was added in September, for instance, alongside the option to install helpful merchants within the campsite hub, while October's update added a touch of spookiness to Minecraft Dungeons' usual adventuring, courtesy of the Spooky Fall Event.
This month, however, will finally bring one of Minecraft Dungeons' most anticipated post-launch feature additions in the form of cross-platform multiplayer support. As of next Tuesday, 17th November, players across Xbox One, PS4, PC, and Switch will be able to team up for co-operative adventuring - although it's worth noting that cross-save functionality isn't included.
There's yet more Minecraft Dungeons still to come this year, of course; December will bring the game's third paid expansion, Howling Peaks, to all platforms, introducing a new biome and boss, plus new missions, items, and enemies.
It'll be accompanied by a free update for all players, adding an even harder "Apocalypse Plus" option, which brings 20 new difficulty levels, as well as fresh enchantments and items.