Minecraft Dungeons' "chilliest and thrilliest" event is now live
Event brings six new trials, two new trial modifiers, and three new collectibles.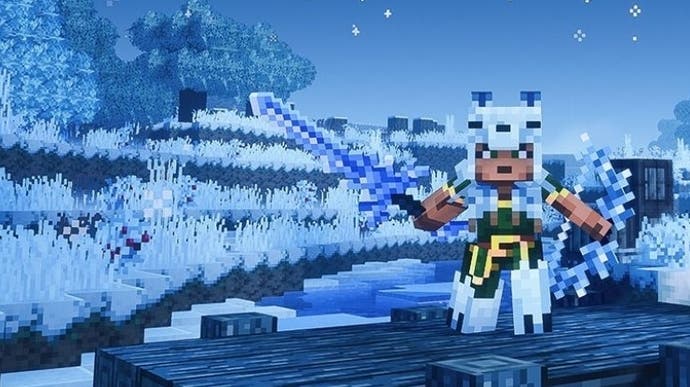 Minecraft Dungeons' latest event is now live, offering six "winter-themed trails" from now until the end of the year.
It also introduces three new collectibles and two new trial modifiers, which includes a changing number of chests, artifact cooldown changes, and the ominous-sounding "invisible mobs".
The chilliest and thrilliest event in Minecraft Dungeons history will run through December 30, 2020," Kelsey Howard wrote on the official website. "The event will have six new winter-themed trials with two new trial modifiers, including a changing number of chests, changing the cooldown on artifacts, and invisible mobs. Invisible mobs? For the sake of my nerves, I'm not going to dwell on that terrifying little tidbit.
"And the cherry on top of this stone-cold sundae? There are three unique collectable items as rewards! Slay the snowy fashion game with the Arctic Fox Armor, slice your way through the ice with the Frost Slayer, or cut through chilling winds with the Shivering Bow - each item brings a wintery approach to combat."
Mojang also recently announced a new season pass for Minecraft Dungeons which will contain four additional DLC packs on top of the two already launched. As Tom explained at the time, the enjoyable Diablo-lite spin-off first arrived earlier this year and quickly added two extra packs, Jungle Awakens and Creeping Winter, which you could buy separately or with a "Hero Pass".
"You can build anything in Minecraft, something this fun dungeon-crawler from Mojang ably proves," Tom wrote in Eurogamer's Minecraft Dungeons review. "It's a strong extension to the franchise, and by far the most promising Minecraft spin-off released to date."