Mario Kart Tour's multiplayer mode launches Monday in the UK
Supports 8 players online or locally.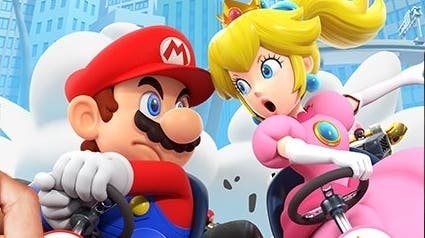 Mario Kart Tour, which is sort of what you'd get if microtransactions had wheels, will no longer be a strictly solo affair as of next week; the iOS and Android racer's long-promised multiplayer mode is set to arrive on Monday, 9th March in the UK.
When the "free-to-start" Mario Kart Tour launched on mobile devices last September, it was lacking anything resembling the series' beloved real-time multiplayer racing, with the only vaguely competitive element existing in the form of World Ranking leaderboards.
Nintendo added the option to beta test a more traditional multiplayer mode last December, but only for those signed up to (or trialing) the game's dubious £5/month Gold Pass.
However, as of 4am on Monday, 9th March in the UK (that's 8pm PT on Sunday, 8th March), Mario Kart Tour's multiplayer mode will be available to all on iOS and Android, introducing competitive racing for up to eight players either locally or online.
Multiplayer for #MarioKartTour comes out on Mar. 8, 8 PM PT! You can compete against seven other players, whether they're in-game friends, nearby, or around the world. Are you ready to play? pic.twitter.com/IRwBONq560

— Mario Kart Tour (@mariokarttourEN) March 3, 2020
According to Nintendo, Mario Kart Tour's online Standard Races will feature an "ever-changing set of in-game rules", due to refresh daily, while local play enables participants to define their own rules. There's also a Gold Races option, exclusively available to Gold Pass subscribers, featuring "faster speeds that require advanced kart manoeuvres".
Mario Kart Tour has been roundly criticised for its messy proliferation of frequently eye-watering microtransaction mechanics, in-game currencies, and unlock systems since its launch last September, and it's not entirely clear how these might impact the multiplayer mode.
Not that such things are likely to dampen the game's continued success. As of 26th January this year, Mario Kart Tour had been downloaded over 147m times, earning around $86m USD (approximately £67m) through monetisation.