Mario Kart Tour character list: All racers listed and how to unlock new characters explained
All racers, their course and item boosts, and how to unlock them.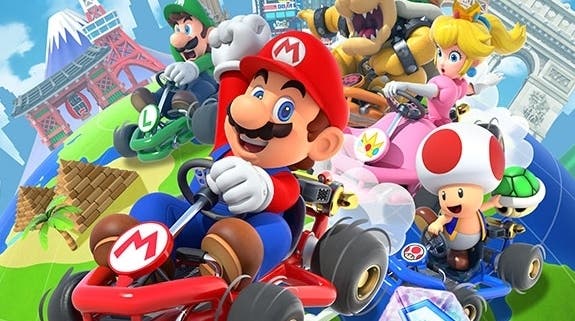 Mario Kart Tour characters offer a series of familiar faces for those who have played Mario Kart on consoles or handhelds over the years.
That said, this mobile version has a few new additions - such as Pauline and Musician Mario - as well as changes to how each character choice can give you an advantage.
Instead of simply slotting neatly into light, medium and heavy racers, these characters have their own rarities and a special skill - which you can pick up from Item Boxes on the track - and can pick up more Item Boxes depending on the course they race on.
This all means having a range of Mario Kart Tour characters at your disposal will give you an advantage on whatever course the game throws your way.
Latest update (October 9th): Added 14 (!) new characters to our list with the arrival of the Tokyo tour, including Rosalina, Peach (Kimono), Mario (Hakama), the Koopalings and more.
How to unlock characters in Mario Kart Tour
Unlike the handheld and console versions, you unlock Mario Kart Tour characters a little differently. At first, you only have access to a single character, and you have to unlock the rest through various means.
The Mario Kart Tour character unlock methods are: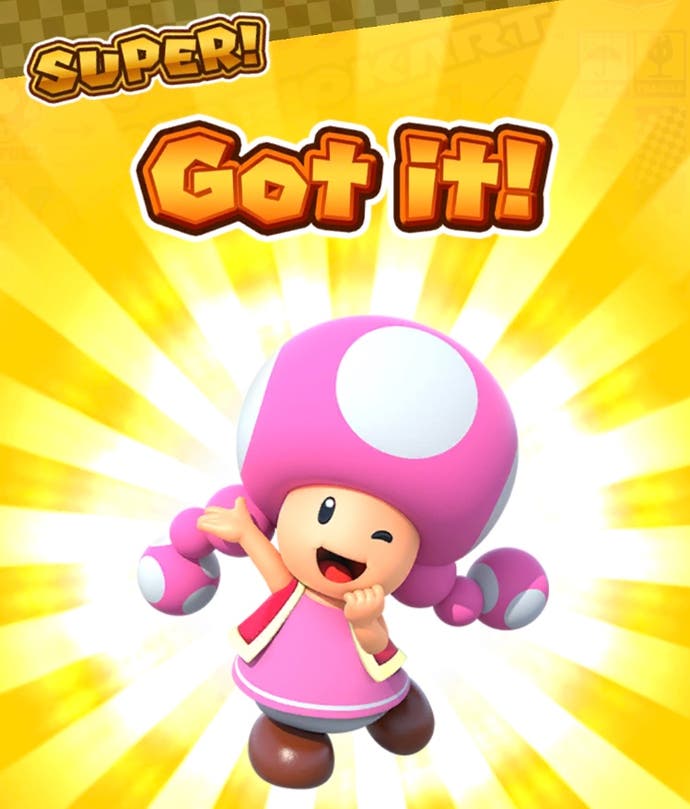 Tour Gifts, which unlock as you progress through the time-limited tours. These are set and require Tour progression to unlock.
The Store, as part of Sets or highlighted characters in the Daily Selects area. These are set and require either Coins (Daily Selects) or real-world money (Sets) to unlock.
From Pipes, a gacha system where you 'spin' for a change at unlocking characters, among other items. This requires Rubies (Mario Kart Tour's premium currency, earned in-game and purchased with real-world money) to use.
If you're after specific Mario Kart Tour characters, your options are unfortunately limited - it's either a case of waiting for them to appear in the Store or as a Tour Gift reward, otherwise you have to try your luck by spending Rubies in pipes.
Mario Kart Tour character list
Below is a list of Mario Kart Tour characters as of October 9th, of which there are 34 characters in total to unlock:
Mario Kart Tour character
None
Special Skill
None
3 Item Box Courses
2 Item Box Courses
Baby Mario

Boomerang Flower

Mario Circuit 1 T
Daisy Hills R
Koopa Troopa Beach
Toad Circuit
Toad Circuit T
Yoshi Circuit
Baby Peach

Bubble

Cheep Cheep Lagoon
Daisy Hills R
Koopa Troopa Beach R
Mario Circuit 1 R
Baby Daisy

Bubble

Daisy Hills T
Daisy Hills R
Koopa Troopa Beach T
Toad Circuit R
Mario Circuit 1 R
Cheep Cheep Lagoon
Shy Guy Bazaar
Baby Rosalina

Bubble

Rainbow Road T
Choco Island 2T
Rainbow Road R
Yoshi Circuit R
Mario Circuit 2T
Koopa Troopa

Triple Green Shells

Koopa Troopa Beach
Bowser's Castle 1 T
Koopa Troopa Beach R
Koopa Troopa Beach T
Cheep Cheep Lagoon
Cheep Cheep Lagoon R
Shy Guy

Double Bob-ombs

Shy Guy Bazaar
Dino Dino Jungle
Bowser's Castle 1
Bowser's Castle 1 R
Shy Guy Bazaar T
Dry Bones

Triple Green Shells

Bowser's Castle 1 T
Shy Guy Bazaar T
Bowser's Castle 1
Bowser's Castle 1 R
Cheep Cheep Lagoon R
Cheep Cheep Lagoon T
Iggy

Triple Green Shells

Choco Island 2R
Bowser's Castle 1T
Koopta Troopa Beach T
Kalimari Desert R
Neo Bowser City T
Rock Rock Mountain T
Mario Circuit 2
Mario Circuit 2R
Larry

Boomerang Flower

Kalimari Desert R
Kalimari Desert T
Neo Bowser City
Neo Bowser City T
Rock Rock Mountain T
Lemmy

Bubble

Rainbow Road R
Mario Circuit 2T
Bowser's Castle 1R
Rainbow Road
Toad Circuit R
Choco Island 2T
Ludwig

Dash Ring

Bowser's Castle 1
Kalimari Desert
Rainbow Road
Shy Guy Bazaar R
Morton

Giant Banana

Kalimari Desert
Bowser's Castle 1
Kalimari Desert T
Neo Bowser City T
Rock Rock Mountain
Mario Circuit 2R
Roy

Double Bob-ombs

Kalimari Desert T
Kalimari Desert
Kalimari Desert R
Mario Circuit 2T
Neo Bowser City R
Dino Dino Jungle R
Koopa Troopa Beach T
Wendy

Heart

Choco Island 2
Daisy Hills T
Mario Circuit
Mario Circuit T
Neo Bowser City R
Mario

Fire Flower

Koopa Troopa Beach
Mario Circuit T
Cheep Cheep Lagoon T
Koopa Troopa Beach R
Yoshi Circuit
Yoshi Circuit R
Mario Circuit 1 R
Shy Guy Bazaar R
Peach

Heart

Koopa Troopa Beach R
Koopa Troopa Beach T
Yoshi Circuit R
Mario Circuit 1 T
Toad Circuit T
Mario Circuit 1 R
Cheep Cheep Lagoon T
Shy Guy Bazaar
Yoshi

Yoshi's Egg

Rock Rock Mountain
Yoshi Circuit
Yoshi Circuit T
Dino Dino Jungle
Dino Dino Jungle R
Yoshi Circuit R
Daisy

Heart

Daisy Hills
Daisy Hills T
Cheep Cheep Lagoon R
Shy Guy Bazaar R
Toad Circuit
Yoshi Circuit T
Shy Guy Bazaar T
Toad

Triple Mushrooms

Toad Circuit
Rock Rock Mountain T
Koopa Koopa Beach
Toad Circuit T
Mario Circuit T
Mario Circuit 1 T
Toadette

Triple Mushrooms

Daisy Hills R
Toad Circuit
Daisy Hills
Koopa Troopa Beach
Toad Circuit R
Toad Circuit T
Rosalina

Dash Ring

Mario Circuit R
Rainbow Road
Neo Bowser City R
Rainbow Road R
Mario Circuit 2
Choco Island 2R
Bowser

Bowser's Shell

Dino Dino Jungle T
Bowser's Castle 1
Bowser's Castle 1 T
Bowser's Castle 1 R
Rock Mountain R
New York Minute T
Donkey Kong

Giant Banana

Dino Dino Jungle
Rock Rock Mountain
Dino Dino Jungle R
Dino Dino Jungle T
Koopa Troopa Beach R
Rock Rock Mountain R
New York Minute
New York Minute R
Diddy Kong

Banana Barrels

Dino Dino Jungle R
Toad Circuit R
Rock Rock Mountain R
Koopa Troopa Beach R
Koopa Troopa Beach R
Rock Rock Mountain
New York Minute R
New York Minute R/T
Lakitu

Triple Green Shells

Toad Circuit T
Mario Circuit 2T
Dino Dino Jungle R
Rock Rock Mountain R
Mario Circuit 2
New York Minute R/T
Tokyo Blur
Tokyo Blur T
Bowser Jr.

Bowser's Shell

Bowser's Castle 1R
Neo Bowser City
Neo Bowser City T
Choco Island 2R
Bowser's Castle 1T
Neo Bowser City R
Mario Circuit 2T
Cheep Cheep Lagoon
Wario

Double Bob-ombs

Kalimari Desert R
Kalimari Desert T
Choco Island 2T
Neo Bowser City
Rock Rock Mountain T
Choco Island 2
New York Minute R
Metal Mario

Fire Flower

Rock Rock Mountain R
Shy Guy Bazaar
Dino Dino Jungle T
Toad Circuit
Yoshi Circuit R
Yoshi Circuit R
Mario Circuit 1 T
Shy Guy Bazaar R
Shy Guy Bazaar T
Peachette

Mushroom Cannon

Dino Dino Jungle R
Toad Circuit
Toad Circuit T
Daisy Hills
Yoshi Circuit
Yoshi Circuit T
Mario Circuit 1
Mario Circuit 1 R
Pauline

Lucky Seven

New York Minute
New York Minute R/T
Yoshi Circuit T
Cheep Cheep Lagoon T
Shy Guy Bazaar
Shy Guy Bazaar R
New York Minute T
New York Minute R
Mario (Musician)

Double Bob-ombs

Daisy Hills
Yoshi Circuit R
New York Minute T
New York Minute R
Daisy Hills R
Rock Rock Mountain T
New York Minute
New York Minute R/T
Peach (Kimono)

Mushroom Cannon

Mario Circuit
Mario Circuit 2R
Tokyo Clur R
Tokyo Blur T
Mario Circuit R
Rainbow Road
Mario Circuit 1
Tokyo Blur
Tokyo Blur R/T
Mario (Hakama)

Coin Box

Bowser's Castle 1T
Mario Circuit T
Mario Circuit 2
Tokyo Blur
Tokyo Blur R/T
Bowser's Castle 1R
Rainbow Road T
Mario Circuit 1R
Mario Circuit 2T
Shy Guy Bazaar T
Tokyo Blur T
Dry Bowser

Bowser's Shell

Dino Dino Jungle
Dino Dino Jungle T
Bowser's Castle 1R
Shy Guy Bazaar R
Daisy Hills T
Bowser's Castle 1
Rock Rock Mountain
Rock Rock Mountain T