Mario Kart Tour passes $200m in 18 months
Getaway.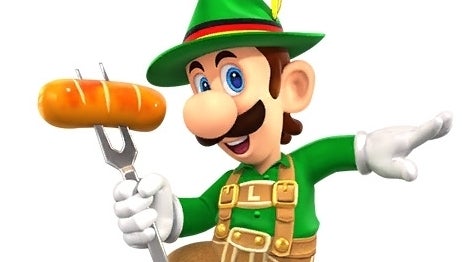 Mario Kart Tour, Nintendo's gacha-filled mobile racer which lets you tug on a warp pipe to earn a lederhosen-wearing Luigi, is doing pretty well. It has earned $200m in 18 months, and racked up 200m downloads worldwide.
Store data provided to Eurogamer by Sensor Tower shows that downloads slowed last year versus the game's big launch at the end of 2019 - when Mario Kart Tour was Nintendo's fastest-downloaded smartphone game by quite some margin. Spending, however, has stayed steady.
Nintendo's mobile Mario Kart spin-off officially launched back in September 2019, and is primarily monetised through a gacha-based system which unlocks new in-game items.
It also has expensive fixed-price money packs and a subscription service, Gold Pass, which unlocks further cosmetic items and 200cc races for £5 per month.
For the 12 months ending 31st March, Mario Kart Tour earned $93m worldwide, making it Nintendo's second-biggest mobile money spinner last year.
Fire Emblem Heroes, which earned $163m over the same time period, and Animal Crossing: Pocket Camp, which earned $78m, both also rely on gacha mechanics and subscriptions. Dragalia Lost earned $22m, while Dr. Mario World earned $6m, and Super Mario Run earned $5.6m.
Mario Kart Tour now has well over 100 unlockable characters, including Swimwear Rosalina, Lederhosen Luigi, Detective Baby Rosalina and Waluigi Bus Driver.
The latest new driver, Koala Baby Mario, will be made available today.