It looks like Yakuza Kiwami has a February release date on Steam
UPDATE: Confirmed, pre-orders now open.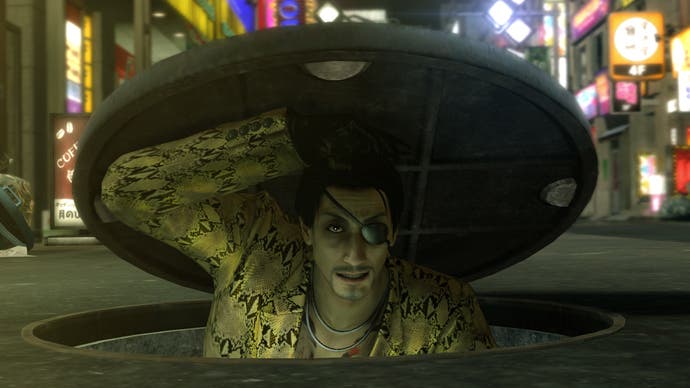 UPDATE 22/1/19: Sega has now confirmed its teased 19th February release date for Yakuza Kiwami on Steam. You can put down a pre-order now - it usually costs £15 but there's currently a 10 per cent discount.
---
We've known for some time - since June 2018, in fact - that Yakuza Kiwami is on its way to PC through Steam. And now, some six months later, we might finally have an actual release date - albeit one gleaned from a single frame in an animated gif, thanks to Sega's usual PC marketing malarky.
This unconventional means of news delivery shouldn't come as too much of a surprise, of course; ever since Sega struck viral gold with its 8-bit Bayonetta game (which transpired to be a tease for a release of Platinum's action opus on PC), its marketing stunts have become a fixture on Steam. We saw artwork for Vanquish cheekily hidden in Bayonetta's files prior to a proper PC announcement, and, more recently, sheep infiltrated Steam ahead of Catherine's PC reveal.
And now, all eyes are on an animated gif that's appeared over on the Yakuza Kiwami Steam page, in which character Goro Majima can be seen slowly rising out of a manhole. Watch closely though, and you'll notice something suspicious flash up in a single frame toward the end of the gif - a suspicious something that turns out to be the phrase "February 19th". This isn't exactly official confirmation of a release date for Yakuza Kiwami, of course, but given Sega's recent track record on PC, it's hardly an unreasonable conclusion to reach. Yakuza Kiwami, which promises to deliver uncapped frame rates and 4K support on PC, follows on from the well-received Steam release of Yakuza 0 last August. The game originally launched in Japan in 2016, and is a remake of the very first entry in Sega's Yakuza action-adventure series, charting the Tokyo adventures of protagonist Kazuma Kiryu.
"Coming so soon after Zero, it's perhaps inevitable that Kiwami feels like a slight downgrade, even if, all things considered, it's superior to the original," said Chris Schilling in his Eurogamer review, "Those who only discovered the series for the first time this year should find the chance to catch up with Kiryu and Kamurocho hard to pass up. As for Yakuza veterans, it's a fascinating comparison piece, not least for the opportunity to experience the story in its native language."