Christmas gift guide 2017 - Gifts for gamers, gaming merchandise, must-have accessories, and more
Brought to you by Jelly Deals.
After gaming related merchandise and the games themselves, the most popular gifts for gamers come Christmases or birthdays is gaming accessories. That can mean anything from extra controllers and steering wheels to carrying cases and headsets - anything that can and likely will make the whole gaming experience that much better.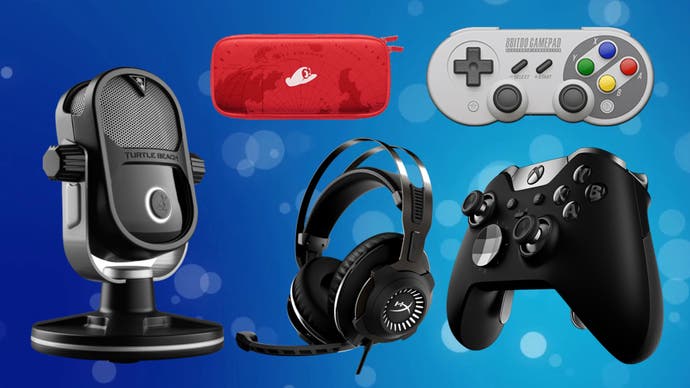 The best accessories for 2017
In this section, you'll find a list of our top picks for the very best accessories you can buy right now, recommending the essential accessories for each of the main consoles as well as PC.
Must-have PS4 Accessories
One of the most important extras for all PS4 owners is a PlayStation Plus subscription. Not only will this allow the owner access to the online multiplayer side of the console itself but in addition, PS Plus members are able to download a handful of games each month absolutely free.
In 2016, Sony released its own entry into the brand new world of virtual reality headsets with the PlayStation VR. In the year since the headset has been given a second revision which improves performance and simplifies the interface a little. That's on top of a whole year's worth of releases that have arrived. Now, you can pick up the new model of the headset along with a copy of PSVR Worlds, the PlayStation Camera and Doom VFR.
Extra controllers are routinely some of the most gifted things for gamers, whether that's a beautifully designed limited edition controller or an extra pad for multiplayer with friends. This year, you can pick up a silver GT Sport themed DualShock 4, opt for Nacon's third-party 'Premium' controller in the 'Revolution Pro' or try out Hori's brand new miniature controllers, designed primarily with kids in mind.
Then there are gaming headsets. HyperX offers some of the most popular headsets around these days, and the Revolver S 7.1 headset, compatible with PS4 and PC, is no slouch.
Must-have Xbox One Accessories
Over on the Xbox One side of things, Microsoft released what is widely considered to be one of the very best gaming controllers released in many years. The Xbox One Elite Controller is definitely on a pricier side of things, costing north of £100 / $100 regularly, but the price point shows in everything from customisability to build-quality.
The Xbox Wireless Adapter for Windows 10 is the perfect companion to the Elite Controller or, indeed, any Xbox One Wireless Controller. This little device will plug into your PC or Laptop and allow you to use an Xbox pad with your PC games, to great success.
In terms of multi-format gaming headsets, the SteelSeries Arctic 7 comes highly recommended by a wide range of reviews on the internet. It's a 7.1 surround sound headset with DTS tech and capable of being used on any format you like. While not dirt cheap, it also won't break the bank.
For fans of Forza, Project CARS or the F1 franchises can rejoice with Logitech's excellent G920, which works with Xbox One and PC. This is a force feedback racing wheel, designed specifically with Forza Motorsport in mind. It's also covered in hand-stitched leather, which is a bit lovely, really.
Must-have Nintendo Switch Accessories
Switch owners looking to try something a little different or have a bit of a more authentic retro experience can consider 8Bitdo's expertly crafted SF30 Pro Bluetooth controller, a pad designed to replicate the original SNES controller, albeit with added thumbsticks and Switch 'Plus', 'Minus' and 'Home' buttons. As a result, it's fully compatible with the Switch in docked or undocked mode.
A superb added extra for Switch owners, the official Joy-Con charging stand from HORI allows the charging of up to four Joy-Cons at once (two pairs of left and right), which will keep you gaming for many hours to come.
Nintendo's official Super Mario Odyssey themed carrying case and accessory kit is one of the more stylish options for Switch owners looking to protect their stuff. The red, slightly distressed design is accompanied with a screen protector set to make sure your console is taken care of while also looking good.
For the Nintendo fans who like to not only take their Switches out and about, but appreciate the option of taking their entire console setup along with them, dock and all, there is the Nintendo Everywhere Messenger Bag. A sleek, grey satchel that can hold everything you'll ever need to keep your Switch on the go.
Must-have PC Accessories
Over to the PC side of things, where there's a seemingly never-ending supply of gadgets and accessories to get your hands on. Kicking things off is this Logitech G213 Prodigy gaming keyboard, which features a full set of RGB LED lights under the hood to make the keyboard as attractive as possible while gaming.
With the rise of video game streaming as a thing to do on the internet over the past few years, more and more companies have stepped up to produce affordable and professional equipment to help the whole process be a bit easier. Turtle Beach's Universal USB Stream Mic is a prime example, being a slick and simple solution which delivers clear and crisp audio quality.
VR as a concept has become more and more affordable over the last year, even with Oculus adding a set of wireless controllers to its previously existing headset, making the overall value of the package that much better. The bundle saw a permanent price cut a matter of months ago, too, making this one a bit of a steal if you're looking to take your first steps into virtual reality.
Much like the Logitech steering wheel mentioned earlier on this page, the PC and the PS4 crowd have access to one of the best force feedback racing wheels on the market - the Thrustmaster T300 RS. This one even works on PS3, if you have one of those kicking about, too.
---
---
Once you're all sorted with the perfect accessories this Christmas, you may want to take a look at our final page, where we'll be taking a look at the best console bundles for Christmas 2017.