Fortnite is getting a major new sandbox mode, separate from battle royale
UPDATE: Launches tomorrow if you buy a Season 7 Battle Pass.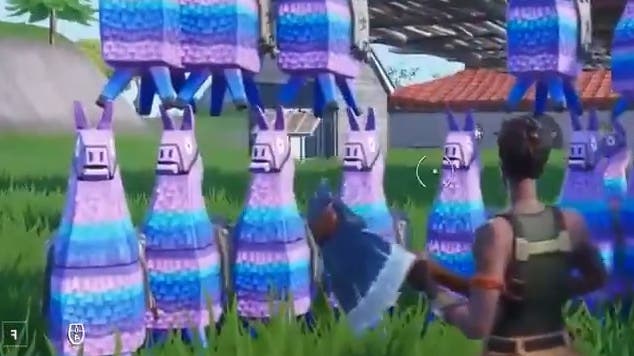 UPDATE 3PM: Fortnite's Creative mode has now been officially confirmed by Epic, with the news that Season 7 Battle Pass owners will get a week's early access starting alongside the new season tomorrow, 6th December. Everyone else will gain access to Creative mode in a week's time, on 13th December.
---
ORIGINAL STORY 9AM: Fortnite is getting a third game mode in the very near future called Creative, which will let you build your own levels and mini-games away from all the battle royale shooting.
Creative mode will live as a third option on Fortnite's main menu, alongside Save the World (PVE) and Battle Royale (PVP). It's a vastly expanded version of Battle Royale's existing Playground mode - one which encourages players to come up with their own sandbox world.
It looks like this announcement was due at the Game Awards, set for late on Thursday night (actually, 1.30am Friday morning UK time). But it was all leaked in granular detail overnight by YouTuber Lachlan, who was invited to play it for several days ahead of time and doesn't know how to stick to an embargo.
The original 15-minute video is now offline, although it still exists via mirrors and on sites such as FortniteIntel, which have archived galleries of screenshots from it. Oops.
For those who don't want to sit through all of that, imagine Fortnite Creative mode like Minecraft Creative mode - it's a version of the game you can fly around and place elements within, without having to collect all the resources first.
Entire pre-made scenery elements, props and assault courses can be plopped down onto the map. You can also place chests or llamas, and set up your own mini-games using various interactive elements. And you can save your world on a server to revisit later, with friends or alone.
Creative has a small hub island with rift teleports that can take you to your creations, but also highlighted creations from the community. When loaded, your world can be played in various different rulesets (as a Deathmatch map, as a free-roam map, etc.) and can be reset to its saved state afterwards so you don't have to rebuild it each time.
The mode sounds like a godsend for those who spend ages building fun stuff in Battle Royale's Playground mode but are still stuck with that format's time-limit and lack of save features.
So, when will it be launched? Well, Lachlan says the mode will be out "tomorrow" - but we're assuming this means Friday, the day after the night of the Game Awards, when this should have been announced for the first time.
Until then, there's the small matter of Fortnite Battle Royale's season seven launching - and after weeks of waiting, the arrival of that map-changing snowstorm.