Former BioWare exec returns to Dragon Age: Dreadwolf, along with Mass Effect team
Post-production polish.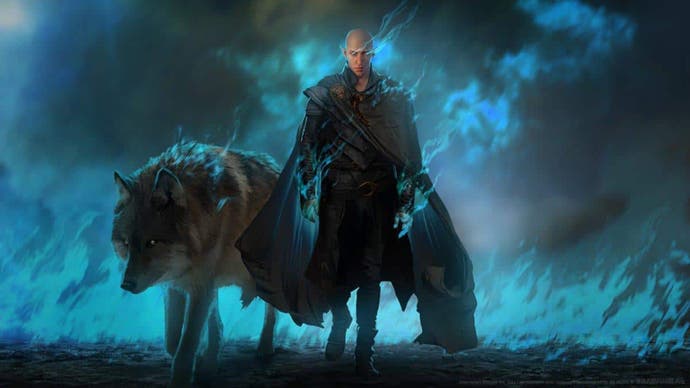 Members of the Mass Effect development team have now joined the Dragon Age team to assist in polishing Dreadwolf in post-production.
In addition, former BioWare executive producer Mark Darrah has returned to work on Dragon Age: Dreadwolf as a consultant. Darrah was director and executive producer on Dragon Age: Origins and Dragon Age 2, as well as working on Dragon Age: Inquisition and Anthem.
The next Mass Effect game is still in pre-production with a small core team, so the rest of the team is free to help with Dreadwolf in the meantime, reports GamesBeat.
"Our studio is focused on creating the best Dragon Age: Dreadwolf while the core Mass Effect team continues their pre-production work," said Gary McKay, BioWare general manager.
"We continue to iterate and polish Dreadwolf, focusing on the things that matter most to our fans. As we further connect this new experience with the series' legacy Mark Darrah will join the team as a consultant, bringing with him years of experience working on Dragon Age. We're proud to have this team, with strong leadership at the helm, working together to realise the vision we have for the game."
Dragon Age: Dreadwolf has been in post-production since September, said EA. Back in October, a blog post from McKay stated the game had reached its alpha milestone and was playable from start to finish.
Darrah left the studio in 2020 along with Casey Hudson, but the return of a veteran of the series should be good news for Dragon Age fans. GamesBeat reports his focus will be on connecting Dreadwolf with the legacy of the franchise.
The core Mass Effect team, meanwhile, continues with pre-production work on the next game.
There's currently no release date for Dragon Age: Dreadwolf, though previous reports suggested a late 2023 release.
"BioWare has a long history of making amazing single-player games with powerful stories that fans can immerse themselves within," said Samantha Ryan, senior vice president and group general manager at EA, in a statement.
"They've been taking their time on the next Dragon Age, trying new things, bringing in the right people, and making sure they're refining their game. That's normal for a complex game of this genre. This phase of production takes time, and the studio wants to make sure it gets it right for its fans."