Fallout 4 Season Pass currently free on UK PlayStation Store
UPDATE: "These orders will not be fulfilled," Sony says.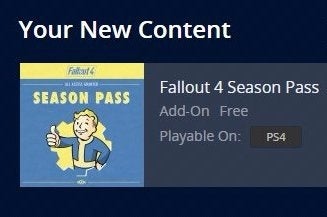 UPDATE 21/03/2016 12.00pm: Sony has now confirmed it is not honouring its listing of the Fallout 4 season pass, which priced the download as free for a brief period last week.
In a statement to Eurogamer, a Sony UK spokesperson said:
"The Fallout 4 Season Pass was briefly made available erroneously free of charge on PlayStation Store in the SCEE region on Friday 18th March. This was an error and has now been removed.
"For consumers who may have tried to purchase the Fallout 4 Season Pass during this time, regretfully, these orders will not be fulfilled."
UPDATE 21/03/2016 11.51pm: It looks like the free Fallout 4 season passes have been revoked ahead of tonight's first DLC drop, Automatron.
The free Season Passes, which were acquired via a PSN error, have now been given an expiry tag.
As was the case with PT, even if you "owned" the Season Pass, it will no longer show up in your library, so you can't re-download it at no charge.
This only affects those who acquired the Season Pass via the freebie glitch. Anyone who properly purchased one should be set to enjoy Automatron and its following DLC.
Those who snagged the free Season Passes will still have access to its exclusive Fallout 4 theme - as we discovered upon testing an expired pass - so you'll still get something out of it.
UPDATE 18/03/2016 11.45am: It looks like Sony has fixed its store's free Fallout 4 Season Pass listing. It was live for over half an hour - it looks like plenty of you took advantage of it.
Season Pass holders can download the included Fallout 4 theme right now.
We've contacted Sony to find out if it will honour the freebie.
ORIGINAL STORY 18/03/2016 11.00am: Fallout 4's Season Pass is currently free on the UK PlayStation Store.
Clearly, this is not meant to be the case. Sony will likely rectify this as soon as possible - so it's worth grabbing while you can.
Here's a link.
Bethesda recently hiked the price of the Fallout 4 season pass, from £24.99 to £39.99. It's announced three add-ons so far (the first of which, Automatron, comes out next week), but more are promised.