Every PlayStation 4 game, every developer announced so far
UPDATE: 169 companies have now signed up. Still no The Last Guardian.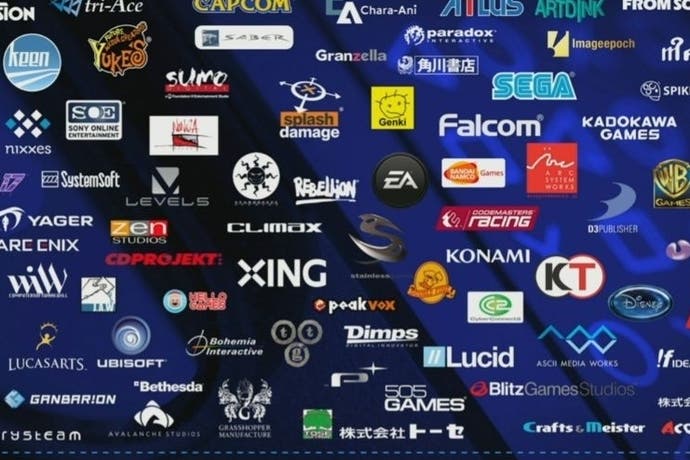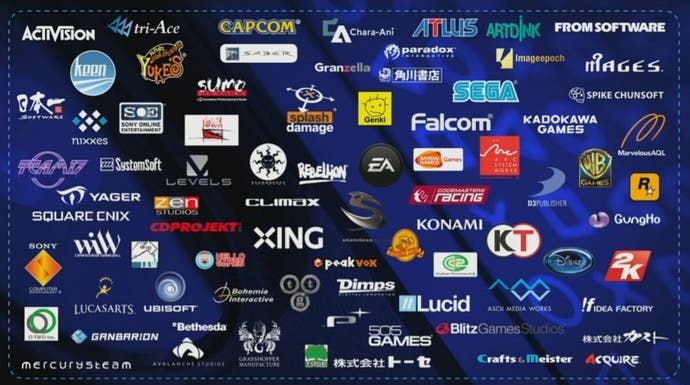 Last night's PlayStation 4 unveiling included a flurry of new game announcements, and confirmation of the 60-odd games companies which are already signed up to support Sony's next-gen console.
There was no sign of Sony's terminally-delayed The Last Guardian and unsurprisingly no mention of Rockstar's PlayStation-exclusive vapourware Agent.
Sony listed the developers and publishers signed up for PlayStation 4 in the above slide. They're also named below in text form for your reading convenience.
You can add to the role-call such names as Bungie (which confirmed Destiny), Blizzard (Diablo 3) and Epic (which showed off Unreal Engine 4).
17-Bit
2K
4A Games
505 Games
5th Cell
Abstraction
Activision
Acquire
Arc System Works
Armature Studios
Artdink
ASCII Media Works
Atlus
Avalanche Studios
Beatshapers
Behaviour Interactive
Bethesda
Big Ant
Big Bit
BitComposer
Blitz Games Studios
Blind Squirrel Games
Blizzard
Bloober Team
Blueside Inc.
Bohemia Interactive
Boss Alien
Bugbear
Certain Affinity
Capcom
Cauldron
Chara-Ani Corporations
City Interactive
CD Projekt
Climax
Codemasters Racing
Crafts & Meister
Criterion Games
Croteam
Curve Studios
CyberConnect 2
D3 Publisher
Dakko Dakko Ltd
Darkside Game Studios, Inc.
Deck 13
Devolver Digital
Dimps
Disney
Double Eleven
Double Fine
Double Helix games
Drinkbox Studios
EA
Edge of Reality
Eko Software
Farsight Studios
Fatshark
Flying Wildhog
Four Door Lemon
From Software
Frozenbyte
FuturLab
Gaijin Entertainment
Gaijin Games
Ganbarion
Gearbox Software
Genki
Ghost Games - An EA Studio
Grasshopper Manufacture
Green Hill Studios
GungHo
Gust Co.
HB Studios Multimedia
Heavy Iron Studios, Inc.
High Voltage Software, Inc.
Hello Games
Idea Factory
Imageepoch
Index Corp. (Atlus)
InXile Entertainment
Iron Galaxy Studios, LLC
Jetpack Interactive Entertainment Ltd.
Just Add Water
Kadokawa Games
Kadokawa Shoten Co. Ltd.
Kalypso Media
Keen Games
Klei Entertainment
Konami
Lab Zero, Inc
Laughing Jackal
Level-5
LucasArts
Lucid Games
Ludiosity
Mages Inc.
Marvelous AQL
Mediatonic
MercuryStream
Metanet Software Inc.
Milestone
Minority Media Inc.
Mojang
Namco Bandai Games Inc.
Namco Bandai Studios Inc.
Nicalis
Nihon Falcom Corporation
Ninja Theory
Nippon Ichi
Nixxes
O-Two Inc. (Peakvox)
Onmi Systems
Panic Button, LLC
Paradox Interactive
Platinum Games
Prodigy Design
Psyonix Studios, Inc.
Quantic Dream
Ratloop Asia Pte Ltd.
Rebellion Developments
Red Hare Studios
Ripstone
Rockstar
Ronimo
Rovio
Saber Interactive
Sega
Shortround
Slant Six Games
Sony Online Entertainment
Spark Unlimited
Sperasoft
Spike Chunsoft
Splash Damage
Sproing
Spry Fox LLC
Square Enix
Stainless Games
Starbreeze Studios
Stormbasic
Straight Right
SuperVillain Studios
SystemSoft
Take-Two Interactive
Targem
Tate
Team 17
TechLand
Tecmo Koei
Telltale Games
Tonika
Torus Games
Tose Co. Ltd.
Tri-Ace
Tribute Games Inc.
Turtle Rock
Ubisoft
vBlank Entertainment Inc.
Vector Cell
Virtual Toys
Vlambeer
Warner Bros
Wayforward Technologies
Will Co. Ltd.
Wizarbox
Xing Inc.
XPEC Entertainment Inc.
Yager
Yuke's
Zombie Studios