Cole, Jak and Daxter join PlayStation All-Stars Battle Royale
Gameplay videos revealed.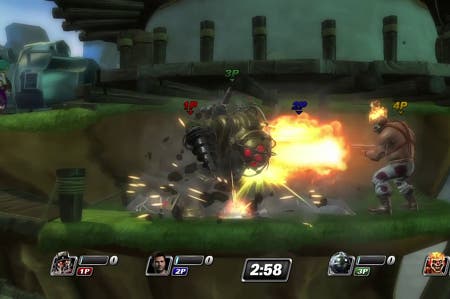 Cole MacGrath and Jak and Daxter have joined the roster of playable characters in fighting game PlayStation All-Stars Battle Royale.
Cole MacGrath is lifted from the inFamous series complete with his electricity powers. In the game he has enhanced strength, agility and a fast healing factor. His level three super move sees the camera shift to a familiar over-the-shoulder perspective, with the player controlling a tornado that moves about the stage.
Jak and Daxter, who work together as one character, join from their own Naughty Dog-created PlayStation exclusive series, and focus on weapons and gadgets.
12 characters have been announced for the cross-platform PlayStation 3/PS Vita brawler so far: Big Daddy (BioShock); Cole MacGrath (inFamous); Colonel Radec (Killzone); Fat Princess (Fat Princess); Heihachi Mishima (Tekken); Jak & Daxter (Jak & Daxter); Kratos (God of War); Nathan Drake (Uncharted); PaRappa (PaRappa the Rapper); Sky Cooper (Sly Cooper); Sweet Tooth (Twisted Metal); and Toro Inoue (Together Anywahere!).
Game play videos of the newcomers are below.