Assassin's Creed Valhalla - How to start Wrath of the Druids DLC, level requirements and how to get to Ireland
How to get started with the new DLC.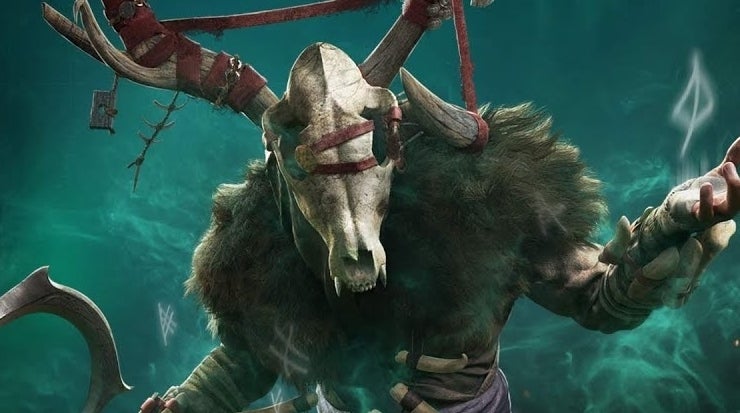 Assassin's Creed Valhalla's Wrath of the Druids DLC is the first major expansion to the 2020 open-world adventure.
It sees Eivor head to Ireland, and as well as a significantly sized landmass to explore, you can expect a handful of new characters to meet, and cosmetics and items to unlock.
This page explains the Wrath of the Druids power level requirements before you can begin, how to start Wrath of the Druids, and how to get to Ireland once you're underway.
On this page:
If you're still undecided about picking up the DLC, our Wraith of the Druids review can give you our impressions.
How to start the Assassin's Creed Valhalla Wrath of the Druids DLC
Once you've downloaded the latest Assassin's Creed Valhalla update and purchased the Wrath of the Druids DLC, start the game and load up a save, you'll be shown a screen that will give you a summary about the DLC, as well as how to start it.
A quest called Irish Trade will also pop up, which we recommend you making your main quest so you don't get lost.
Head to Ravensthorpe, and you'll hear the sound of a horn being blown to signal a new visitor.
How to get to Ireland by completing mission Irish Trade in Assassin's Creed Valhalla
Once you have started the Irish Trade quest, you'll need to complete an introductory mission before reaching Ireland. This will take around 10-15 minutes to complete, depending on if you're looting everything or not.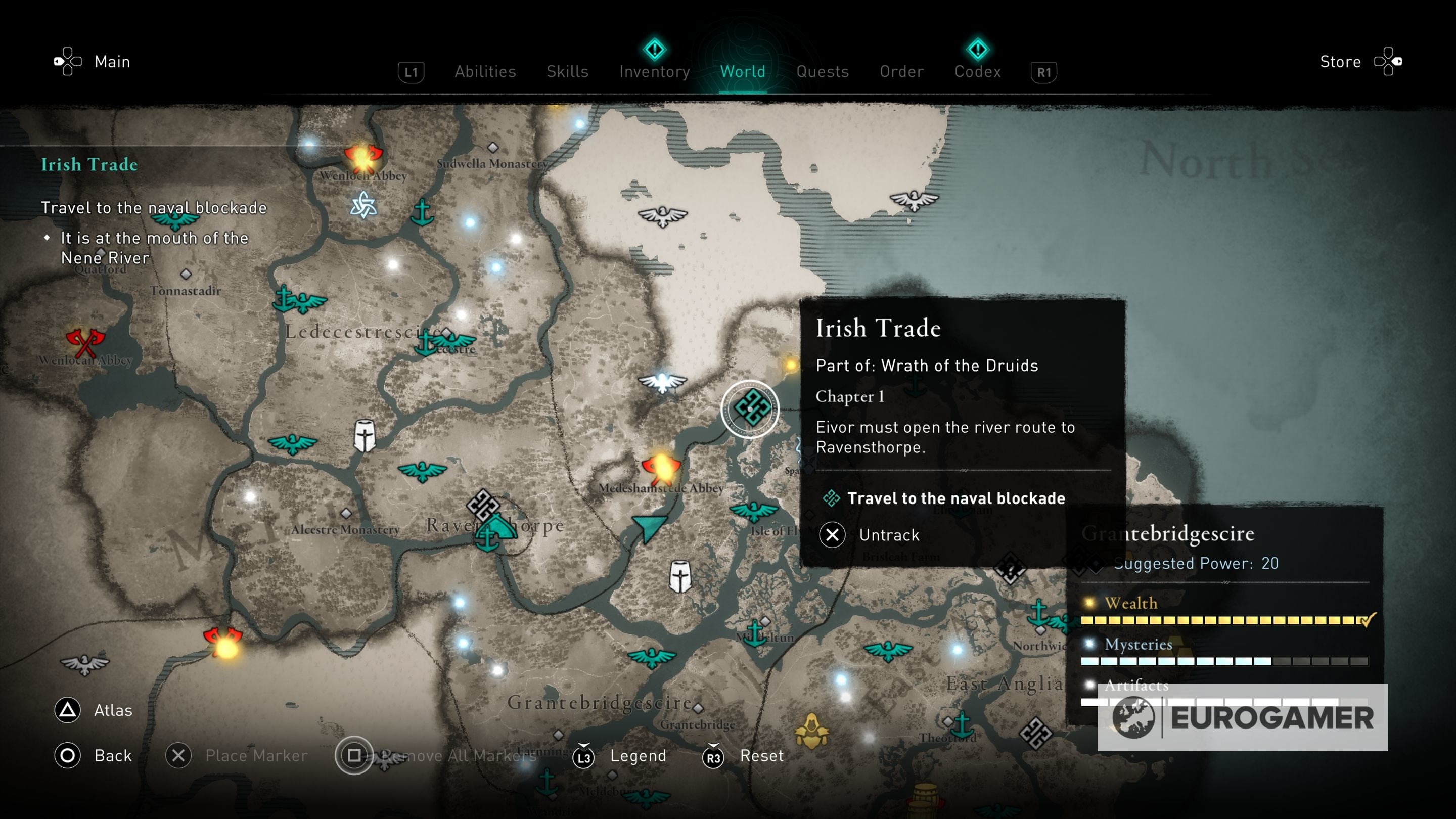 Go to the docks and you'll meet with a character called Azar who seems to know Haytham. They'll explain that they've got a letter for Eivor from the Irish King who somehow seems to know the Wolf-Kissed, but unfortunately they've lost the letter in the shuffle.
Haytham suggests that they set up a trade post for Azar in Ravensthorpe - important because this will eventually lead you to starting the Wrath of the Druids DLC.
The only problem is that Azar won't be able to trade unless you clear a blockade that's stopping their goods from getting in. With that in mind, head on out to the location at the Nene River.
Head up the Nene River with your crew and you'll come across the full blockade. One to the North and one to the South.
At this point you can raid both camp blockades, or if you'd rather do it by yourself, that's an option too.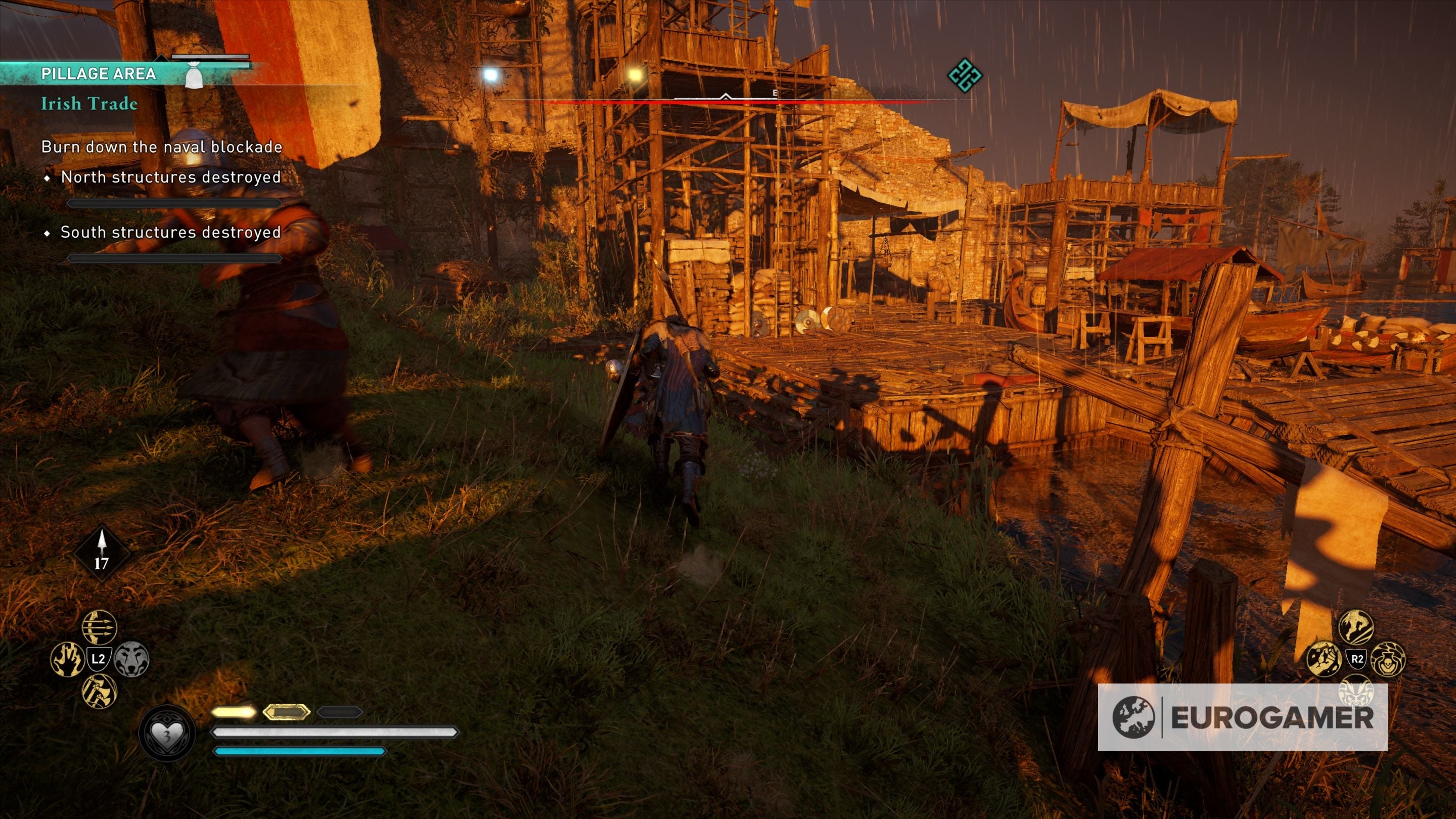 Once you've set fire to everything in the North and South blockade camps - using Odin's Sight to help you find just which structures that need to be lit up - you'll need to head back to Ravensthorpe and talk to Azar again.
Azar will be in your debt and then, after much needling from Eivor will reveal that the Dublin king is actually your cousin and that they wanted to reach out to you to welcome you to the Irish shores. At that point, time will pass and you'll be met with the new and improved Irish outpost.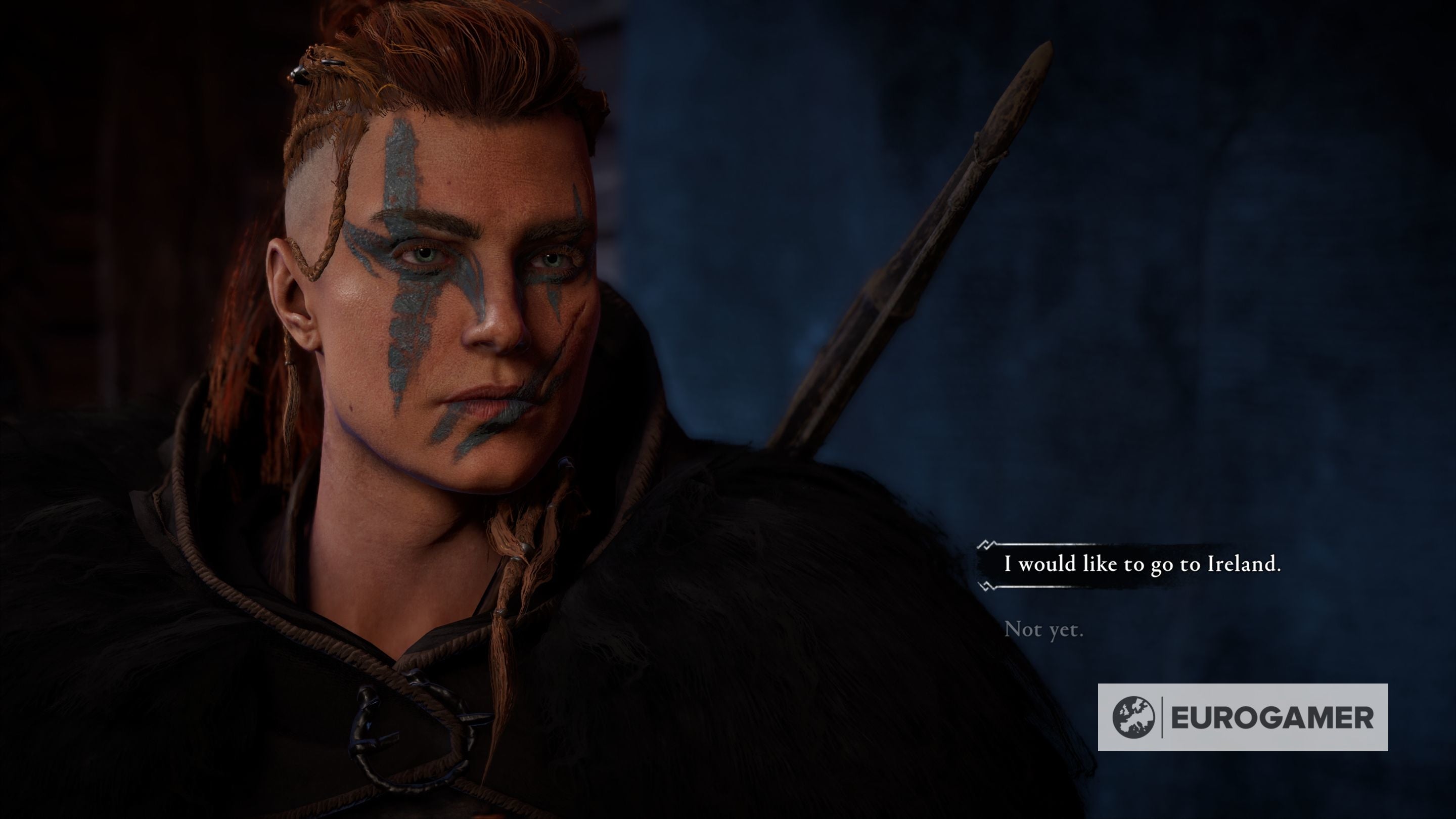 At this point, Azar will talk to you more about your cousin and ask you whether you're ready to go to Ireland or not. Select the affirmative and you'll be whisked off to a cinematic of Eivor and your crew rowing their way to Ireland.
It's here the story of Assassin's Creed Valhalla: Wrath of the Druids will truly begin. Players will start in Dublin, but will be able to move freely around Ireland if they choose to leave the city's walls straight away.
If do, then be sure to discover Trade Post locations, which is one of the DLC's new features.
---
The new DLC is here - and we explain how to start The Siege of Paris, as well as new romance options and Treasure Hoard locations. If you're after end game activities in the full game, we can explain how to get Nodens' Arc, Excalibur, Thor gear and other Valhalla armour sets, Power Level and how to get XP fast, Order of the Ancients locations and all Assassin's Creed Valhalla story choices. If you're looking for things to collect and upgrade, we have lists on best skills and Book of Knowledge locations.
---
Assassin's Creed Valhalla Wrath of the Druids DLC requirements: What is the recommended Power level for the DLC?
For those wanting to start their new Irish adventure straight away, fret not. The recommended Power level for Assassin's Creed Valhalla: Wrath of the Druids is 55, and if you're a higher level then enemies within the DLC will get scaled to match your power.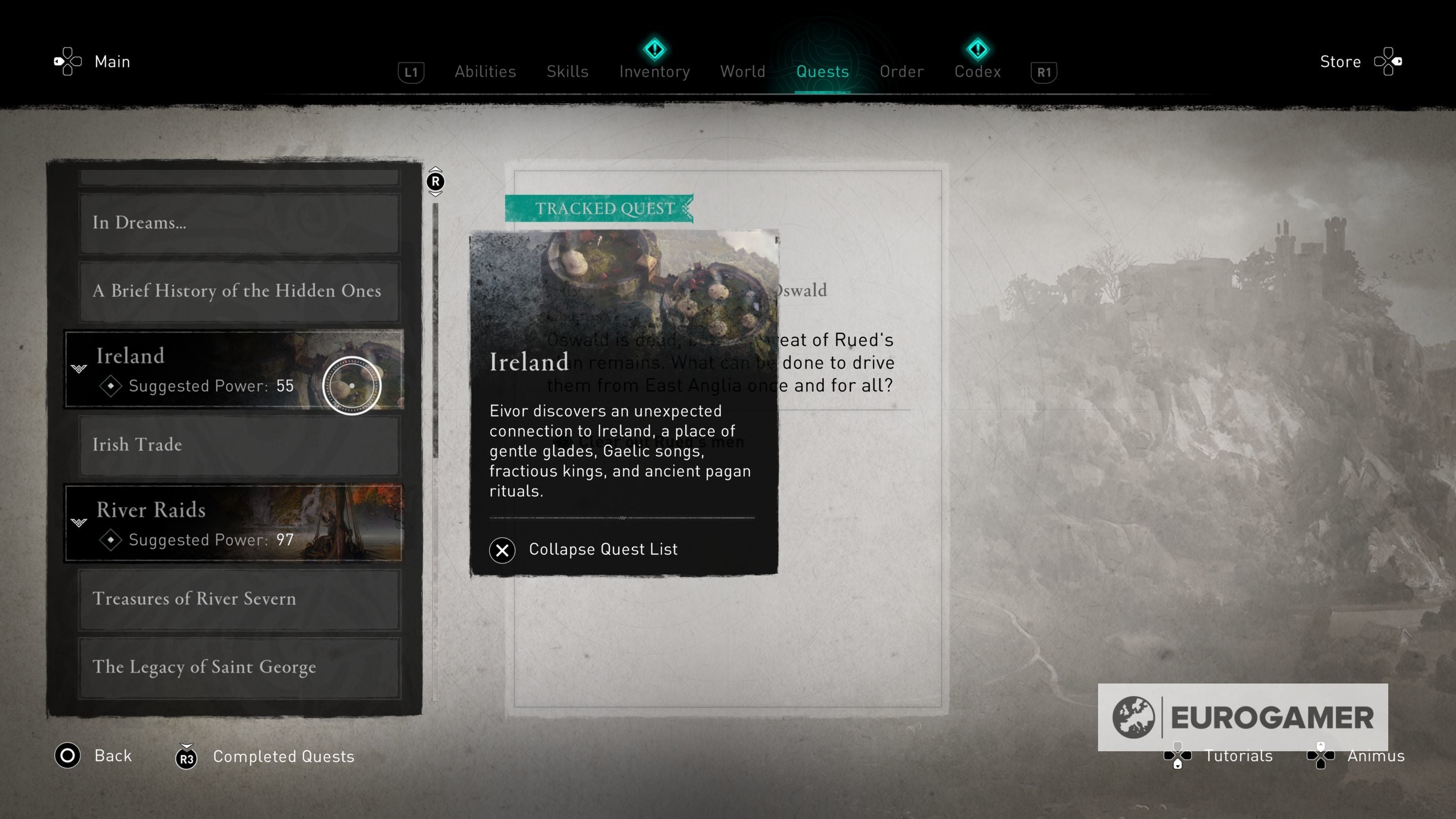 As well as this power level requirement, players will need to complete the first storyline in England - either Ledecestrescire or Grantebridgescire - before they can start the DLC and unlock the opening quest.
After our playtime with Assassin's Creed Valhalla: Wrath of the Druids, we'd suggest that at least get to the East Anglia storyline before jumping into Ireland, just so you can experience some of the main storyline before delving into another narrative-heavy part of the game.
That's just our suggestion though, and if you'd rather start exploring Ireland and all the new additions that come with the DLC, then go right ahead!