Assassin's Creed Valhalla - Trade Post locations and how to increase Dublin's Renown in Wrath of the Druids
How to best navigate Wrath of the Druid's new trade system.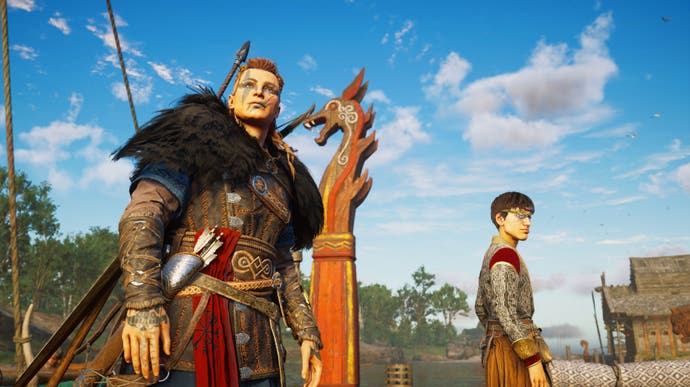 Assassin's Creed Valhalla's Trade system is a new feature in the Wrath of the Druids DLC, allowing Eivor and comapany to get money, loot, supplies - as well as cosmetics like armour and weapons - from the Ireland-based expansion.
Taking part in this helps you increase Dublin's Renown, and by finding additional Trading Post locations and maximising Trade Resources and Irish Supplies, you can unlock a bonus quest as a reward.
For those browsing this page ahead of playing the expansion, you can read our impressions in our Wrath of the Druids review, and learn how to start Wrath of the Druids when you're ready.
On this page:
How to unlock your first Trade Post and start the Dublin's Reach quest
First off, players will only get access to the Trade System feature once they've talked to Azar in Chapter 2 of the Wrath of the Druids DLC.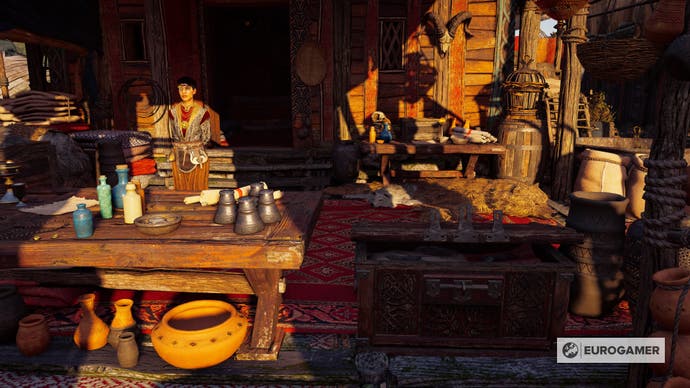 You'll know you're on the right track when Barid, Eivor's cousin, tells them to go speak to Azar at the marketplace in Dublin to get some spice for High King Flann's coronation. This will lead you to the first trade post, Rathdown and start the quest Dublin's Reach.
After heading to Rathdown, just a little North of Dublin, Eivor will realize that the trade post has been taken over by bandits. Clear the trade post out, and a signpost will appear. Use it and build your very first trade post, ta-dah!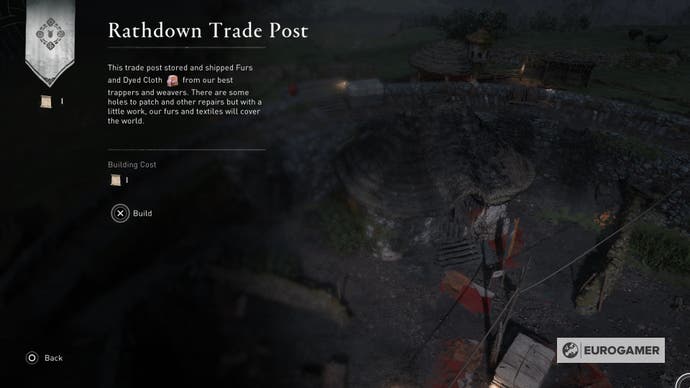 It should be noted that, unlike Rathtown, the other trade posts you come across in the future, you'll also have to do a mini-quest (aka go to a location and grab an important object) of finding the trade post's deed before you can lay claim to a trade post.
Next, return to Dublin's market and talk to Azar. They'll mention that Rathtown was just one of many trade posts out there in Ireland and if you want to make Dublin the best port town around then you'll need to:
Increase its Renown
Take over other trade posts in Ireland to get different resources
The Dublin's Reach quest - and the search for other Trade Posts - begins.
Assassin's Creed Valhalla: Wrath of the Druids Trade Post locations and Irish supplies explained
There are seven trade posts overall, and each produces different supplies that will be useful in giving to the Overseas Trading stall that Azar runs.
These seven trade posts are:
Rathdown - Clothing
Lisdurrow - Texts
Athlone - Delicacies
Drumlish - Clothing
Port Auley - Luxuries
Dysert - Texts
Ardmel - Luxuries
For the Dublin's Reach questline, players will need to build up trade post establishments from scratch. But to do that, you'll need to know where they are first, outside of just knowing the general area names.
The map below will show you which areas you should be exploring to get started. Thankfully you can access these areas without having to do certain main storyline quests first: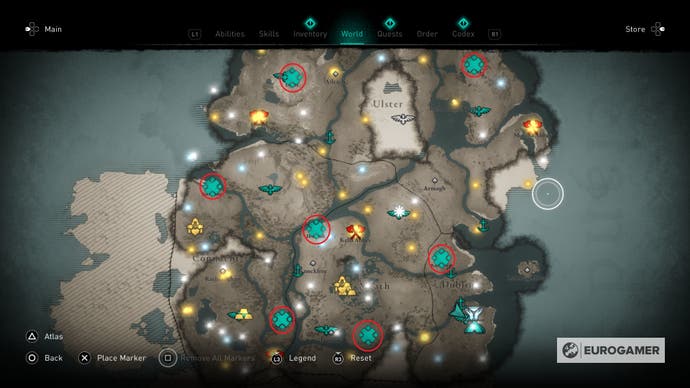 All you have to do is start Dublin's Reach, clear the area of enemies, then follow the mini-quest given to you in order to find the deed for the Trade Post.
Once all those things are done, you can claim your trade post and then start upgrading.
Irish Supplies and Trade Resources in Wrath of the Druids explained
Irish Supplies work much like Supplies do in the base game of Assassin's Creed: Valhalla - aka, they are essential in improving your Trade Posts that are scattered around Ireland.
As for Trade Resources, these are your Luxuries, Delicacies, Texts and Clothing, and are essential if you want to raise Dublin's Renown to level 5.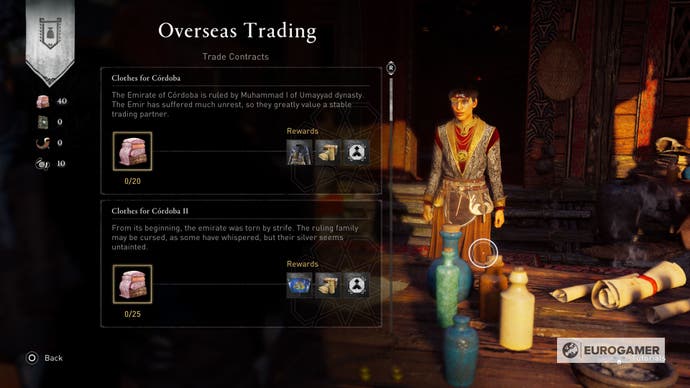 Maxing out Dublin's Renown will grant you a personal quest from Azar (Eye for an Eye), as well as the full Dublin Champion Armour Set.
Beyond earning Renown, Trade Resources are excellent ways for Eivor to get new Armour Sets (including Basim's traditional armour from Assassin's Creed: Origins), tattoo cosmetics, as well as weapons and ship cosmetics. The more Resources you have, the more things you can get in return.
To get Trade Resources, you need to go to Azar's marketplace and interact with the chest next to them. Only then will you have the resources in your inventory so that they can be used to earn rewards.
The best way to increase Dublin's Renown and earn Trade Resources and Supplies fast
If you're going to improve your Trade Posts, you'll need to get Irish Supplies and there are only two ways to do that in Wrath of the Druids:
Using the Trade Resources you do have to buy them from Azar's marketplace store.
Going a vikingr! Much like the base game, there are plenty of Monasteries to raid which will give a large number of Irish Supplies.
Once you have a fair amount of Irish Supplies, you can upgrade your Trade Posts and earn a ton of Trade Resources - boosting your Renown to 5 and earning a quest for Azar at the very end of it.
If you're keen to get Trade Resources as fast as humanly possible, then the best way to do so is to upgrade your Trade Posts.
Each Trade Post has three different upgrades, these are:
Storehouse - increase production of the Trade Resources of the Trade Post
Supply Depot - gives Eivor rations and spare arrows
Worker's Cottage - increases the space of Eivor's chest in Dublin, giving you more room for Trade Resources
We would suggest giving Storehouse as well as Worker's Cottage the most of your attention, as both directly affect your Trade Resources - giving you more room for the Resources in the first place, as well as increasing your productivity.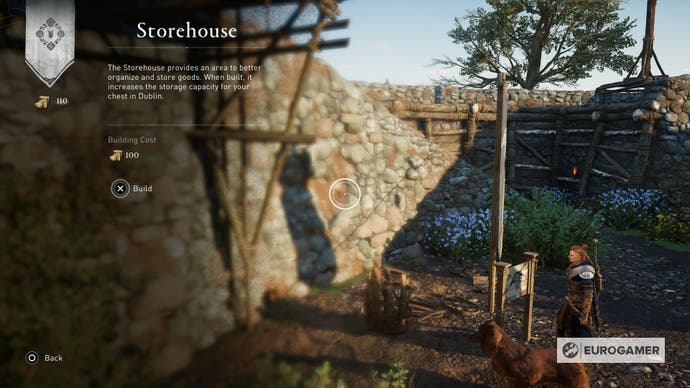 Other methods - which are slower and don't often yield the highest Trade Resources in comparison - are to loot every chest you come across (often depicted by a gold glow on your map) or to partake in the Royal Demand side quests which open up to players after you speak to King Flann for the first time in Meath.
Royal Demand side quests also let you earn Trade Resources, but they're quite limited offering only up to 15-20 Trade Resources per side-quest which, unless you've unlocked Fast Travel to that area, can take up quite a bit of time.
Dublin level 5 Renown reward: How to unlock Eye for an Eye in Wrath of the Druids
The moment that you reach Level 5 Renown in Dublin you'll be gifted with the last piece of the Dublin Champion Armour.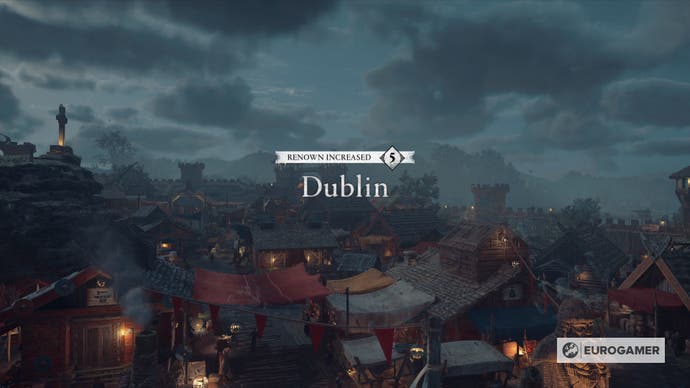 But more importantly, you'll get the chance to speak to Azar one last time and be given a bonus mission - Eye for an Eye.
Azar's old business partner, the one who robbed them of their eye in the first place, as well as slaughtered all of their family, has arrived just off the coast of Dublin and being Azar's pal and all, it's only right for you to pay that mentor a visit.
Azar's murderous old partner can be found below: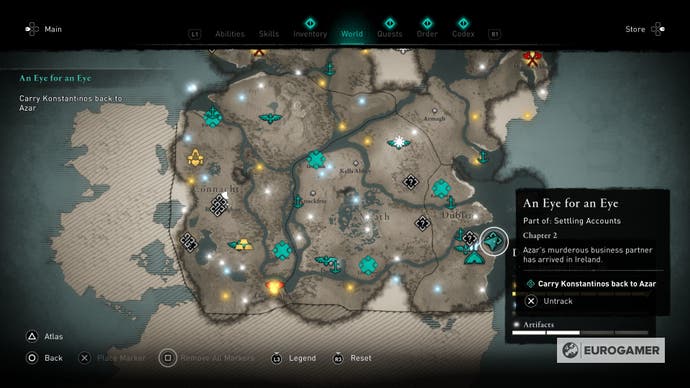 At the location there are a number of enemies, but none are that difficult and once wiped out you can easily scoop Azar's business partner up and back to Dublin.
A small cutscene will play, but after that consider your business with Azar and their storyline well and truly over.