Untangling Evolve's convoluted DLC plan
UPDATE: Turtle Rock co-founder has his say.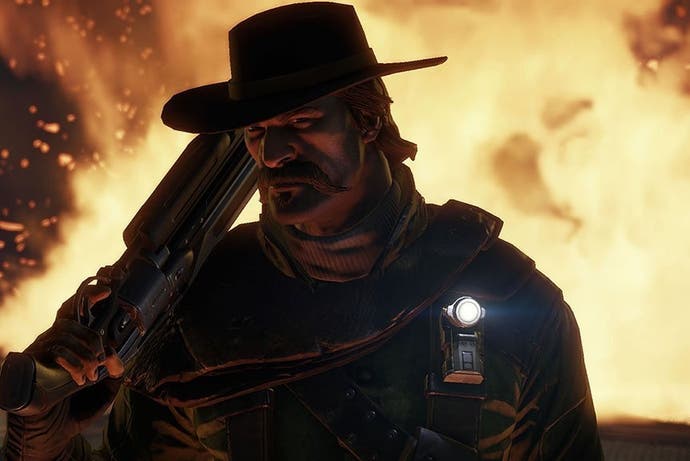 As far as downloadable content goes, 2K's plan for four versus one shooter Evolve is as complex as they come.
Yesterday, 2K revealed the three editions of Evolve that are available to pre-order, pre-purchase and buy, as well as the obligatory season pass that includes access to all sorts.
Let's start at the top.
Evolve's Hunting season pass includes four new playable hunter characters, one in each class, to be released this spring, and three exclusive monster skins (Magma Goliath, Magma Kraken, and Magma Wraith) available when the game launches on 10th February.
2K said the Evolve Hunting season pass contains £25.99 of content for £19.99. You can buy four playable Hunter characters individually outside of the season pass for £6.19 each.
A full game digital pre-purchase of Evolve costs £54.99. Now, those who plan to buy the Hunting season pass can also buy the Evolve Digital Deluxe edition, which includes the Evolve main game as well as the Hunting Season Pass, for a greater savings value. The Evolve Digital Deluxe Edition is available for pre-purchase now as a download for Xbox One and PC. It'll be available soon as a download for the PlayStation 4.
The Evolve Digital Deluxe edition costs £70.99 on Xbox One. You save four quid.
Remember, if you pre-purchase Evolve on Xbox One, you automatically unlock a number of characters you'd otherwise have to grind for.
Right, let's move on. The Evolve PC Monster Race edition is available to pre-purchase now, and includes "even more content and savings". It includes the Evolve main game, the Evolve Hunting season pass and "additional content when it becomes available after launch". That includes the unannounced fifth playable monster, two additional playable hunter characters and four monster skins exclusive to those who buy the Evolve PC Monster Race Edition for 30 days.
And breathe. The Evolve PC Monster Race edition contains £89.79 of content for £58.99, 2K said. On Steam Evolve basic costs £34.99.
Also new is the reveal of Evolve's fourth playable monster: the Behemoth. Behemoth is the largest monster in the game, and is described as a tank that becomes a boulder and rolls through the environment. Behemoth is available this spring to buy separately for $14.99.
Or! Behemoth is part of the Monster Expansion Pack, which is free for those who pre-order and pre-purchase Evolve or the Evolve Digital Deluxe edition or the Evolve PC Monster Race edition. So, essentially, Behemoth is a pre-order or pre-purchase bonus. Oh yeah, the Monster Expansion Pack includes the Savage Goliath Skin at launch.
Right, that's it, we think. Meanwhile, the Evolve Xbox One open beta begins at 5pm UK time on 15th January and runs until 19th January. New monster and hunter characters unlocked in the Xbox One open beta carry over to the final retail version of the game.
UPDATE: Phil Robb, co-founder of Evolve developer Turtle Rock Studios, has responded to criticism of the game's vast downloadable content, insisting that when Evolve ships, none of the DLC will be complete.
"If we thought we could have finished all those monsters and hunters for ship we would have put them in the box," Robb wrote on the Turtle Rock website.
"(Keep in mind, we pretty much have to have the game done about 2-3 months before it's available to you guys... we can keep fixing bugs and such, but content is locked.) The bundles that include 4th and 5th monsters, hunters, etc., just mean that when they are done and we put 'em out, you get 'em."
Robb said Turtle Rock wanted to avoid DLC splitting the Evolve community, so made sure all DLC maps and game modes would be free. And those who have bought DLC can play with those who haven't. You can set DLC characters and monsters up as opponents in solo games.
"And NO, we won't be purposely making DLC hunters and monster overpowered to make people feel like they HAVE to buy them to stay competitive," Robb promised. "We plan to keep things as balanced as possible for as long as people are playing the game."
There's also the issue of the various editions and season pass that's available for Evolve. As we've shown above, it's all pretty convoluted.
"The bundles are options, nothing more," Robb said. "IF you plan to buy all that stuff anyway then you can get a bundle with all that content at a discount. Not a new concept, businesses have been doing that since money was invented. I've bought passes for games where I felt burned and I've bought passes for games and was happy with my purchase. But that's a personal choice, as is any purchase. All of those different tiers are there to provide options."
Robb pointed to publisher 2K, which, he said, is selling Evolve. Turtle Rock is the developer.
"Ultimately, TRS makes the games, we don't sell them," he said, "and as the developers we've done our best to make a game that people want to play. We then have to trust our publisher to make the best decision on how to sell that game.
"We've done everything we could to keep this stuff as open to choice as possible and despite how it may look to some, there isn't anything here that forces people to spend more money than they are comfortable with. We feel like all of the Evolve bundles that 2K announced just offer people choices, and having choices isn't a bad thing."