Turtle Rock leaves Evolve behind, won't have time to do F2P on console
"This is not goodbye."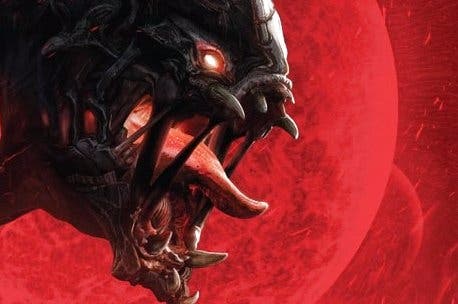 Developer Turtle Rock has announced that after five-and-a-half years it will no longer work on 4v1 monster shooter Evolve. This means Turtle Rock won't be able to take Stage 2 of Evolve - ie. the free-to-play switcheroo - to consoles.
Turtle Rock isn't shutting down, and Evolve could continue to, well, evolve if publisher 2K wants it to, but as an independent studio Turtle Rock must move on.
"Today is the last day that Turtle Rock Studios can work on Evolve," Turtle Rock co-founders Chris Ashton and Phil Robb wrote in a joint letter that I've taken snippets from.
"It's always hard to leave one of our games behind. Left4Dead was no different and now it's Evolve's turn.
"This is the life of AAA game developers who aren't self-funded and don't own their own IP. We don't get to make the call.
"There's a lot that we really wish we could have done, especially taking Stage 2 to consoles, but it looks like that's just not meant to be.
"Those of you who've followed Turtle Rock Studios, this is not goodbye. We have lots of stuff in the works that we hope you'll enjoy but we are departing on the Laurie-Anne for the last time and must bid a farewell to the planet Shear."
The letter highlighted what an ambitious project Evolve had once been. Here was a small studio in a "tiny warehouse", post-Valve, whose work on Left4Dead convinced THQ to greenlight a risky new blockbuster multiplayer IP - then 2K to rescue it when THQ collapsed.
With every gaming event in the lead up to release the plaudits for Evolve rolled in - but from ideal testing conditions. When the game launched in February 2015 the reception wasn't as wild. "This is a shooter with ambition, designed with skill and craft, and rich with tactical possibility," wrote Jon Denton in Eurogamer's Evolve review. "If it had the punch and physical feedback of some of its less-intelligent genre mates, Evolve could have been a classic."
But what really threw a spanner in the works was, as Robb and Ashton once described it, the Evolve "DLC s***storm" that "washed away people's enthusiasm" for the game. Most of the 2.5 million people who bought Evolve soon wandered away.
Evolve's recent resurrection as free-to-play game revitalised the community, boosting concurrent players from a thrifty three figures into a healthy five. Perhaps it's how Evolve should have been released to begin with - but the change came too late.
In their letter, Ashton and Robb thanked everyone who played and supported Evolve, and thanked the publishers who made it happen. Tomorrow (27th Oct) there will be one final livestream to mark the occasion, and it starts 12pm PDT (8pm UK time).