UK Top 40: Ghost Recon beats Dragon's Dogma
DiRT Showdown in fourth.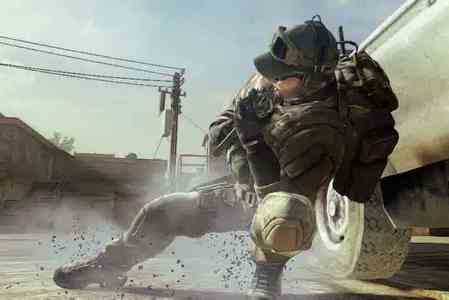 Sci-fi shooter Tom Clancy's Ghost Recon: Future Soldier has shot to the top of the UK all-format charts, beating Max Payne 3, last week's number one.
In a busy week for new releases Capcom RPG behemoth Dragon's Dogma slotted in in third place, ahead of Codemasters' latest racer DiRT Showdown in fourth.
Mario Tennis Open on 3DS managed an 11th place entry, while Doctor Who tie-in The Eternity Clock materialised in 34th from retail sales alone (digital downloads are not counted).
A long list of new releases failed to crack the top 40, however. Men in Black: Alien Crisis (on PS3, Wii, Xbox 360) was nowhere to be seen. Neither were new PS3 launches Rune Factory Oceans, Sorcery or Atelier Merurur: The Apprentice of Arland.
Woodcutter Simulator 2012 also missed the list.
FIFA 12, Sniper Elite V2, Modern Warfare 3, Prototype 2, Diablo 3 and FIFA Street also made the top 10.
The full top 40 follows below.
| This Week | Last Week | Title | Platform(s) |
| --- | --- | --- | --- |
| 1 | New entry | Ghost Recon: Future Soldier | PC, PS3, Xbox 360 |
| 2 | 1 | Max Payne 3 | PC, PS3, Xbox 360 |
| 3 | New entry | Dragon's Dogma | PS3, Xbox 360 |
| 4 | New entry | DiRT Showdown | PS3, Xbox 360 |
| 5 | 5 | FIFA 12 | PS3, Xbox 360 |
| 6 | 4 | Sniper Elite V2 | PS3, Xbox 360 |
| 7 | 7 | Call of Duty: Modern Warfare 3 | DS, PC, PS3, Wii, Xbox 360 |
| 8 | 6 | Prototype 2 | PC, PS3, Xbox 360 |
| 9 | 2 | Diablo 3 | Mac, PC |
| 10 | 3 | FIFA Street | PS3, Xbox 360 |
| 11 | New entry | Mario Tennis Open | 3DS |
| 12 | 8 | Battlefield 3 | PC, PS3, Xbox 360 |
| 13 | 10 | Mario & Sonic: London 2012 Olympic Games | Wii |
| 14 | 24 | Call of Duty: Black Ops | PC, PS3, Wii, Xbox 360 |
| 15 | 9 | Assassin's Creed: Revelations | PC, PS3, Xbox 360 |
| 16 | 11 | Mass Effect 3 | PC, PS3, Xbox 360 |
| 17 | 15 | The Elder Scrolls 5: Skyrim | PC, PS3, Xbox 360 |
| 18 | 14 | Kinect Star Wars | Xbox 360 |
| 19 | 12 | Skylanders: Spyro's Adventure | 3DS, PS3, Wii, Xbox 360 |
| 20 | 18 | Saints Row: The Third | PC, PS3, Xbox 360 |
| 21 | 16 | Batman: Arkham City | PS3, Xbox 360 |
| 22 | 19 | Football Manager 2012 | PC, PSP |
| 23 | 35 | Gran Turismo 5 | PS3 |
| 24 | 25 | Super Mario 3D Land | 3DS |
| 25 | 31 | Mario Kart 7 | 3DS |
| 26 | Re-entry | Kingdoms of Amalur: Reckoning | PC, PS3, Xbox 360 |
| 27 | 32 | Just Dance 3 | Wii, Xbox 360 |
| 28 | 26 | Grand Theft Auto Episodes - Liberty City | PS3, Xbox 360 |
| 29 | 20 | Rayman Origins | PS3, Wii, Xbox 360 |
| 30 | Re-entry | Sonic Generations | 3DS, PS3, Xbox 360 |
| 31 | Re-entry | WWE '12 | PS3, Xbox 360 |
| 32 | 27 | Zumba Fitness | Wii, PS3, Xbox 360 |
| 33 | 28 | The Sims 3 | 3DS, PC, PS3, Wii, Xbox 360 |
| 34 | New entry | Doctor Who: The Eternity Clock | PS3 |
| 35 | 29 | Lego Harry Potter: Years 5-7 | PC, PS3, Wii, Xbox 360 |
| 36 | 13 | Tiger Woods PGA Tour 13 | PS3, Xbox 360 |
| 37 | 21 | Forza Motorsport 4 | Xbox 360 |
| 38 | 37 | Skate 3 | PS3, Xbox 360 |
| 39 | Re-entry | PES 2012 | 3DS, PS3, Xbox 360 |
| 40 | 39 | Final Fantasy 13-2 | PS3, Xbox 360 |