UK Top 40: FIFA 12 boots up chart
Ico Collection enters in seventh.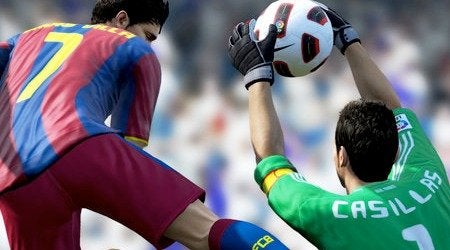 EA Sports' annual footie fiesta FIFA 12 has stuck the boot in to last week's number one Gears of War 3, landing top of the chart.
Gears 3 slips to second, while F1 2011 skids down to third.
Zumba Fitness, Dead Island and Deus Ex: Human Revolution are fourth, fifth and sixth respectively.
The revamped PS2 classics collection Ico & The Shadow of Colossus enters in seventh place.
Last week's other major launch X-Men Destiny only managed 18th.
Harvest Moon: Grand Bazaar and Aliens Infestation on DS are nowhere to be seen.
PC tie-in A Game of Thrones also misses the chart, although download sales are not counted.
The full chart lies below.
| This Week | Last Week | Title | Platform(s) |
| --- | --- | --- | --- |
| 1 | New entry | FIFA 12 | PS3, Xbox 360 |
| 2 | 1 | Gears of War 3 | Xbox 360 |
| 3 | 2 | F1 2011 | PC, PS3, Xbox 360 |
| 4 | 4 | Zumba Fitness: Join the Party | Wii, PS3, Xbox 360 |
| 5 | 3 | Dead Island | PC, PS3, Xbox 360 |
| 6 | 5 | Deus Ex: Human Revolution | PC, PS3, Xbox 360 |
| 7 | New entry | Ico & The Shadow of the Colossus Collection | PS3 |
| 8 | 6 | Driver: San Francisco | PC, PS3, Xbox 360 |
| 9 | 9 | Lego Pirates of the Caribbean | 3DS, DS, PC, PS3, Wii, Xbox 360 |
| 10 | 11 | Call of Duty: Black Ops | DS, PC, PS3, Wii, Xbox 360 |
| 11 | 7 | Warhammer 40K: Space Marine | PC, PS3, Xbox 360 |
| 12 | 10 | Rugby World Cup 2011 | PS3, Xbox 360 |
| 13 | 8 | Resistance 3 | PS3 |
| 14 | 12 | Assassin's Creed: Brotherhood | PC, PS3, Xbox 360 |
| 15 | 13 | Cars 2 | DS, PC, PS3, Wii, Xbox 360 |
| 16 | 16 | Just Dance 2 | Wii |
| 17 | 14 | The Sims 3 | DS, PC, PS3, Xbox 360 |
| 18 | New entry | X:Men Destiny | PC, PS3, Xbox 360 |
| 19 | 17 | Lego Harry Potter: Years 1-4 | DS, PC, PS3, PSP, Wii, Xbox 360 |
| 20 | 22 | Wii Sports Resort | Wii |
| 21 | 20 | Gran Turismo 5 | PS3 |
| 22 | 15 | Red Faction: Armageddon | PC, PS3, Xbox 360 |
| 23 | 18 | Michael Jackson: The Experience | DS, PS3, PSP, Wii, Xbox 360 |
| 24 | Re-entry | Dance Juniors | Wii |
| 25 | 23 | Lego Star Wars III: The Clone Wars | 3DS, DS, PC, PS3, PSP, Wii, Xbox 360 |
| 26 | 24 | Battlefield: Bad Company 2 | PC, PS3, Xbox 360 |
| 27 | 28 | Mario Kart Wii | Wii |
| 28 | 26 | Duke Nukem Forever | PC, PS3, Xbox 360 |
| 29 | Re-entry | Child of Eden | PS3, Xbox 360 |
| 30 | 37 | EA Sports Active 2 | PS3, Wii, Xbox 360 |
| 31 | 33 | Skate 3 | PS3, Xbox 360 |
| 32 | 21 | FIFA 11 | DS, PC, PS2, PS3, PSP, Wii, Xbox 360 |
| 33 | New entry | Phineas & Ferb: Across the 2nd Dimension | PS3, Wii |
| 34 | 32 | GTA: Episodes from Liberty City | PS3, Xbox 360 |
| 35 | 19 | L.A. Noire | PS3, Xbox 360 |
| 36 | 34 | Tiger Woods PGA Tour 12: The Masters | PS3, Wii, Xbox 360 |
| 37 | 31 | Sniper: Ghost Warrior | PC, PS3, Xbox 360 |
| 38 | 29 | Red Dead Redemption | PS3, Xbox 360 |
| 39 | 36 | DiRT 3 | PC, PS3, Xbox 360 |
| 40 | 30 | Homefront | PC, PS3, Xbox 360 |