UK Top 40: Battlefield 3 beats Batman: AC
Kinect Sports 2 lands 18th.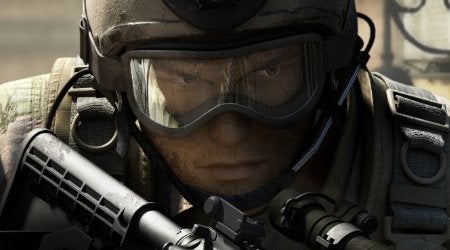 Battlefield 3 has stormed the UK chart to arrive first in the all-formats listing.
EA's first-person shooter is the tenth biggest UK launch of all time in terms of units sold and ninth in revenue. It sold more copies in week one than all seventeen previous Battlefield games combined and twice as much as Medal of Honor last year.
53 per cent of copies bought were on Xbox 360, 29 per cent on PlayStation 3 and 10 per cent on PC, although those numbers do not count digital download sales, such as through EA's Origin service.
Batman: Arkham City is second, while FIFA 12 and Football Manager also both shuffle down a place to accommodate Battlefield.
Rare-developed Kinect Sports: Season 2 was the next highest new entry, leaping into 18th.
The only other fresh entry to the chart was Dragon Ball Z: Ultimate Tenkaichi, which arrived in 23rd.
Disney Universe, PS3 re-make House of the Dead: Extended Cut and Kirby Mass Attack all failed to register in the all-formats' top 40.
Out last week, Tintin: Secret of the Unicorn managed a late entry into the chart in 35th place, no doubt helped by the launch of the Tintin movie last weekend.
This leaves the rest of the top ten remains largely unchained, with Just Dance 3, Forza 4, The Sims 3 and Zumba making up fifth to eighth place.
Toy tie-in Skylanders: Spyro's Adventure continues to scale the chart ahead of Christmas, with Rage in tenth.
The full chart will follow.
| This Week | Last Week | Title | Platform(s) |
| --- | --- | --- | --- |
| 1 | New entry | Battlefield 3 | PC, PS3, Xbox 360 |
| 2 | 1 | Batman: Arkham City | PS3, Xbox 360 |
| 3 | 2 | FIFA 12 | PS3, Xbox 360 |
| 4 | 3 | Football Manager 2012 | PC |
| 5 | 5 | Just Dance 3 | Wii, Xbox 360 |
| 6 | 4 | Forza 4 | Xbox 360 |
| 7 | 6 | The Sims 3: Pets | 3DS, PC, PS3, Xbox 360 |
| 8 | 9 | Zumba Fitness | Wii, PS3, Xbox 360 |
| 9 | 11 | Skylanders: Spyro's Adventure | 3DS, PS3, Wii, Xbox 360 |
| 10 | 8 | Rage | PC, PS3, Xbox 360 |
| 11 | 7 | PES 2012 | PS3, PC, Xbox 360 |
| 12 | 14 | Lego Pirates of the Caribbean | 3DS, DS, PC, PS3, Wii, Xbox 360 |
| 13 | 13 | Mario Kart Wii | Wii |
| 14 | 10 | Gears of War 3 | Xbox 360 |
| 15 | 12 | F1 2011 | PC, PS3, Xbox 360 |
| 16 | 16 | Dead Island | PC, PS3, Xbox 360 |
| 17 | 15 | Deus Ex: Human Revolution | PC, PS3, Xbox 360 |
| 18 | New entry | Kinect Sports: Season 2 | Xbox 360 |
| 19 | 17 | Driver: San Francisco | PC, PS3, Xbox 360 |
| 20 | 23 | Wii Music | Wii |
| 21 | 22 | Rugby World Cup 2011 | PS3, Xbox 360 |
| 22 | 25 | Warhammer 40K: Space Marine | PC, PS3, Xbox 360 |
| 23 | New entry | Dragon Ball Z: Ultimate Tenkaichi | PS3, Xbox 360 |
| 24 | 31 | The Sims 3 | DS, PC, PS3, Xbox 360 |
| 25 | 38 | Call of Duty: Black Ops | DS, PC, PS3, Wii, Xbox 360 |
| 26 | 27 | Assassin's Creed: Brotherhood | PC, PS3, Xbox 360 |
| 27 | 35 | Lego Star Wars III: The Clone Wars | 3DS, DS, PC, PS3, PSP, Wii, Xbox 360 |
| 28 | 32 | Gran Turismo 5 | PS3 |
| 29 | 26 | Michael Jackson: The Experience | DS, PS3, Wii, Xbox 360 |
| 30 | 30 | Cars 2 | DS, PC, PS3, Wii, Xbox 360 |
| 31 | 28 | Wii Sports Resort | Wii |
| 32 | 34 | Lego Harry Potter: Years 1-4 | DS, PC, PS3, PSP, Wii, Xbox 360 |
| 33 | 33 | Phineas & Ferb: Across the 2nd Dimension | PS3, Wii |
| 34 | 40 | Dance Central 2 | Xbox 360 |
| 35 | New entry | Tintin: Secret of the Unicorn | 3DS, PS3, Wii, Xbox 360 |
| 36 | 20 | Dead Rising 2: Off The Record | PC, PS3, Xbox 360 |
| 37 | 24 | Ratchet & Clank: All 4 One | PS3 |
| 38 | 39 | Just Dance 2 | Wii |
| 39 | 29 | Dance Juniors | Wii |
| 40 | 28 | Dark Souls | PS3, Xbox 360 |