Thimbleweed Park succeeds its $375K Kickstarter goal in six days
Announces stretch goals for mobile ports and voice acting.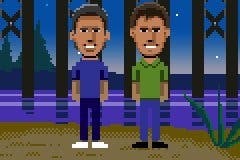 Thimbleweed Park - the recently announced throwback to late 80s point-and-click adventure games from Maniac Mansion and Monkey Island creators Ron Gilbert and Gary Winnick - has surpassed its $375K Kickstarter goal in only six days.
As of writing this, it's currently raised $383,987 across 10,466 backers.
"I am at a loss for words," wrote Ron Gilbert in a Kickstarter update before writing more words. "The support has been overwhelming and it's making us giddy. Before launching this Kickstarter, Gary and I debated endlessly if people would want a gamethat felt like it was made in 1987. A game made at the beginning of the golden era of point-and-click adventures. I think we have our answer. All 10,000+ of them."
The veteran adventure game devs also revealed all new stretch goals. At $425K Thimbleweed Park will be translated in French, Spanish, German and Italian; at $525K iOS and Android ports will be produced; and at $625K voice-acting will be added. Sure, that's not the most 1987 feature, but you can pretend it's a remastered version of an old classic. Plus there will more than likely be an option to mute the voices if you're intent on staying 100 per cent true to the era.
The Thimbleweed Park Kickstarter is running until 18th December.