Monkey Island developer's Thimbleweed Park out next month
Sew there.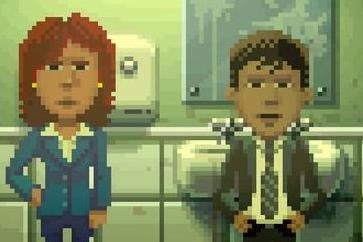 Thimbleweed Park, the new adventure game from Monkey Island and Maniac Mansion's Ron Gilbert, will launch on 30th March.
You'll be able to snap it up on Steam and GOG on PC, or on Xbox One, Mac and Linux.
The game centres on five strangers who are forced to spend a night in a creepy, abandoned town. They're all connected, but don't know it yet. They're also being watched.
A mystery point-and-click adventure game from one of the legends of the genre, Thimbleweed Park nearly doubled its Kickstarter goal when it was funded back in late 2014.
It's been a long wait since, but we managed to catch up with Ron Gilbert earlier in the month to play a full hour of the game together:
Thimbleweed Park is still due for release on iPhone, iPad and Android later in the year. Other consoles may follow after.