Thimbleweed Park reopens with free mini sequel
Sew it goes.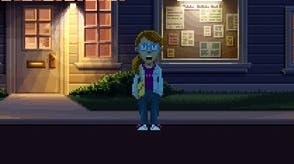 Thimbleweed Park, the point and click adventure game from Monkey Island's Ron Gilbert, has a sequel. Sort of.
Gilbert has created a mini-standalone follow-up featuring character Delores, set one year on from the main game's events.
This follow-up was originally designed as a prototype for Gilbert's new game engine, but it eventually grew into a project to help him keep busy during the lockdown.
"As I write this on the 9th day of May in the year of 2020 the Pandemic is far from over," Gilbert wrote in a blog post over the weekend. "Different people deal with isolation, fear, social distancing and hoarding toilet paper differently. I built a game. It helped keep me sane."
Delores: A Thimbleweed Park Mini-Adventure is now available to download for free via Steam and Epic Games Store, or you can take a peek via the trailer below.