The E3 Bulletin - Wednesday
Zelda! Cyberpunk! Dying Light 2!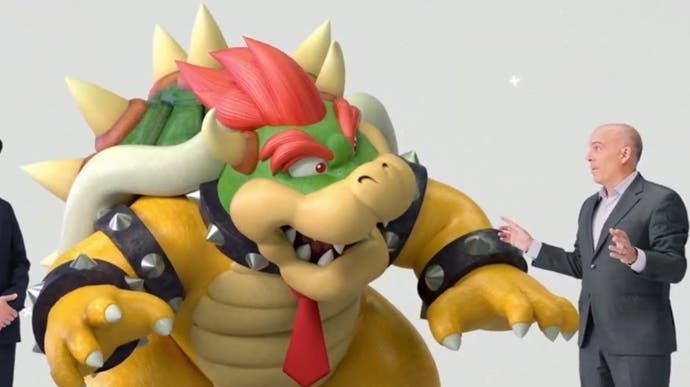 The E3 bulletin runs each day of E3 week. Here are 2019's entries: Monday | Tuesday | Wednesday | Thursday | Friday
E3 Wednesday feels different this year. There's the standard sleep-deprived exhaustion and feeling that we've overdosed on high-definition footage of people being seriously injured in slow motion, but with a lingering sense of having missed something.
What this might be is anybody's guess, as the list of suspects is longer than Phil Spencer's shopping list: Call of Duty? Assassin's Creed? A proper Ubisoft bombshell? Could it be that it's not really E3 without waiting 40 minutes to watch a suited Sony exec reciting statistics no living human cares about? We will not rest until we have answers or until there's a proper row about next-gen leaks, whichever comes first.
Nintendo at least managed to kick off a new generation of suited man in its Direct presentation, the last pre-show conference, with the debut of Bowser (Doug) in a nice skit with Bowser (actual) launching us into the post-Reggie era. We can report that yer man does a decent line in sincere-sounding games chat on an infinity-white background, and are pleased to note that the majority of what he introduced is coming out this year, filling out what was previously a rather lean Christmas.
The headliner was Luigi's Mansion 3, which Tom has played and liked. The presentation highlighted jelly-like co-op avatar Gooigi, which is unpleasant to say and think about and is definitely going to result in the internet creating things that will make Bowsette look like the pinnacle of whitebread mundanity. We will not be researching this hypothesis and strongly advise you don't either. Pokemon Sword and Shield is basically Pokemon again and contains two new Pokemon. It does not, however, contain every Pokemon, which at this point is kind of a relief. The Links Awakening remake looks lovely, and Dark Crystal Tactics looks weird. Smash Bros added the guy from Dragon Quest 11, who we don't know very well, and Banjo-Kazooie who we do, and are accompanied by a soundtrack by the game's original composer Grant Kirkhope.
Tom Nook invites us all to a deserted island. There, we are greeted by Isabelle on TV as she explains that the chokers around our necks are explosive devices, and that we have 48 hours,

— Elliot 💫 🔜 Fanime Karaoke Rm212 (@nameoftheyear) June 11, 2019
Animal Crossing confirmed some new features, Tom Nook's ongoing status as the cuddliest avatar of rapacious and unfeeling capitalism, and a release date delay until March 2020, which is handy because you can play it while your other console is downloading everything else that is coming out in March 2020. It is apparently possible to fit all of The Witcher 3 into a single Switch memory card, just as Digital Foundry foretold. Alien Isolation on Switch was a surprise but welcome, Residents Evil 5 and 6 were not. Romero Games' latest was confirmed as some sort of mobster XCOM thing that looks like a mid-2000s PC game, and Travis Touchdown returns in No More Heroes 3.
Further release date news confirmed a very weeby Christmas packed with stuff like The Mana Collection, Oninaki and Dragon Quest 11 before things ended with a vision of the distant future: a first glimpse of Legend of Zelda: Breath of the Wild 2, which features Zelda, Link and malignant ghosts. No further details were forthcoming, but there's already a theory that Zelda is playable and we're sure the Gooigi fan fiction is already embracing the setting. Among other things.
zelda: hey link you're back early

link: basement's haunted

zelda: what?

link: *loading a pistol and getting back on epona* basement's haunted

— eric van allen (@seamoosi) June 11, 2019
Then the show finally opened and we got to actually play some games and experience our own emotions, rather than rely on those previously committed to autocue. This year's hottest ticket is still Cyberpunk 2077, which is still not available for anybody to play, but the away team has seen a new demo of it and confirmed it is indeed a video game. This is not as cyberpunk as perhaps we'd hoped for but it's still looking good. It is launching for current consoles but will also come to next-gen. Here are 17 things to know about the demo.
Dying Light 2 mixes big world-changing story choices in with its zombie parkour, Fire Emblem Three Houses has a new control scheme, and the Final Fantasy 7 remake is set exclusively in Midgar but it's bigger now. Miyazaki says that his next game will be really difficult, just in case you were worried about that.
Phil Spencer said that it would be nice to buy a Japanese studio, which frankly makes him sound a bit like a Bond villain and suggests that maybe Microsoft should take the credit card off him before things go too far. That hammering sound you can hear is Platinum barricading the windows just in case. The spending spree is all in service of Game Pass, apparently, and the Netflix-esque commitment to have infinite #content available at all times forever, to suit every taste and tendency. The Double Fine acquisition was made with this goal in mind, which at last means that Tim Schafer can now be considered alongside Jeremy Clarkson.
Schafer being a Microsoft employee is something we're still coming to terms with although others think faster: Ooblets became the first game to ditch Double Fine as a publisher following the news of the Microsoft acquisition. Graham on RPS worries that a few big companies buying all the studios is probably not a great thing for the future of the medium. It's true that the show-wide enthusiasm for streaming services is carrying on heedless to the distant screaming from the music and TV industries, but Playground reckons Game Pass has made Forza Horizon 4 more successful then it ever would have been otherwise, so it'll definitely all be fine. In the future, every piece of digital #content will be on the homepage of the storefront for 15 minutes.
Crystal Dynamics confirmed Marvel's Avengers is not open world, enables Black Widow to be just as fun to play as Hulk, and the studio was quite happy to create its own version of those characters, actually. Others have questioned this decision. Ninja Theory is likewise unmoved by the suggestion that moving into multiplayer with Bleeding Edge is not playing to the studio's strengths, and in action the game does indeed hold up well.
Other news: the Halo Infinite trailer was apparently the game's opening cinematic and thus technically in-game footage. People are extremely cross about Shenmue 3 launching on the Epic Store. You can now claim and use dead or abandoned GamerTags, kind of. The next patch for Terraria will be the last one. If you spend too much time in the dark then you become a zombie, both in Dying Light 2 and on the E3 show floor in general. On that note, we shall retire - we'll be back with another bulletin tomorrow.