The E3 Bulletin: Tuesday
Final Fantasy! Roller Champions! Ian Man!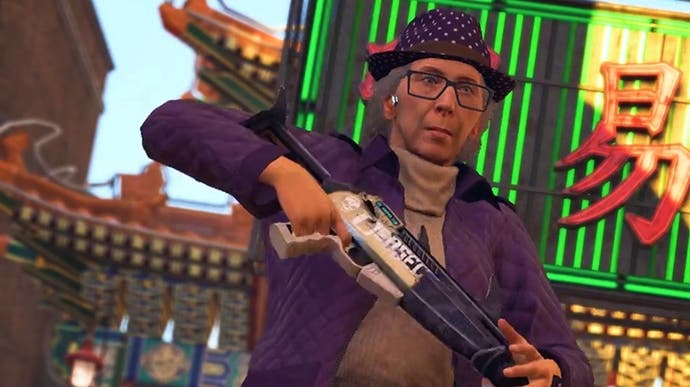 The E3 bulletin runs each day of E3 week. Here are 2019's entries: Monday | Tuesday | Wednesday | Thursday | Friday
Day Two of E3 week, day four of The Content, and time to update the trend board: it's all about streaming in the business meetings and screaming at the conferences. Get you a man - and it will always be a man - who can do both at literally any point where more than 10 people are gathered together. We suspect this is due to E3 being an official consumer show now: the show always had a few yellers but they were routinely offset by the crack squad of miserable bastards in the media/industry section, while now any conference organiser can pack the hall with dedicated zealots conveniently surfaced by social media. Wes crossed the streams by interviewing the loudest voice at Bethesda's show.
Just about every speaker has been interrupted by overenthusiastic whooping, and CD Projekt RED has made things worse by giving a free copy of Cyberpunk 2077 to the guy who heckled Keanu Reeves. Just imagine how bad it's going to be next year when we've got actually exciting stuff to show off.
We were at least blessed with a day of non-conference news before the shrieking started again. You can get a sexy Master Chief figurehead for your Sea of Thieves pirate ship, which is wrong and bad and unsettling but only available for a limited time, so who are we to resist? A mystery leaker claimed that Nintendo was suing them to stop them leaking things. GRRM's Dark Souls, to give it it's full name, is open-world with RPG elements. Minecraft Dungeons is Diablo for people who are scared of Diablo.
Gather round and draw your loved ones close, for darkness looms: there is no numbered Forza game this year. This is genuinely bad news as it means we don't get Forza Horizon as a Project Scarlett launch game, which would have been the perfect way to soak up that first barren Christmas when there's bugger all else to play. The darkness lifted later in the day with the news that Microsoft is stopping Xbox 360 back compat work in favour of starting on Xbox One back compat work, so you can plod through your backlog instead. We hope the team don't blow their minds moving on from Asura's Wrath (recommended) to LocoCycle (not recommended). You can mark the occasion by downloading Too Human free of charge, which is also not recommended.
In other news, it was confirmed that the Final Fantasy 7 remake is coming out in February, which turned out to be a largely worthless data point because pretty much everything at the show is coming out between February and May next year. Almost as if the publishers know there's a huge platform change coming that will make their current tech look bad or something. Matt Booty told Tom that Microsoft wasn't just throwing everything it had at the stage, and confirmed that Project Scarlett has an optical disc drive, which might sound deathly tedious but we can assure you is life and death stuff when it comes to console launches. Riot's Auto Chess game is called Teamfight Tactics and is apparently good.
The day's first conference was the PC Gaming Show, now an established part of the E3 lineup and a reliable source of interesting new games. It's delivered with an endearing enthusiasm rather than the C-suite swagger of the big dogs, which is cheering, but it's also the only conference with its own bottom line to worry about, compelling it to take time out to flog racing chairs and wrap-around monitors. This somehow contrives to feel oddly commercial despite occurring in a week-long event that exists for the sole purpose of getting people excited about marketing material. Still, it doesn't detract from the enthusiasm of the hosts or the variety of the games on show, which ran the gamut from humans-vs-furniture showdown Midnight Ghost Hunte to Borderlands 3.
Further highlights included Unexplored 2 and unrequested but not uninteresting sequel Evil Genius 2. Vermintide 2 got a Versus Mode and Vampire the Masquerade Bloodlines 2 had its release date revealed by somebody who appeared to be cosplaying as an actual vampire. Epic sponsored both the conference and, it turned out, several of the games present: Shenmue 3 and Untitled Goose Game are now timed exclusives on the Epic Store, which will doubtless result on a rather longer timed exclusive on them having any remotely positive user reviews on Steam.
Next up was Ubisoft, which we've come to rely on as the regular ray of light amid the usual rundown of Guns as Service, but this year came up disappointingly short. The warning sign was the lack of Just Dance opener, replaced by an Assassin's Creed recital that would actually have been quite good if they'd had a full-size orchestra, but was a bit weak delivered by the cut-down lineup of musicians that could be fitted into the space. Another fine metaphor Yves got us into, then, but Watch Dogs 3 improved things both by leaning into Brexit as a backdrop for its' thoroughly damaged near-future London and offering a genuinely interesting demo of Actual Gameplay.
The accents were unsurprisingly terrible but the free-hand creation of a stone-cold gangster granny instantly dethroned Keanu Reeves as the star of E3 2019. Questions remain about how the body-hopping recruitment system can scale to fit the entire world, but the dev team is packed with recognisable talent from across the industry and there is cause for genuine optimism. The same cannot be said of Ghost Recon Breakpoint, which just looked like generic grimdark miltary-fetishist murder-a-thon, and blended into an indistinct Clancyverse casserole along with Tom Clancy's Rainbow Six Phantom Sight, which is DLC, Tom Clancy's Rainbow Six Quarantine, which is a spinoff, and Tom Clancy's The Division 2 DC Outskirts: Expeditions, which is more DLC and will be followed by further outbreaks of Tom Clancy until the failure of human civilisation, an outcome one feels he was working towards.
For Honor's Shadows of the Hitokiri event was at least free from the creeping Clancy menace but it's For Honor so it was still about slicing people up in slow motion. Quarantine actually looks quite interesting but the whole showcase made you pine for colour and wit and people who all survive to the end of the trailer. Only trace elements of the former was available in the form of Tom Clancy's Elite Squad, a 5x5 mobile game seemingly targeted at people who cherish Tom Clancy characters, or can tell the difference between Tom Clancy characters, a group we fear numbers less than the game's allegedly hundreds-strong roster.
All of your favorite Ubisoft characters are here, man with gun, man with gun, man with gun and night vision goggles, and lady with gun

— 9 V O L T (@9_volt_) June 10, 2019
We have similar audience concerns of Uplay+, which turns the splash-screen irritant into a fully-fledged subscription service in the belief that people are prepared to spend $15-a-month on all-you-can-eat DLC for The Division 2 and access to the most hated Prince of Persia. The Venn diagram of PC gamers who possess the requisite money, free time to to play more then one service game and interest in old Rayman games does not feel substantial, but we will monitor the situation and respond accordingly. Ubisoft's unfailing commitment to launching on every platform created was extended not only to Google Stadia but Apple TV+, care of a Rob McElhenny-fronted self-described comedy about game development. The trailer contained a single joke which wasn't funny, but we trust that the episodes will be longer and have a better batting average. The Division 2 for Netflix is the algorithmic #content we deserve, and may indeed have already half-watched while doing something else.
The requisite colour came from three sources. First came the delayed arrival of the dance numbers announcing Just Dance 2020, about which the only disappointment is that it's a video game rather than a challenger campaign for the US presidency. Then there was Roller Champions, a free-to-play roller derby thing that looks like Rocket League only with people and, one assumes, more extensive microtransaction opportunities. Chris played it and was impressed. Then proceedings closed on Gods and Monsters, which looks like a straight up clone of Breath of the Wild but with historic deities. In the absence of more Breath of the Wild, and the presence of what is apparently a decade's development experience in the Ubisoft DLC mines, we will take that, although we'd rather have taken Beyond Good and Evil 2. We will grudgingly extend a pass until the next generation.
Proceedings closed with Square Enix, which had the expected focus on Final Fantasy 7 remake, and the unexpected news that it looks really good. Both visuals and combat have been refreshed to the point where it'd appeal even as a brand-new game, and with 20 years of fandom behind it then adoration was assured. The only bum note was the boss fight, which had been edited for time but still felt like it lasted an hour, and makes us worry this is one of those nostalgic experiences that does not map well to adulthood free-time shortages.
There followed an extended run through upcoming releases which once again confirmed that Square produces a great many games that are utterly impenetrable for anybody beyond their target audience. You could could knock up an almost random combination of synth-tinged orchestral music, British thespian voiceover and montages of people with large melee weapons and claim it to be either a bold new chapter or the Western debut of a celebrated RPG series and get as far as the retail sell-in before anybody realised it didn't exist. Martin stays on top of this so you don't have to. The biggest news is a remaster of - yes! - Final Fantasy 8, which we have pencilled in for E3 2024.
Things veered back West first with Square Enix Collective, which highlighted a nice-looking, Micro Machines-ish racer and the next update for Battalion 1944, and then People Can Fly's new co-op shooter Outriders. This took us back to guns and slaughter, which was a shame, but that's PTF's comfort zone and you have to expect they'll deliver.
The grand finale was Marvel's Avengers, and, well. This is clearly a vast project that a huge amount of time, money and human talent has been invested into, but seemingly lacked the budget to recreate the movies or the flair to put its own spin on a set of characters that are almost too well-known. The result felt like watching somebody try to recreate the decade's biggest entertainment brand using pound-shop action figures.
The shriekers were out for this one too, of course, so it's hard to work out if the Square hosts actually knew what they've done, but it represents fatal levels of delusion or chutzpah when you unveil "an all-star Avengers cast" two months after Endgame that features no actual Avengers, three people you've never heard of, and two who you know because they are in literally every other game. The footage looked gameplay-ish and okay-ish, but felt like an off-brand approximation even compared to Insomniac's equally celeb-light spin on Spider-Man. It's genuinely quite difficult to work out where the break point lies, although Donlan has done a fine job.
This was followed by the grimly inevitable multiplayer promise of Superheroes as as Service, which seemed similarly bereft of spark and focused mostly on promising that there would be no upgrade cost, lootboxes or random drops, all of which feels like shutting down revenue sources that they're really going to regret once they've got the first months' sales figures in. The whole endeavour was overpoweringly reminiscent of the later years of Midway Games, which had a similar reliance on off-brand Unreal Engine facsimiles and was only partially redeemed by the games being goofily fun to play. Fingers crossed that Square can deliver the same outcome and Disney are happy with it, although it can hardly complain: it's spent a decade and millions of dollars telling us that Iron Man looks like Robert Downey Jnr, so it's going to a pretty special game to get us used to him looking like Noel Edmonds. There's talent at Crystal Dynamics and Eidos Montreal, and we've not seen the game yet, so let's hope that they pull it off.