Animal Crossing: New Horizons for Nintendo Switch launches March 2020
Into the beach.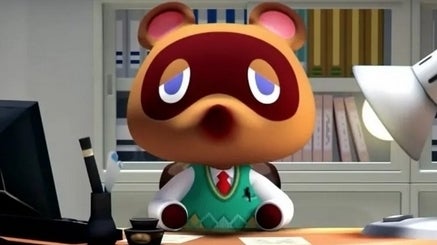 Here's the bad news: Nintendo's long-awaited Switch version of Animal Crossing will now launch in 2020. On the upside, the newly-titled Animal Crossing: New Horizons looks like a significant step forward for the series.
New Horizons' setting is your own tropical island, once again run by the series' miserly Tom Nook. As usual, you'll start with absolutely nothing and have to work your way up to an acceptable standard of living by dealing with him and befriending nearby animal neighbours.
But New Horizons looks like it will bring in new crafting and resource mechanics, evidenced by today's trailer which showed the player picking up bundles of wood and turning them into objects, such as a "Flimsy Axe".
The video also showed a focus on planting and looking after trees and flowers, and new mechanics such as pole-vaulting rivers and laying down paths.
The trailer concludes with what looks like multiplayer - and a number of other players dropping by your island. [UPDATE: In a Nintendo Treehouse livestream, it was confirmed you can have up to eight players living on a single island all playing at the same time in online multiplayer. Four people can play together in local multiplayer on a single console using four Joy-Con.]
It looks very promising indeed - and worth the extra wait.