Stardew Valley Night Market and Mermaid Boat puzzle solution explained
Everything you need to know about the three night festival in Stardew Valley.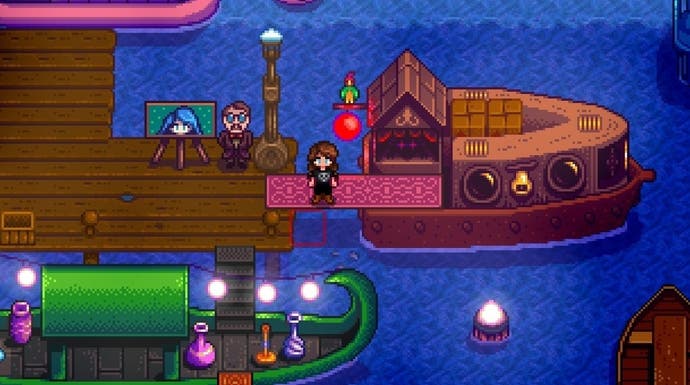 Spread over three days, the Night Market is the longest festival in Stardew Valley.
Throughout this event you'll be able to buy a variety of items, do some Night Market fishing and even solve the Mermaid Boat puzzle for a very special prize.
The Night Market is more relaxed when compared to the previous, and competitive, Festival of Ice. You'll even find yourself visiting every night, as the stock of the various shops rotates.
On this page:
Night Market dates and time in Stardew Valley explained
The Night Market is a little bit different compared to the other festivals, here are the important details from the Stardew Valley festival calendar:
Date - 15th, 16th and 17th Winter
Time - 5pm to 2am / Submarine Ride closes at 11pm / Mermaid Boat closes at 12:30am
Location - The Beach
Return to Farm at - 2am
Night Market in Stardew Valley explained
Unlike all the other festivals in Stardew Valley, the Night Market is spread across three separate nights.
From 5pm onwards on these days, head down to the beach. There you'll find a variety of special attractions and shops to visit.
You can collect a free cup of coffee, watch a mermaid sing, buy a painting or visit the bottom of the sea in a submarine to catch some Night Market fish.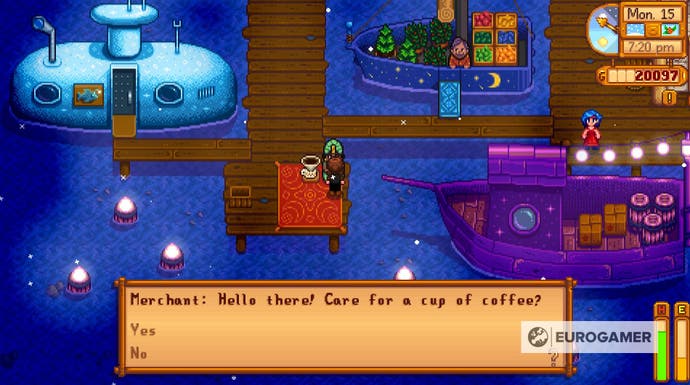 There are four different shops for you to spend your hard earned money at in the Night Market; the Travelling Cart, Famous Painter Lupini, Decoration Boat and and the Magic Shop Boat.
Spend your time as you wish, catching fish or spending money, just remember - unlike the other festivals, time continues to move in Night Market. This means you need to keep your eye on the clock when attending the Night Market to ensure you don't faint for exhaustion.
If you need to rush back to your farm, then chat with the hooded figure standing in front of Willy's Fish Shop.
When you talk to them, they'll offer to use their Farm Warp Totem to send you home for the low price of 250g. If you can pay and need to get home in a hurry, then definitely pay for this warping service.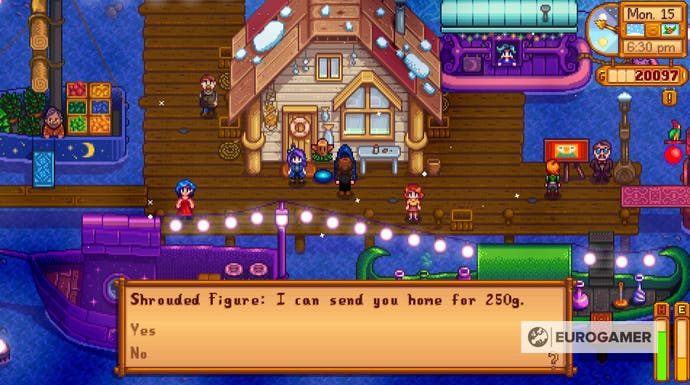 Mermaid Boat puzzle solution in Stardew Valley explained
The Mermaid Boat is located in the far eastward end of the Night Market.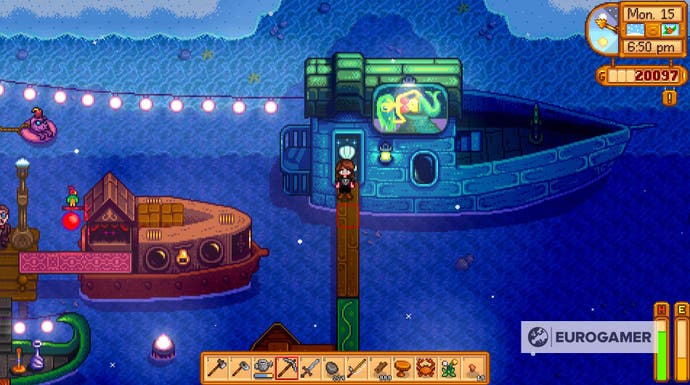 If you visit it, you'll find yourself watching a mermaid's slightly psychedelic musical performance.
Once this performance is completed, you'll discover that you can interact with the five clam shells lining the base of her stage. Each one will produce a musical tone and, to receive your prize, you need to perform the right song.
The solution for this puzzle can be found in Secret Note #15 but you don't need to own or have read the Secret Note to complete this puzzle.
Going from left to right the solution to this musical puzzle is - 1 / 4 / 5 /3 / 2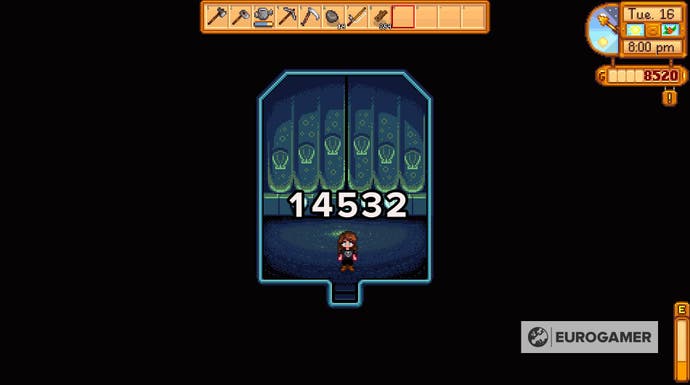 If you solve the puzzle correctly, then you'll receive a pearl from the mermaid.
Pearls can be used to make the Bridal Veil on the Sewing Machine or can be sold for 2,500g. You can only obtain one pearl from the Mermaid Boat per save file, but you can also obtain them from fish ponds, artefact troves and by deep sea fishing on the Night Market submarine.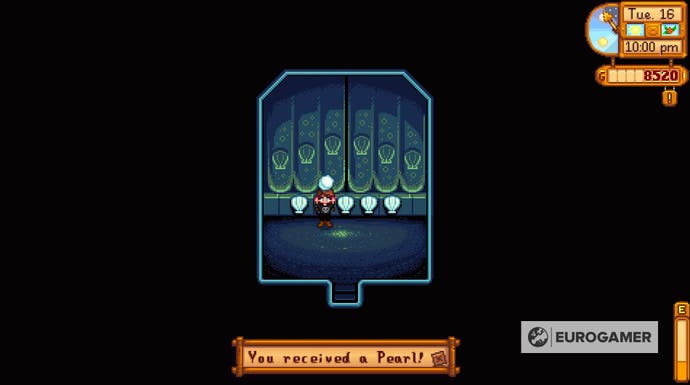 ---
One of the main goals in Stardew Valley is to complete the Community Center bundles or, if you're corporate minded, you can buy a JojaMart Membership. Fishing is a great way to earn money in Stardew Valley, especially if you decide to use crab pots and ponds. Throughout the year you'll also be able to take in a variety of festivals, including the Egg Festival, Stardew Valley Fair and the Night Market.
---
Night Market shops in Stardew Valley explained
There are four different shops where you can spend your hard earned money at the Night Market.
One of them is the Travelling Cart, which visits Cindersnap Forest twice a week, and will be sticking to its regular selection of stock.
The other three, however, are unique to the Night Market.
The Famous Painter Lupini will be selling one painting every night, with each one costing 1,200g. The choice of painting depends on both the year and which day you visit the market on, with the paintings rotating from year to the year.
Below you'll find the various painting you can buy, and when, from Lupini:
| Painting | Day Sold | Year Sold |
| --- | --- | --- |
| 1000 Years From Now | 16th | 2, 5, 8, 11 etc. |
| Clouds | 15th | 2, 5, 8, 11 etc. |
| Land Of Clay | 17th | 3, 6, 9, 12 etc. |
| Portrait Of A Mermaid | 16th | 1, 4, 7, 10 etc. |
| Red Eagle | 15th | 1, 4, 7, 10 etc. |
| Solar Kingdom | 17th | 1, 4, 7, 10 etc. |
| The Serpent | 15th | 3, 6, 9, 12 etc. |
| Three Trees | 17th | 2, 5, 8, 11 etc. |
| Tropical Fish #173 | 16th | 3, 6, 9, 12 etc. |
You'll find the Magic Shop Boat to the right of Lupini and this shop also has a rotating stock. Thankfully, however, it rotates by day and not year.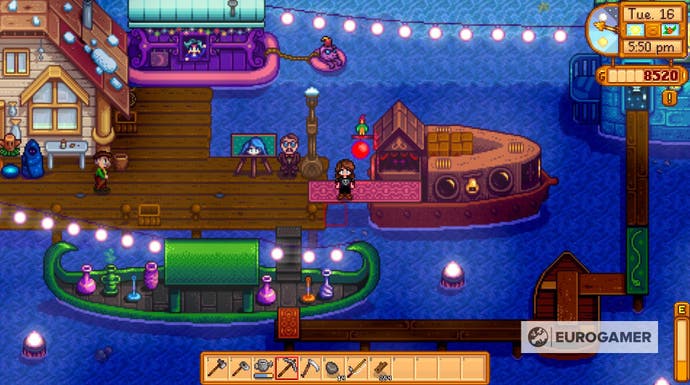 Here is the complete stock for the Magic Shop Boat and on what days you can buy each item:
Item
Price
Days Sold
Amaranth Seeds
70g
17th
Artichoke Seeds
30g
17th
Bean Starter
60g
15th
Blueberry Seeds
80g
16th
Bok Choy Seed
50g
17th
Cauliflower Seeds
80g
15th
Cone Hat
5,000g (15th)
2,500g (16th)
10,000g (17th)
15th, 16th, 17th
Corn Seeds
150g
16th, 17th
Cranberry Seeds
240g
17th
Eggplant Seeds
20g
17th
Fairy Seeds
200g
17th
Garlic Seeds
40g
15th
Grape Starter
60g
17th
Grave Stone
200g
15th
Hops Starter
60g
16th
Irdium Fireplace
15,000g
15th, 16th, 17th
Jazz Seeds
30g
15th
Kale Seeds
70g
15th
Log Section
200g
17th
Melon Seeds
80g
16th
Parsnip Seeds
20g
15th
Pepper Seeds
40g
16th
Poppy Seeds
100g
16th
Potato Seeds
50g
15th
Pumpkin Seeds
100g
17th
Radish Seeds
40g
16th
Rarecrow (Rat)
5,000g
15th, 16th, 17th
Rarecrow (Tribal Mask)
5,000g
15th, 16th, 17th
Red Cabbage
100g
16th
Spangle Seeds
50g
16th
Stone Frog
500g
15th
Stone Owl
500g
17th
Stone Parrot
500g
16th
Suit of Armor
200g
16th
Sunflower Seeds
200g
16th, 17th
Tomato Seeds
50g
16th
Tulip Bulb
20g
15th
Wheat Seeds
10g
16th, 17th
Yam Seeds
60g
17th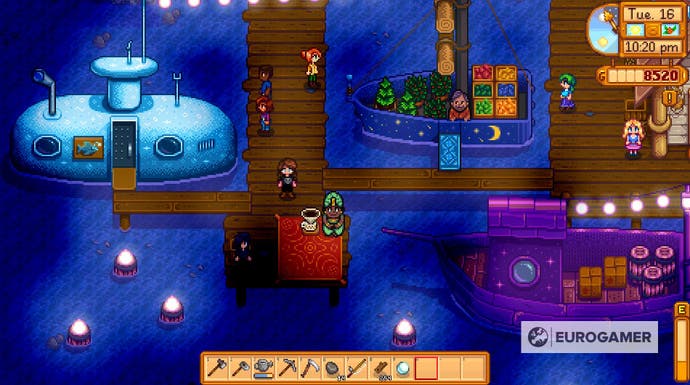 Unlike the previous two shops, the Decoration Boat will always be selling the same merchandise, which are:
| Item | Price |
| --- | --- |
| Big Green Cane | 200g |
| Green Canes | 200g |
| Mixed Canes | 200g |
| Red Canes | 200g |
| Big Red Cane | 200g |
| Seasonal Decor | 500g |
| Season Plant (Small shrub) | 500g |
| Seasonal Plant (Large shrub) | 500g |
| Seasonal Plant (Pink) | 500g |
| Seasonal Plant (Catcus) | 500g |
| Seasonal Plant (Blue) | 500g |
| Seasonal Plant (Yellow) | 500g |
With the Night Market complete, there is only one festival left for the year in Stardew Valley - the Feast of the Winter Star!