Stardew Valley Egg Festival and egg hunt explained
[Insert your favourite egg pun here.]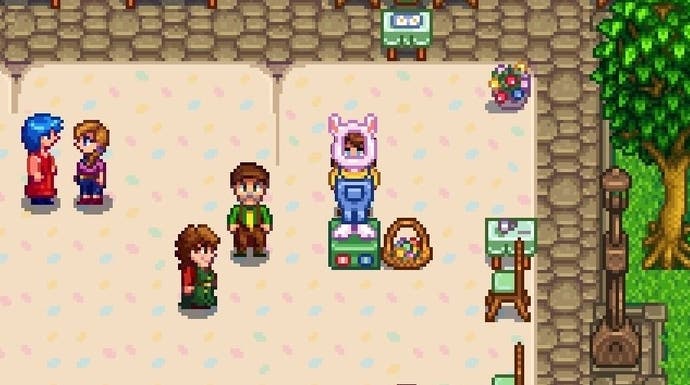 The Egg Festival is the first festival of the year in Stardew Valley.
Each festival in Stardew Valley has a theme and the Egg Festival is very obviously themed around eggs. It even has an egg hunt for you to compete in and, if you win, you'll be rewarded.
Alongside the Stardew Valley Fair, Spirit's Eve and the Night Market, the Egg Festival is one of the many festivals where you can earn a special reward by completing a mini-game.
On this page:
Egg Festival date and time in Stardew Valley explained
The festival calendar in Stardew Valley begins with the Egg Festival. Below you'll find the all the important details about this special event:
Date - 13th Spring
Time - 9am to 2pm
Location - Pelican Town
Return to Farm at - 10pm
Egg Hunt in Stardew Valley explained
The main attraction of the Egg Festival is the egg hunt, which will pit you against the villagers in a race to collect as many eggs as you can.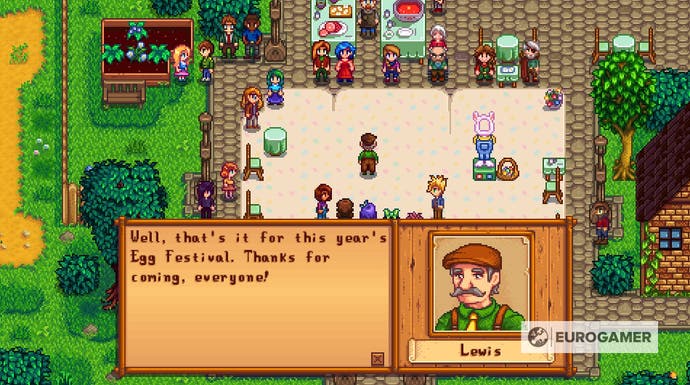 You've got 50 seconds to gather at least nine eggs or Abigail will automatically win.
The hunt begins in the middle of the square, so the best method for completing this challenge is to head south and grab the eggs scattered around the graveyard.
After that, take the ones near the entrance to the Sewers and along the edge of the river. Finally head up and around to the back of Lewis' house; there you'll find two more eggs that should give you enough to win the competition.
The first year you win the egg hunt, you'll receive a Straw Hat and, for any future wins, you'll be rewarded with 1,000g.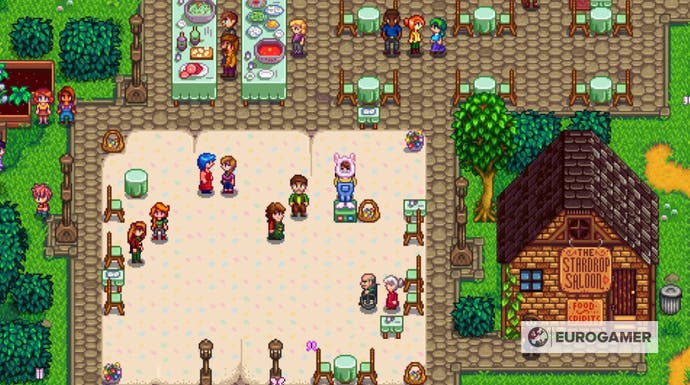 ---
One of the main goals in Stardew Valley is to complete the Community Center bundles or, if you're corporate minded, you can buy a JojaMart Membership. Fishing is a great way to earn money in Stardew Valley, especially if you decide to use crab pots and ponds. Throughout the year you'll also be able to take in a variety of festivals, including the Egg Festival, Stardew Valley Fair and the Night Market.
---
Egg Festival shopping booth in Stardew Valley explained
At the Egg Festival you'll find a small shopping booth selling the following items:
| Item | Price |
| --- | --- |
| Lawn Flamingo | 400g |
| Plush Bunny | 2,000g |
| Seasonal Plant (Large shrub) | 350g |
| Seasonal Plant (Small shrub) | 350g |
| Strawberry Seeds | 100g |
The next festival for you to attend in Stardew Valley is the Flower Dance.