Now a football club has used Fortnite to announce a new signing
Bad pitch.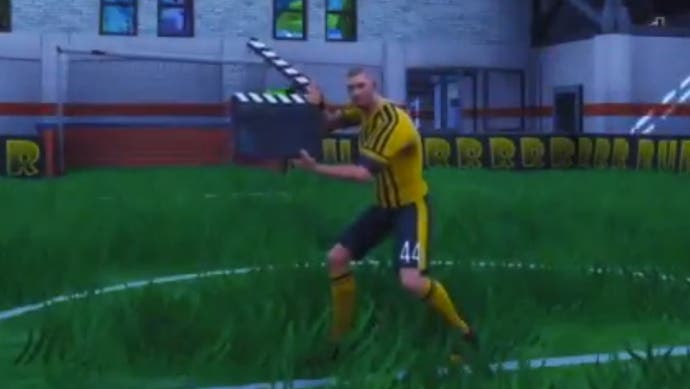 You'd think the Fortnite / football love-in reached its natural limit when French forward Antoine Griezmann scored a penalty and celebrated by doing the infamous Fortnite Take the L dance in the World Cup final. Yet here we are with another example of the world of football clashing with the world of Fortnite.
Yesterday, the official Twitter account of French club Nantes published a clip that contains Fortnite gameplay and the unveiling of new signing Lucas Evangelista, who joins from Italian club Udinese on a five-year deal.
The clip begins as a game of Fortnite does, with a pre-match lobby. In the lobby is a player called Coach Miguel (the Nantes coach is Miguel Cardoso), another called Diego Carlos (Nantes have a Brazilian defender called Diego Carlos) and a player called Val Rongier (Nantes have a French midfielder called Valentin Rongier).
Coach Migue leaps out of the battle bus and parachutes down to the stadium just west of Tilted Towers. He ransacks the place for a bit, then runs onto the indoor football pitch. There, he follows Diego Carlos and Val Rongier through a door, where the gameplay ends and the clip cuts to Evangelista, who, wearing the Nantes kit, turns to the camera to salute. The clip ends with the words "bem vindo" - "welcome" in Portuguese.
It's a slightly awkward tweet in that all Nantes have done here is record some basic Fortnite gameplay and ended it with a shot of their new signing waving to the camera (Watford's use of Football Manager to announce a new signing on social media was much more impressive), but that hasn't stopped it from having the desired effect. The tweet has been liked 5800 times and retweeted 2900 times, with the clip itself enjoying just under 400,000 views. Nantes' social media manager will be happy, anyway.
What next? Perhaps Harry Kane, who alongside many of his England teammates played Fortnite to kill time during the World Cup, will create his own Fortnite video when he inevitably moves on to bigger and better things.