A Fortnite dance made it into the World Cup final
Take Les Bleus!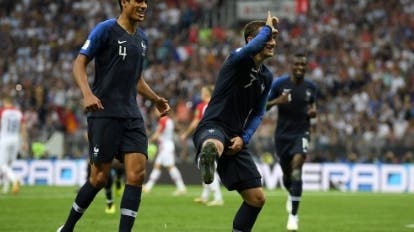 Fortnite has hit the mainstream headlines, is played by some of the biggest celebrities around and is pretty much the most popular game in the world. Now, there's one more thing to strike from the Fortnite bucket list: the World Cup final.
During yesterday's game, French forward Antoine Griezmann scored a penalty and celebrated by doing the infamous Fortnite Take the L dance. This is what it looks like in Fortnite:
And here's Griezmann doing Take the L in the World Cup final:
Griezmann has celebrated scoring goals by doing the Fortnite loser dance for a while now. He did it earlier in the World Cup after scoring against Argentina, and has been doing it while playing for his club, Atlético Madrid all season long.
Griezmann isn't the only footballer to perform Fortnite dances on the pitch. Indeed, England walked hand-in-hand into the World Cup with Fortnite, a game many of the players have said they played to pass the time during the tournament. Midfielder Jesse Lingard did the Shoot dance, created by BlocBoy JB for his 2017 song Shoot and co-opted by Fortnite, after scoring against Panama.
Then, Dele Alli did Ride The Pony after scoring against Sweden.
Now Fortnite has made it to the World Cup final, where can Epic's battle royale phenomenon go next? Perhaps someone should try playing it on the Moon.