Melancholy survival game This War of Mine gets new The Last Broadcast story episode
Latest DLC available now on PC.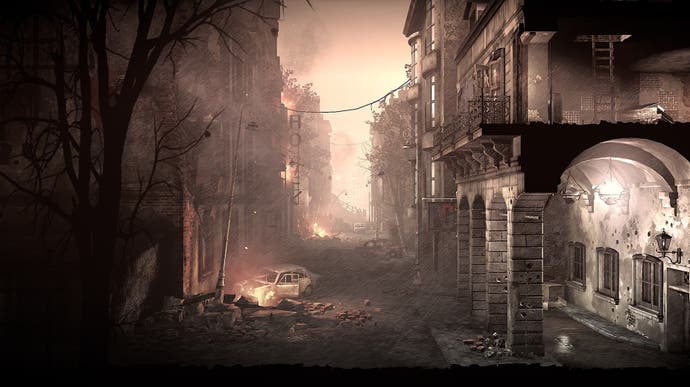 Developer 11 Bit Studios' bleak survival game This War of Mine has just received the second of three new DLC episodes as part of its 'Stories' series. This latest instalment, The Last Broadcast, is available now on PC.
Despite having been released all the way back in 2014 (four years to the day, in fact), 11 Bit Studios has continued to support This War of Mine, expanding on its critically acclaimed survival core with a variety of new updates. Its first DLC offering, 2016's The Little Ones, introduced child characters to enhance the game's anti-war message, and the developer is currently working on a series of narrative-focussed episodes under the 'Stories' banner.
The first of these, Father's Promise, released last year, and has now been joined by The Last Broadcast. This second story episode is described as the "biggest expansion to date" and once again unfolds in the fictitious war-torn city of Pogoren.
This time, however, the action focusses on a radio broadcaster called Malik, as he faces the dilemma "of whether there is a line beyond which the truth can be sacrificed."
The Last Broadcast, which is said to be about seven hours long, is based on a scenario by award-winning 80 Days writer Meg Jayanth, and "circles around a difficult theme of the price of telling the truth". It adds new playable civilians, four new city sites, seven remastered locations, a new shelter, and six different endings. It also features new radio and dilemma mechanics, plus mechanics themed around investigating and reporting.
The Last Broadcast requires This War of Mine's base game to play, and can either be purchased on its own for £2.99 or as part of the Stories season pass. The latter option will eventually include all three planned story episodes for £5.19. Additionally, if you don't already own This War of Mine, there's a 70% discount on Steam right now, and it'll cost you £4.50.
The Last Broadcast will be included as part of This War of Mine's recently announced Switch edition, but there's no word yet on a release date for Xbox One or PS4.