Sombre survival game This War of Mine heads to Switch at the end of the month
Includes base game and all DLC.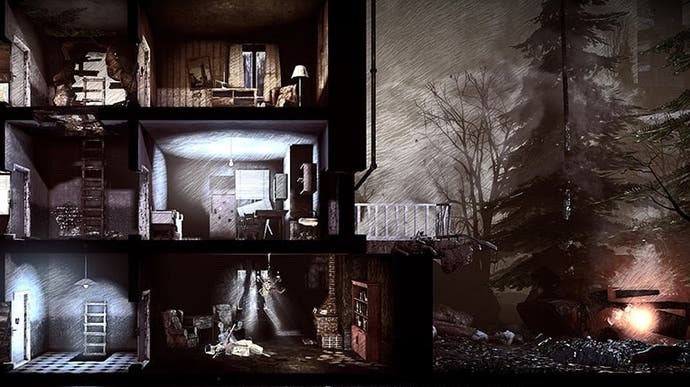 Developer 11 Bit Studios has announced that its bleak anti-war survival game, This War of Mine, will be heading to Switch on November 27th.
Like 11 Bit Studios' more recent Frostpunk, This War of Mine is a offers a sobering, thoughtful take on a familiar gaming genre. However, where Frostpunk opts to examine questions of morality through the lens of a post-apocalyptic city builder, This War of Mine adopts the guise of a side-scrolling stealth-survival game, in which you're charged with keeping a small groups of civilians alive for as long as possible.
11 Bit Studios' fascinating title unfolds in the midst of unnamed war, splitting the core gameplay loop into day and nighttime. By day, you're free to explore the derelict building that your band of survivors calls home, embarking on a crafting and maintenance regime in order to make a more habitable homestead. By night, though, you take to the city, stealthily exploring the occupied streets in order to find essential supplies.
As the days tick by however, your resources grow more scarce, leaving your survivors at the mercy of hunger, sickness, and the gradually falling temperatures - and, soon, you'll need to make some difficult decisions if anyone is going to make it through alive.
"This War of Mine is a game whose simple message - that war is hell, and that we're all capable of being sucked into its moral depths - might be slightly compromised by its strengths as a game," said Martin Robinson in Eurogamer's 8/10 review, "but at least it's a message carried with a great deal more conviction than other, more bombastic portrayals of conflict. That, for certain, is something to be thankful for."
This War of Mine on Switch arrives in the form of the Complete Edition. This, says 11 Bit Studios, will include the base game, the Anniversary Edition content, 2016's The Little Ones DLC, and the three additional DLC updates that were announced last year. Episode 1: Father's Promise, which launched in November 2017, will be included at release, and the two remaining instalments will be added as soon as they're ready to go.
This War of Mine: Complete Edition launches physically and on the Switch eShop on November 27th, and will cost $39.99 USD (around £30).